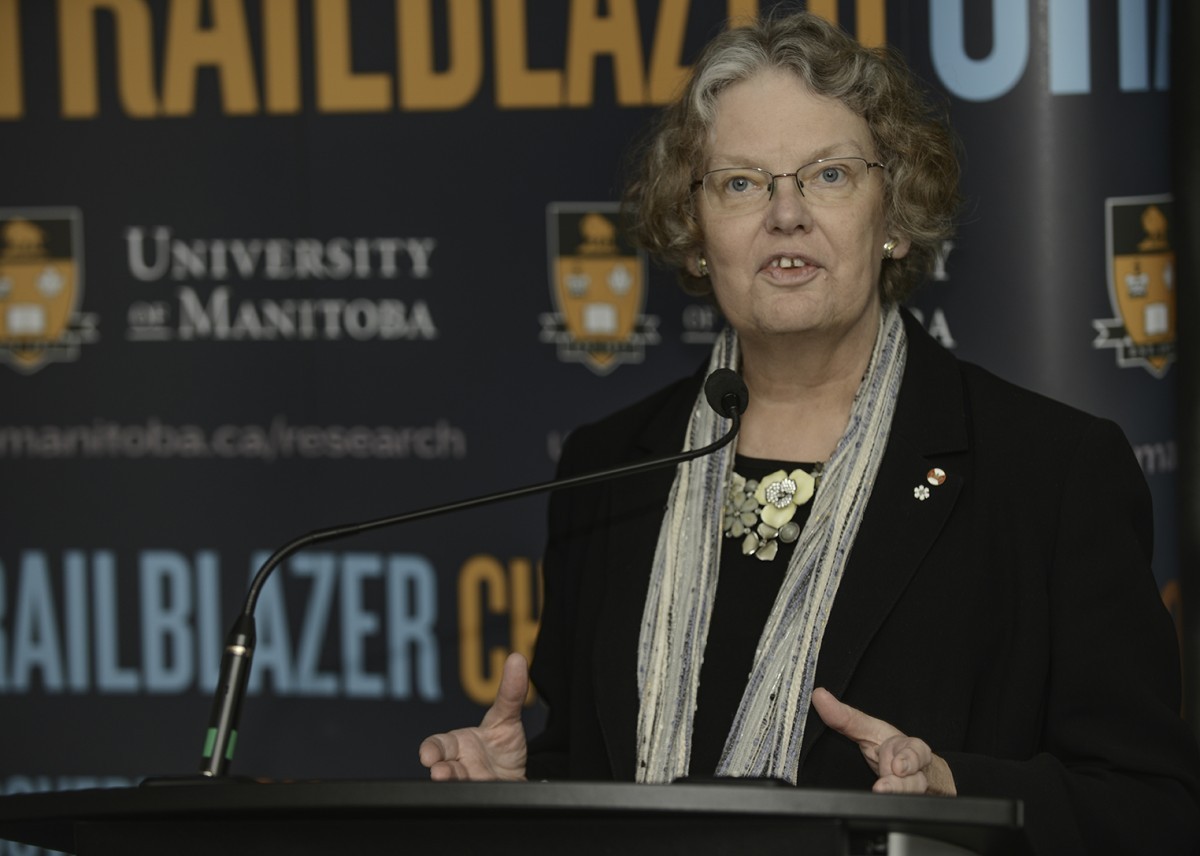 CNODES Symposium in memory of Dr. Patricia J. Martens
May 4, 2015 —
A symposium in memory of Dr. Patricia J. Martens will be held on Tuesday, May 5 from 1:30 pm to 4:30 p.m. in the Apotex Centre (Room 264), College of Pharmacy, University of Manitoba.
Dr. Martens was the former Director of the Manitoba Centre for Health Policy and Distinguished Professor in the College of Medicine, Faculty of Health Sciences. Pat was recognized for her research excellence and pioneering spirit through many awards including: the 2010 Manitoba YM/YWCA Woman of Distinction for Health & Wellness, a CIHR/PHAC Applied Public Health Chair (2008-2013), and was a Fellow (FILCA) of the International Lactation Consultants' Association. In 2013 she received the R.D. Defries Award (highest award of the Canadian Public Health Association for outstanding contributions in public health) and was elected a Fellow of the Royal Society of Canada. She became a Member of the Order of Canada (CM) in 2013, and in 2014 received the Justice Emmett Hall Laureat award for contributions to health services research and was elected a Fellow of the Canadian Academy of Health Sciences.
She was also a co-lead Principal Investigator and a member of the national steering committee for CNODES (Canadian Network for Observational Drug Effect Studies). CNODES is a distributed network of investigators and linked databases located in British Columbia, Alberta, Saskatchewan, Manitoba, Ontario, Quebec and Nova Scotia. The overarching aim of CNODES is to use collaborative, population-based approaches to provide rapid answers to questions about drug safety and effectiveness. The goals are to organize sufficient financial and human resources, co-ordinate responses to such safety signals, standardize methodological approaches, and obtain rapid access to data-sets that are large enough to give precise estimates of medication risks and benefits.
Due to Pat's significant role at the nationwide level for CNODES, the national group will honour her contribution and memory by holding the national, semi-annual meeting in Winnipeg this May. Future symposiums will be held at each subsequent semi-annual meeting in the future, in Pat's honour.
"There are many outstanding researchers at the U of M, there are many outstanding teachers at the U of M and there are many outstanding leaders at the U of M but there are very few people who standout for their abilities and achievements in all three categories. Pat Martens was one of those very rare people. In addition, she was one of most generous, kind people you will meet. She made the workplace fun", said Dr. Alan Katz, Director of the Manitoba Centre for Health Policy
Dr. Digvir Jayas, Vice President, Research and International, University of Manitoba will provide welcome remarks; invited speakers include Dr. Alan Katz, Director, Manitoba Centre for Health Policy, Dr. Dan Chateau, Research Scientist/Biostatistician at the Manitoba Centre for Health Policy, followed by a keynote speech by Dr. Samy Suissa, James McGill Professor of Epidemiology, Biostatistics and Medicine, McGill University, and Principal Investigator, CNODES. Over 90 people are expected to attend, including researchers and staff from CNODES, and faculty members and researchers from the University of Manitoba.