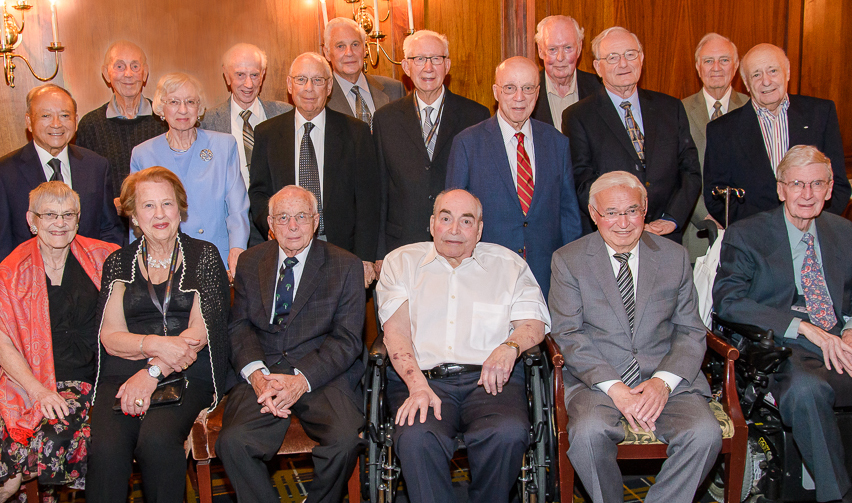 Class of 1954 reaches fundraising goal: pass on a message of giving
October 4, 2016 —
Two years ago, when the medicine Class of '54 met for their 60th reunion, they felt inspired to do something special. Over the past 16 years, the class had built an endowed bursary fund for medical students at the U of M worth $2,300 annually. They wondered; would it be possible to double that amount in a year?
The answer, they found, was an emphatic yes, when late in 2015 the 28 surviving members reached their goal, raising enough funds to ensure more than $5,000 will be available every year for an undergraduate student in need of financial help.
"The result has been a heartwarming success," says Dr. Hiro Nishioka of the Class of '54 Student Bursary Fund committee. "We hope our experience inspires other classes to undertake similar projects to provide bursaries for undergrads in need of financial help."
First awarded in 2012, the Class of 1954 Student Bursary has already helped five students full of intelligence, determination and dreams, but short on cash. This year, one student will be the first to receive the full $5,000 amount, or more. For past and future recipients alike, the class of '54 will always be an important part of their journey to becoming a doctor.
"As a medical student, my road was a bit different than many of my colleagues," says Dr. John Neufeld, [MD/13]. "Instead of traveling in the summers, I parented, and when I studied I also bounced babies. Financially, these differences meant that bursaries and student aid went to diapers and groceries.  Medical school and residency is stressful, and it was a welcome surprise to find that the class of 1954 awarded me a bursary to help with all the ups and downs of parenting and school."
Upon receiving the award, each student is sent a letter informing them of the amount awarded from the Class of 1954 Student Bursary Fund.  Included in that letter is a personal message from the benefactors, congratulating the recipient and offering the following words of encouragement:
It is our hope that when you have completed your studies and have reached a position in life where you are able to give back, that you will offer your help to other medical students in a similar manner.
Now that he has graduated, Dr. Neufeld says he has a soft spot for medical students that are where he was a few short years ago. "When I have money to donate, instead of a line of credit to pay off, I hope I can return the favour for another student."
Dr. Allan Downs, who helped spearhead this initiative, is inspired to see the class of '54's generosity come full circle. "As one generation, now professionals in their field, supports the current class," he says, "they plant a seed, inspiring our future doctors to pay it forward and support the next generation."
Through their endowed student bursary fund, the class of '54 has left a legacy at their alma mater that will impact and inspire generations to come. If your class is interested in establishing a similar fund, or if you would like more information about this process, please contact Pat Robertson, Donor Relations Lead, Rady Faculty of Health Sciences at 204-789-3884 or Pat [dot] Robertson [at] umanitoba [dot] ca.