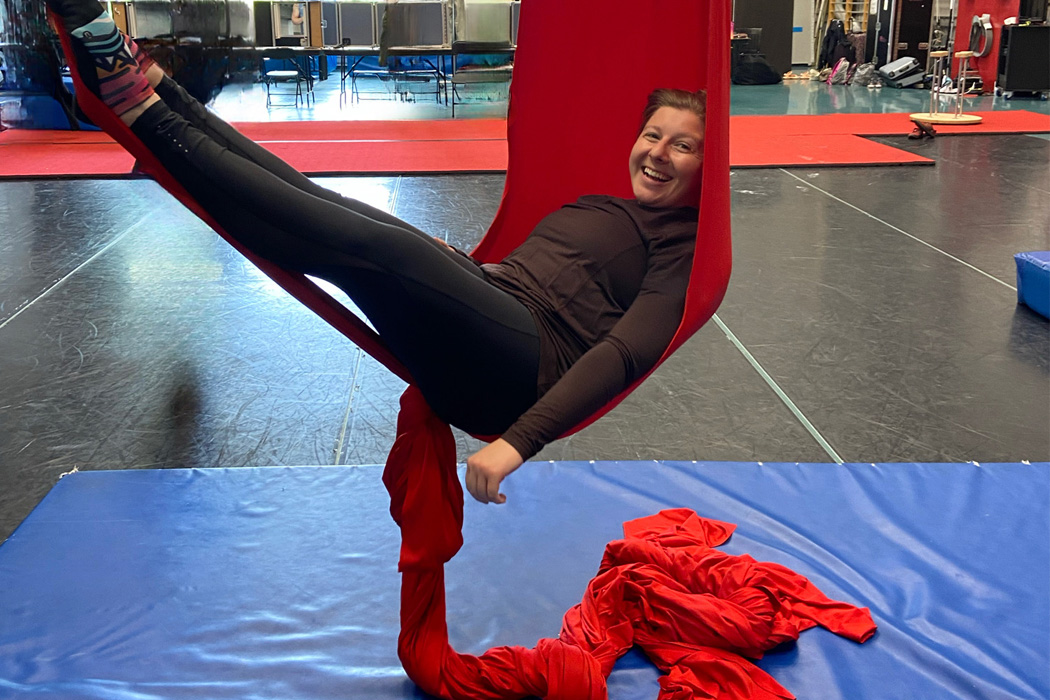 Circus arts a 'growing area' for physical literacy research
June 24, 2022 —
A postdoctoral fellow at the College of Rehabilitation Sciences, Rady Faculty of Health Sciences, recently completed training at the world-renowned National Circus School in Montreal as part of a circus arts instructor program, which is related to her physical literacy research.
The National Circus School's research centre is tied to major professional circus companies including Cirque du Soleil. The 17-week online program was capped off with a one-week visit to the famed school in June.
Natalie Houser began her Social Sciences and Humanities Research Council (SSHRC)-funded postdoc in September 2021, working with Dr. Dean Kriellaars, associate professor of physical therapy.
The two-year SSHRC funding is to gain a better understanding of physical literacy enriched pedagogy, which is relevant for all those who influence children's movement, whether a teacher, coach, recreation leader or rehabilitation professional. The research aims to activate the "physical literacy cycle" – which includes confidence, competence, motivation and active participation – so children can find lifelong movement pursuits.
Houser said circus arts is a growing area for physical literacy research, as it is one of the best examples of a physical literacy enriched movement experience. In Winnipeg there are currently 11 schools that feature circus arts instruction in their physical education program, which grew from the two original schools in 2016.
"Something unique is happening with the pedagogy of teachers that are delivering circus arts in physical education that is engaging schools and students in a way that we haven't seen before," she said.
Houser noted that students walking into a gymnasium for a day of circus arts will get a chance to try anything from juggling to aerial acrobatics to riding a unicycle.
"In reality, most of them have never been exposed to circus before this, so everyone is kind of a beginner and can explore their interests," she said.
"One person may be really set on that unicycle and someone else is into aerials, and they get this opportunity to progress and get better at the activity, which brings in the competency piece. But they're also gaining confidence and motivation as they pursue their interests and see improvements."
Originally from New Brunswick, Houser has a PhD in kinesiology from the University of Saskatchewan. Her research is focused on creating positive movement experiences for school-aged children, mostly from ages seven to 14, but is planning to broaden the age range she is working with given physical literacy development is a lifelong process.
Houser is also currently working with Kriellaars on a project with Winnipeg schools that collaborates with teachers, education assistants, physical therapists and occupational therapists to create a school movement program that is inclusive to everyone.
She also recently published a study in Applied Physiology, Nutrition, and Metabolism on how children's activity and physical literacy were impacted by the COVID-19 pandemic.