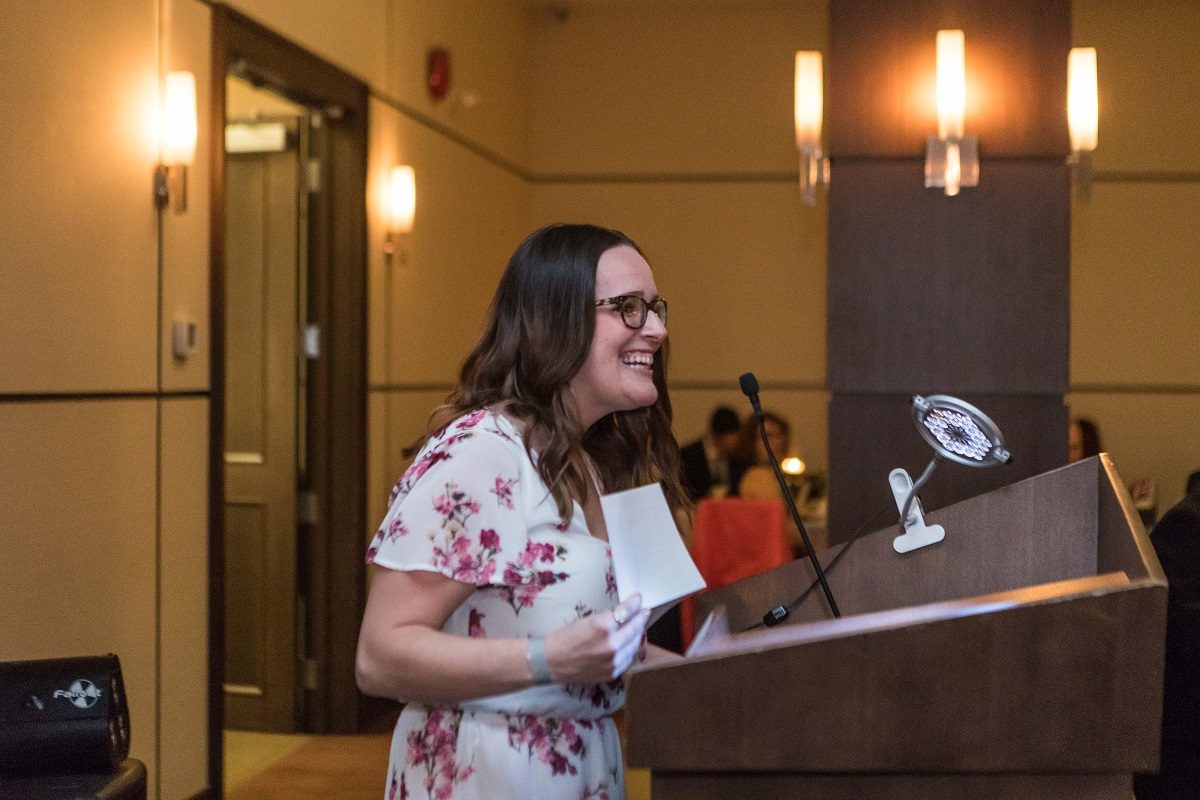 Celebrating the class of 2018
Meet Carling Nordin, graduating with a Bachelor of Kinesiology in athletic therapy
June 6, 2018 —
In celebration of the University of Manitoba's Spring Convocation 2018, UM Today is featuring some of the outstanding students we are celebrating this week.
Carling Nordin is graduating from the Faculty of Kinesiology and Recreation Management's athletic therapy program. Her passion for sport and fascination with the healing process of injury is what fuels her work ethic in her field.
What was your inspiration?
My inspiration was definitely my love of sport and my curiosity of the science behind injuries and rehabilitation. I've always played a variety of sports growing up and am a huge fan of watching baseball, football and basketball, so sport has always been one of the main attractions in my life. Being able to explain the reasoning behind the injury process and seeing players successfully come back from an injury and make improvements in their health was a huge source of inspiration throughout my degree as well.
What was your greatest obstacle in your post-secondary journey?
My greatest obstacle in my post-secondary journey was probably the challenge of being a female therapist aiming to pursue a career in male pro-sports – but I used that as motivation to reach my goal. My plan was to give 110% in my field and clinic placements and in classes, and to use my personal skills to make strong relationships with my supervisors, athletes, coaches, teachers and classmates. I've been fortunate to also find great female role models in our program who taught me to work and study hard so that my skills, knowledge and work ethic can speak for themselves.
What is the most interesting thing that happened to you at the U of M?
The most interesting thing that's happened to me here has been my time spent with the Winnipeg Blue Bombers as a student intern. Being able to see the dynamic of a professional team and how different but exciting that atmosphere is was incredible. I learned a great deal of new, valuable information, and was able to grow as a therapist and solidify my choice to seek a career in this field.
During my time there, I also received the Gord Mackie Memorial Scholarship for contributions to the Winnipeg Blue Bomber football club as an athletic therapy student. The Gord Mackie Scholarship is a fitting tribute to a proud Winnipeg Blue Bomber and his tireless commitment to the Heritage of the "Blue and Gold." The scholarship rewards a student who makes outstanding contributions to the club and exemplifies Gord's many great qualities, so it was a great honour to be chosen.
What's next?
After convocation, I will be attempting the Canadian Athletic Therapists Association certification exam in June, and will be assisting the Winnipeg Blue Bombers football club for their upcoming season. My plan for the future is to gain my strength and conditioning certification, and continue my career in professional sport as an athletic therapist while widening my knowledge base in our field as much as possible.
Don't forget to check our student accounts on Instagram and Facebook to learn more about some of the students graduating this week. You can also join the 'Convocation conversation' on social media by following #umanitoba2018.