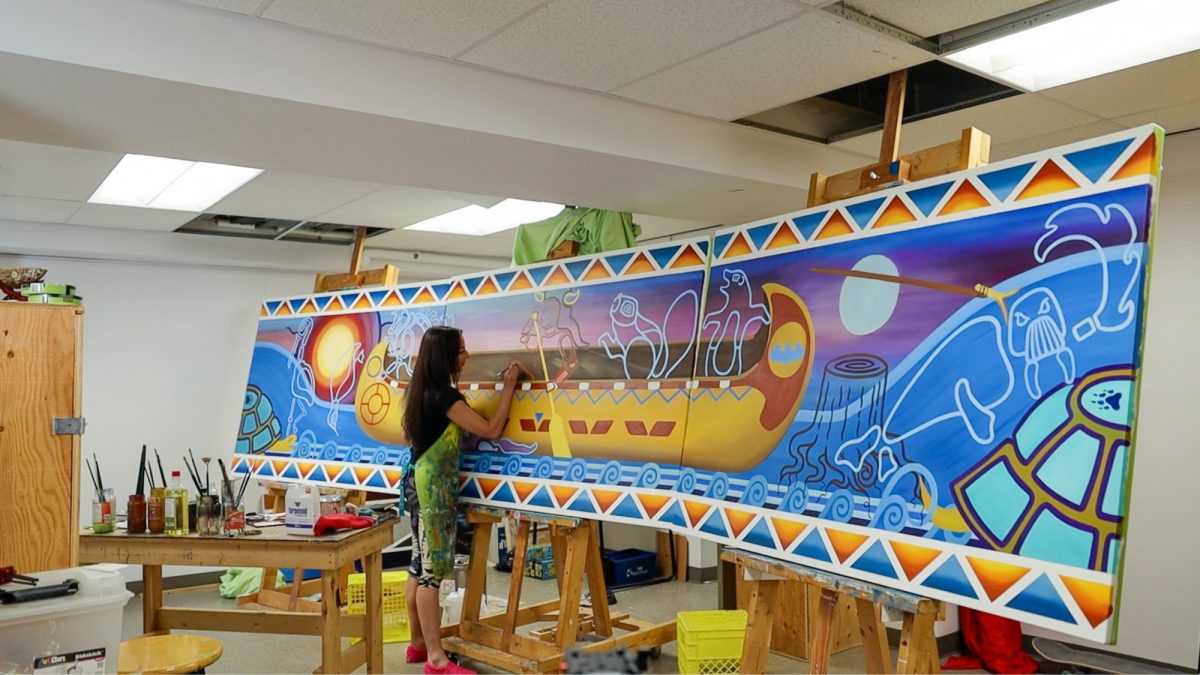 Celebrating Indigenous health principles through art
Artist Kristin Flattery shares her vision and talent with FKRM
April 14, 2022 —
You may have noticed a large, beautiful, bright mural that has been installed across from the customer service desk in the Active Living Centre (ALC). The piece is the creative vision of Kristin Flattery— Ozhaawashkwaa Mashkode-Bizhiki (Blue Buffalo Womyn) [BFA(Hons)/17, BEd/20]—Anishinaabe-Oyate artist and University of Manitoba alum and supported by Douglas Brown, dean, Faculty of Kinesiology and Recreation Management.
The mural is a visual re-telling of an Indigenous creation story passed down in Ininew (Cree), Anishinaabe and Oyate (Dakota) cultures through oral traditions. Flattery's interpretation utilizes vibrant colours and references traditional sports such as lacrosse, re-imagining conflict as regenerative, and placing relationships at the core of creation.
This innovative piece centres Indigenous traditions and knowledge systems in the ALC building with the hope that more Indigenous students will see themselves reflected in the space and feel welcome. For all UM students, staff, and community members who use the facilities, the mural offers a holistic understanding of health, focusing on spirituality, relationships, and the environment, aspects of wellness that are often overlooked in Western cultures.
"We wanted to create something that inspired a movement in healthy living for everybody," explains artist Kristin Flattery. "So, not only was I trying to promote healthy living and insert our traditional knowledge . . . I want (the community) to be motivated toward teamwork and helping each other."
Inception of the project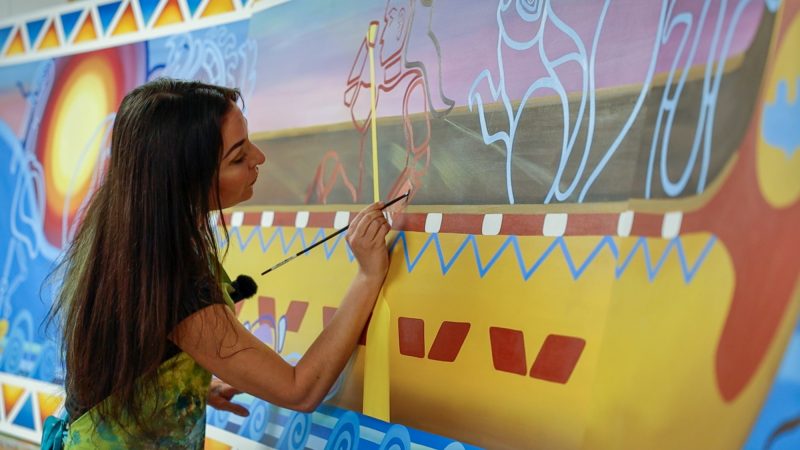 The idea for the project developed in 2015, initiated by what Douglas Brown explains were two compounding events. First, the ALC had recently opened that year, and second, the Truth and Reconciliation Commission (TRC) had put their final report out in the public domain.
Brown explains that people were becoming "particularly sensitive to the notion that we needed to do real things to begin the reconciliation process."
"In that final report there were repetitive calls to action stating that we need to create spaces where Indigenous people can see themselves reflected," he says.
Through Deborah Young, the former executive lead for Indigenous achievement, the dean met Flattery, who was a UM student pursuing a degree in fine arts with a focus in mural painting.
"I saw it as a way of recognizing a young Indigenous student and her talent and give her an opportunity to build a professional name for herself with a public commission," says Brown.
Through a collaboration with the School of Art, funding from FKRM, and of course, led by Flattery's commitment and creative vision, the mural you see today in the ALC across from the customer service desk came into being. It is the result of years of planning, collaboration, and creative effort, and represents the University of Manitoba's commitment to the TRC's calls to action.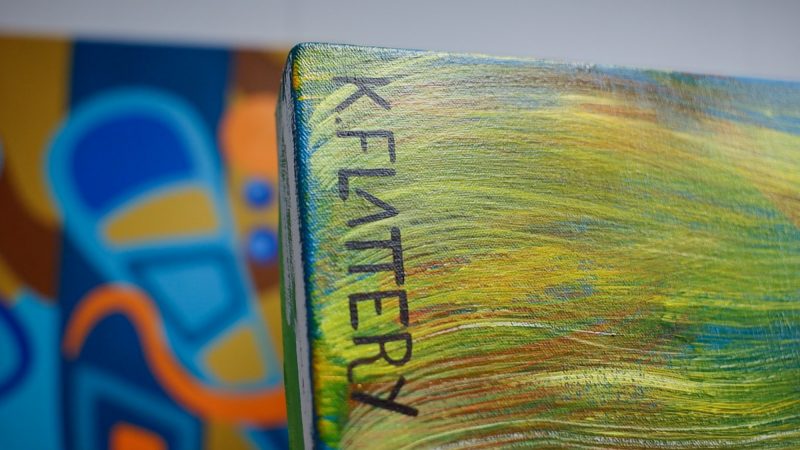 What makes meaningful change?
Heather McRae, Director of Indigenous Engagement in the Faculty of Kinesiology and Recreation Management, chairs the Indigenous Engagement Circle and says that more representation of Indigenous cultures "is something that a lot of students have been asking for."
"I don't think you can underestimate the power of seeing yourself reflected in the spaces that you visit or inhabit," McRae says.
She notes that "art in and of itself is not enough to signify that the faculty is making a meaningful change. But art in collaboration with several initiatives and work that's ongoing, is showing that it is an effort to embed it in the fabric of the institution in our faculty."
Following a curriculum review in 2016 and 2017, FKRM placed an increasing emphasis on developing and partnering on land-based educational programs and courses.
Notably, the faculty has established a certificate program, which the dean explains "aims to provide leaders in remote Indigenous communities with some training to help them program physical activity recreation/physical education in their communities." The program emphasizes functional training in areas such as Applied Suicide Intervention, gun safety, first aid, and land-based education and has been delivered once to a cohort of 15 First Nations students from eight different communities. The program is set to run again this summer to another 15 students from rural and remote communities.
Additionally, the faculty has been supporting the Rec and Read mentorship program, a culturally affirming healthy living program. Rec and Read partners university and community mentors with high school mentors who work together to develop and implement afterschool activities for early years students in the areas of physical education and nutrition. The program started with a focus on engaging Indigenous youth in these activities but is applicable to all underserved youth in our communities.
FKRM also offers a Pow Wow club and a jigging club. "And we're always looking for more to do," adds Brown.
Welcoming spaces are crucial
Though more clubs and services sensitive to the needs of Indigenous communities are appearing across the faculty and the university there is still more to be done when it comes to making the ALC facilities welcoming to all.
Indigenous people and minorities have traditionally faced barriers when accessing health and fitness services, with racism and social ostracization persisting as significant deterrents for those considering getting gym memberships or joining organized sports.
Flattery says she knows many Indigenous people who won't go to the gym because they're scared. "They're afraid of how they're going to be treated in the changeroom," she explains, "they're afraid of how they're going to be treated in the facilities."
Now more than ever it is critical that gyms and athletics facilities make it clear that they are welcoming to Indigenous people, Flattery says. "The diabetic rise in the Indigenous population is astronomical," she notes, "Although we are the youngest and fastest growing population in Canada, our people are dying at a phenomenal rate. We need to get those people being active again, that's what's really important to me."
Expanding our understanding of health
For Flattery and the team that has worked on this project, making the ALC more inclusive also involves developing an understanding that health and wellness that goes beyond the often-limiting principles of Western fitness practices.
"I think we have a very narrow understanding of health and wellbeing," explains McRae, "it seems like you have to have your physical body moving in an aerobic capacity, but what about other expressions of well-being that might not be tied to the physical movement of the body? It's important to recognize that there are different cultural understandings of health and well-being."
For example, in many Indigenous cultures, spirituality, relationships, and environmental health are considered critical components of holistic wellness. Flattery's mural draws on all of these.
She explains that she paints with bright colours, such as yellows, blues and oranges because of their positive mental health benefits and their cultural significance. "When I look at these bright happy colours it elevates my mood, so I feel like it would elevate others' as well."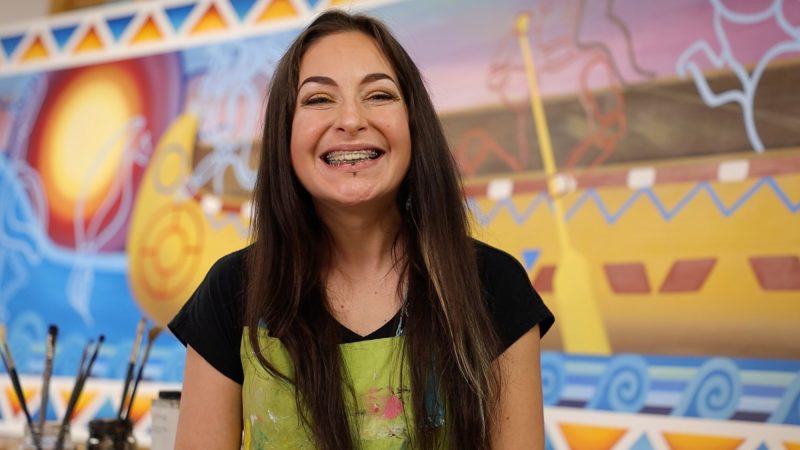 Being intentional with her use of colour has allowed her to get in touch with the spiritual aspect of her artistic process, she says. "I remember when I learned about colour theory, and the more I learned about my culture—both sides of the culture and what the colours meant, it's spiritual," she explains. "In our culture, certain colours mean things."
Flattery recalls knowledge passed down to her by Grandfather Wanbdi , who told her that "part of your spirit goes into the artwork that you're making and lives on in that artwork."
"That's why those paintings have to be so respected," explains Flattery, "because there is spirit and intent in those paintings."
Flattery's mural draws on a creation myth that has been passed down through oral tradition in Ininew, Oyate, and Anishinaabe cultures. It is the tale of a great flood, like the biblical story of Noah's Ark, she explains. But it differs greatly from the Christian story insofar as in Indigenous mythology, the world is constructed from a tiny piece of earth through the combined efforts of several different animals, foregrounding the importance of relationships in the process of creation.
The emphasis placed on the natural world and relationships in the mural suggests that community and environmental health are key components of personal wellness. In Indigenous cultures, "the land is not an object that is separate from you," explains McRae, "the health of the planet is also the health of you and your community."
Relationships and Reconciliation
Relationships also played a critical role in the creation of the mural itself—from early conversations between Flattery, Brown and Young, to Flattery's creative approach, which involved both her children.
"I believe in creating things with other people," Flattery says, recalling the process fondly. "My youngest son Jordan actually painted a lot of that mural. The borders on the bottom, the one with the canoe, and the sunset, my sun did that all. He's nine. . . . Gavin always helped me build the stretchers."
She mentions that the borders are parflêche, which is a type of traditional Oyate bag made from raw hide.
"I put it on the border . . . . to show that these cultures are interwoven together," she explains.
"I wanted a Dakota-type border because the university is on Dakota land," she adds, explaining that she hoped to highlight the uniqueness of each culture, as well as the ways they are interconnected.
Brown says that to him the project represents the importance of relationships. "It represents my relationship to Deborah Young, it represents my relationship with Carl Stone who smudged the building at the opening, and it certainly represents my relationship with Kristin."
He adds that it was "a big project, and so is reconciliation."
"The fact that we've actually got it finished makes me think of the relationship, creation, building and cultivation that was required to see it to completion."
Like relationships, reconciliation is a process that requires dedication, honestly, dialogue, and time, and the installation of this mural represents the FKRM's commitment to be a part of that process.
The dean says that the project is a step in the right direction. "It's given us a sense of what's possible," he says. "There are sometimes things that are right in front of us that we can do to create spaces that are more inviting to the Indigenous community, and I'm eager to look at what's next."
Visit the new webpage to learn more about Flattery's process, inspiration, and about the artist herself.