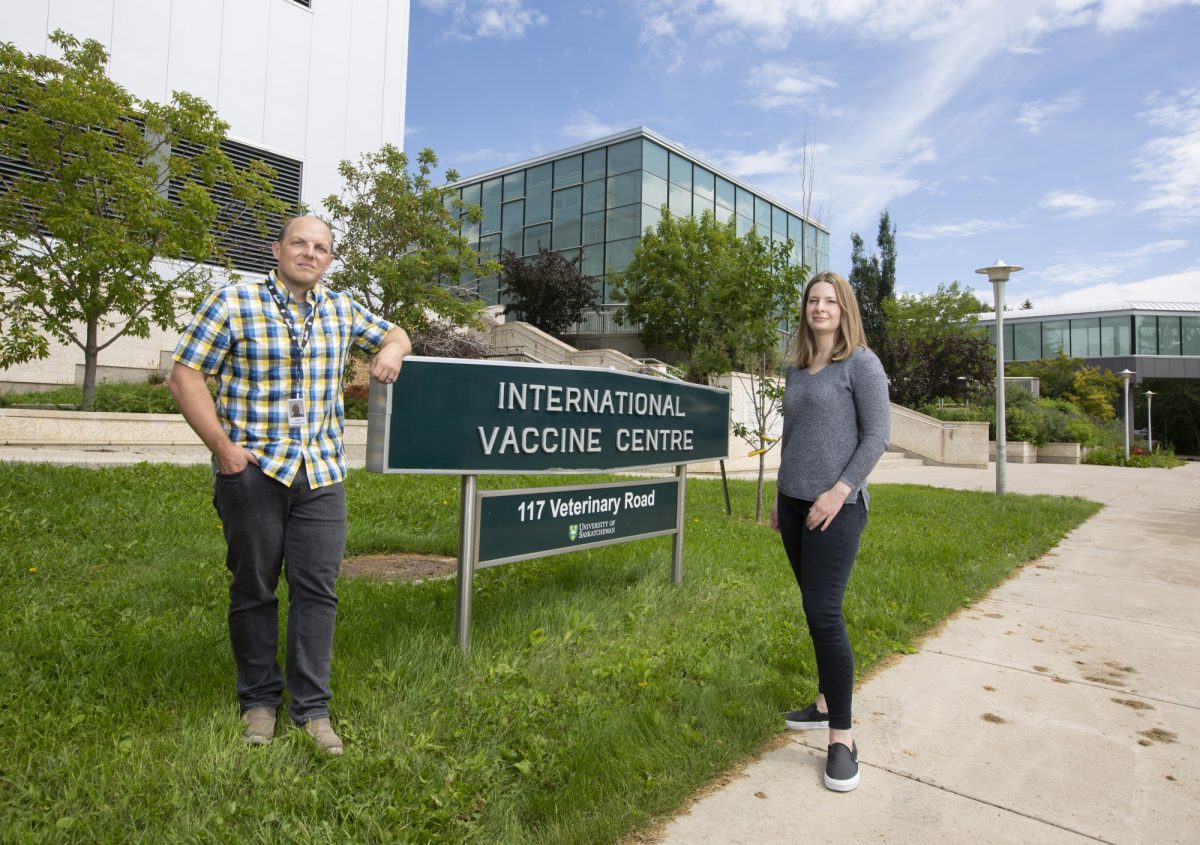 Canadian universities partner to fight COVID-19 at USask's VIDO-InterVac
July 22, 2020 —
Infectious disease experts from Dalhousie University and University of Manitoba (UM) are joining the leading-edge research team at the University of Saskatchewan's (USask) Vaccine and Infectious Disease Organization-International Vaccine Centre (VIDO-InterVac) on one-year secondments to collaboratively advance research and development against COVID-19.
The scientists and members of their teams will work in VIDO-InterVac's containment level 3 agriculture (CL3-Ag) facility on antivirals, therapeutics and testing of COVID-19 vaccine candidates for industry partners, while advancing their own research using the world-class containment laboratory.
Alyson Kelvin, Dalhousie University assistant professor and scientist at the Canadian Centre for Vaccinology, brings to VIDO-InterVac her expertise in human respiratory infections and ferret disease modeling. Jason Kindrachuk, UM assistant professor and Canada Research Chair, will contribute his expertise in molecular pathogenesis of emerging and re-emerging viruses.
"This partnership is an excellent example of how Canadian universities can work together to advance COVID-19 research," said USask Vice-President Research Karen Chad. "These secondments build on our scientific collaborations with other organizations across Canada and around the world, and will make significant contributions toward achieving our goal of helping to end this pandemic as quickly as possible."
A world leader in developing vaccines and technologies to combat infectious diseases, VIDO-InterVac has one of the largest and most advanced CL3-Ag research facilities in the world—necessary infrastructure to study SARS-CoV-2 and perform efficacy trials for vaccines, drugs and therapeutics.
Kelvin and team members have been visiting scientists at VIDO-InterVac since February of 2020. The team is conducting research to better understand how SARS-CoV-2 causes disease.
"Dalhousie University is so very proud of Dr. Kelvin and her incredible research program," said Dr. Alice Aiken, Vice-President Research and Innovation at Dalhousie University. "And by working together, we can ensure that we're bringing together the best minds in the country for the benefit of all."
Kindrachuk completed his PhD at VIDO-InterVac, and has worked with "high consequence" pathogens (those with high mortality rates) ever since, including being the scientific lead for an Ebola diagnostic laboratory in Liberia.
"Dr. Kindrachuk's expertise in emerging and re-emerging infectious diseases makes him the perfect collaborator to join this international team," said Dr. Digvir Jayas, UM Vice-President (Research and International) and Distinguished Professor. "Working together, I'm certain he and the team at VIDO-InterVac will advance towards a viable vaccine sooner, for the benefit of all Canadians."
In April, Prime Minister Justin Trudeau announced $23 million for VIDO-InterVac to accelerate a COVID-19 vaccine, and the Saskatchewan government invested another $4 million. This funding supports pre-clinical testing and clinical trials, essential steps to ensuring that vaccines are effective and safe for human use. Human trials will occur in the fall.
"VIDO-InterVac is the centre of pandemic research in Canada," said VIDO-InterVac Director and CEO Dr. Volker Gerdts. "We are privileged to host these Canadian experts to advance scientific knowledge and develop solutions as the world battles this pandemic."
Research at the University of Manitoba is partially supported by funding from the Government of Canada Research Support Fund.