UM Max Rady College of Medicine faculty, alumni honoured by Canadian Medical Hall of Fame
November 16, 2023 —
Throughout its 140-year history, the Max Rady College of Medicine has been home to countless luminaries who have advanced medical science and the practice of medicine. Thirteen of those – both alumni and faculty – have been inducted into the Canadian Medical Hall of Fame for their achievements.
"The passion and commitment shown by our community of physicians and researchers is a great source of pride to the Max Rady College of Medicine and to UM as a whole," said Dr. Peter Nickerson, vice-provost (health sciences) and dean of the Max Rady College of Medicine and the Rady Faculty of Health Sciences. "This honour not only recognizes the outstanding accomplishments of our University of Manitoba alumni and faculty members but also underscores UM's dedication to nurturing generations of influential physicians and innovative researchers. Together, we continue to shape the future of medicine, making a lasting impact on health in Canada and beyond."
On Nov. 18, University of Manitoba alumni, partners, faculty members, learners, and friends of the college will come together to celebrate the 140th anniversary of the Max Rady College of Medicine at a gala at the RBC Convention Centre. The event will raise funds for MD and grad student bursaries and serve as an opportunity to celebrate the achievements of all its members.
Please enjoy these snapshots of the remarkable UM faculty and alumni named laureates of the Canadian Medical Hall of Fame who have helped the Max Rady College of Medicine make its mark at home and around the world.
Biographies of our CMHF laureates: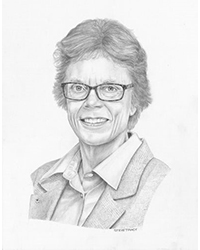 2022 – Dr. Noralou Roos
Unlocked the potential of big data systems analysis to clarify the social determinants of health helping inform effective policies in support of universal health care
Dr. Noralou Roos, a pioneer in big data analysis for health care, co-founded the Manitoba Centre for Health Policy with her husband Leslie Roos. Over five decades, their initiative tracked the health and health care utilization of one million Manitobans, creating a valuable data resource linking health-care system use with actual needs. Dr. Roos' innovative approach in gathering and analyzing administrative health-care data has set global standards, enabling post-market pharmaceutical safety assessments, data-informed resource allocation (especially in children's health care) and more effective poverty alleviation strategies. Her pioneering work has gained international recognition and established large-scale data analysis as a cornerstone of effective population health-care management. Through her EvidenceNetwork.ca project, she shares authoritative health-care information with the public, utilizing media to enhance understanding of health-care issues. Dr. Roos has been transformative in reshaping health-care analysis and policy development.

2020 – Dr. Harvey Max Chochinov
A champion of personalized and dignified end of life care
Harvey Max Chochinov [MD/83, PhD/96], a distinguished professor of psychiatry at the University of Manitoba and senior scientist at the Research Institute of Oncology and Hematology, CancerCare Manitoba, is a leading advocate for personalized and dignified end-of-life care. His pioneering work has improved palliative care for those facing life-limiting conditions, addressing distress, depression and the desire for death, while promoting vulnerability recognition. Dr. Chochinov's research provides guidelines for psychosocial intervention and enabling individuals to approach their end-of-life with dignity. Throughout his career, he has touched the lives of thousands with the life-affirming principles of Dignity Therapy.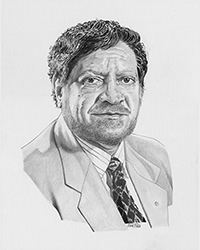 2019 – Dr. Naranjan Dhalla
A champion of Canadian cardiovascular research on the international stage
Naranjan Dhalla, a prominent figure in Canadian cardiovascular research, holds the title of distinguished professor of physiology and pathophysiology at the University of Manitoba's Max Rady College of Medicine. He is a founding leader of two global cardiovascular science organizations: the International Society of Heart Research (ISHR), emphasizing fundamental cardiovascular research, and the International Academy of Cardiovascular Sciences (IACS), committed to promoting cardiovascular health education and community involvement. These organizations have fostered international collaboration, bringing together countries and regions worldwide to advance cardiovascular knowledge and health. Dr. Dhalla's contributions have earned him 177 honours and awards from organizations globally.
2018 – Philip Berger [MD/74]
A renowned leader in health promotion, illness prevention and care
Philip Berger [MD/74], an associate professor at the University of Toronto's Faculty of Medicine and former chief of the department of family and community medicine at St. Michael's Hospital (1997-2013), is a prominent leader in health promotion, illness prevention and compassionate health care. He's been a staunch advocate for various marginalized groups, including refugees, the LGBTQ+ community, individuals with HIV/AIDS, those battling addiction, homelessness and poverty. Dr. Berger has actively promoted initiatives like methadone treatment, needle exchanges, recognition of torture survivors' needs, academic infirmaries for the homeless and clinical AIDS treatment in Africa, often in the face of indifference or opposition.
2018 – Cheryl Rockman-Greenberg
A trailblazer in genetic identification and treatment for rare disorders
Dr. Cheryl Rockman-Greenberg, a pioneer in rare disorder genetics, discovered her passion for these conditions early on, shaping her career in pediatrics and medical genetics. As an academic clinician, she specialized in applied molecular genetics, uncovering the genetic roots of disorders prevalent in unique populations. Notably, she delved into hypophosphatasia (HPP), a metabolic bone disorder and glutaric aciduria type 1 (GA1), a complex organic acid metabolism disorder affecting Mennonite and Indigenous communities. Dr. Rockman-Greenberg has collaborated closely with these communities, bridging the gap between research facilities at major universities and the people who rely on advanced knowledge and skills for their care.
2017 – Estelle Simons, [MD/69] FRCPC
An icon in the field of allergy and immunology
Professor emerita Dr. Estelle Simons [MD/69], an icon in allergy and immunology, is renowned for her lifelong research on managing allergic diseases like asthma, allergic rhinitis and anaphylaxis. Over the years, she led groundbreaking clinical pharmacology studies, correlating blood concentrations with organ effects to confirm dosing rationale for new medications. Many of these drugs have stood the test of time, remaining globally utilized and proven safe. Dr. Simons also collaborated with immunology experts to uncover allergen sensitization mechanisms and explore novel agents for immune modulation.

2013 – Arnold Naimark, OC, [MD/57]
An outstanding leader and academic builder
Arnold Naimark [MD/57], a remarkable academic leader, joined the University of Manitoba in 1963, swiftly ascending to the role of dean of the faculty of medicine by 1971. As dean, he transformed the university's medical programs, revitalizing departments like physiology and social/preventive medicine (later community health sciences) and spearheading the creation of the Northern Medical Unit. His innovative leadership extended to national and international medical education and research organizations. In 1981, he became the University of Manitoba's ninth president and vice-chancellor, addressing broader university matters while continuing to advance medicine and health sciences.
2012 – John Dirks, OC [MD/57]
An exemplary builder in health research and innovation and committed global health advocate
John Dirks [MD/61], a clinician-scientist and global health advocate, has made remarkable contributions to health research and innovation. He excelled in renal physiology and held leadership roles in Canadian medical faculties. His passion for global health developed during his time at the Aga Khan University in Pakistan. However, Dr. Dirks' most enduring achievement is transforming the Gairdner Foundation and its awards into the renowned Canada Gairdner Awards. These awards celebrate exceptional biomedical research. His visionary leadership revitalized the organization, boosting its global recognition and ensuring the lasting impact of these awards.
2011 – Allan Ronald, OC [MD/61]
An internationally respected expert in infectious disease and a pioneer in HIV/AIDS research and control
After international training, Allan Ronald [MD/61] returned to Winnipeg in 1968 to set in motion the creation of the Manitoba Infectious Disease Program. It soon became internationally recognized and has been acknowledged as Canada's centre of excellence in the research and training of infectious diseases. As part of his commitment to global infectious disease research and treatment, Dr. Ronald assisted the University of Nairobi in creating one of the premiere initiatives in health collaborations between northern and southern institutions: the University of Manitoba/University of Nairobi WHO Research and Training Program in Sexually Transmitted Diseases.
2010 – James Hogg [MD/62]
A passionate and innovative scientist in the field lung research
James Hogg [MD/62], a dedicated and innovative scientist in lung research, has significantly shaped our understanding of Chronic Obstructive Pulmonary Disease (COPD) and asthma. His pioneering work on airway inflammation has transformed how scientists and physicians view COPD. Throughout his extensive career, Dr. Hogg has consistently focused on exploring the mechanisms and anatomical aspects of obstructive lung diseases. His contributions have established him as a leading authority in these fields, profoundly impacting the medical community's knowledge of COPD and asthma worldwide.
2003 – Charles Hollenberg [MD/55]
A leader of the Canadian academic medical community
After receiving his MD from the University of Manitoba and pursuing post-graduate training in internal medicine, Charles Hollenberg [MD/55] turned to a life of academic medicine and leadership. Dr. Hollenberg's academic career began at McGill University in the 1960s, where he conducted an active program of research in fat metabolism and actively promoted the growth of scientific medicine at the Montreal General Hospital. The following decade he spent as chair of the department of medicine at the University of Toronto, where he was successful in furthering the mission of the department in all areas, including teaching, administration and research.
2001 – Henry Friesen [MD/58]
A transformative influence on health research in Canada
Dr. Henry Friesen [MD/58], a pivotal figure in Canadian health research, began his journey in 1965 at McGill University's department of medicine. There, his pioneering work on human growth hormones enabled effective hormone replacement therapy for children with deficiencies. He later achieved a breakthrough in endocrine research by isolating and purifying prolactin. Beyond his research, Dr. Friesen demonstrated remarkable administrative leadership, notably as president of the Medical Research Council of Canada. He successfully navigated the council through challenging periods with remarkable competence and diplomacy, and his vision and advocacy played a key role in transforming it into the Canadian Institutes of Health Research. His contributions have left an indelible mark on health research in Canada.
1995 – Bruce Chown, OC [MD/22]
An expert clinician, diagnostician, innovator and teacher
Dr. Bruce Chown [MD/22], a highly skilled clinician, diagnostician, innovator and educator, dedicated his career to researching erythroblastosis fetalis, commonly known as "Rh disease." This condition occurs when a pregnant mother's Rh factor differs from her unborn child's, leading her immune system to harm the baby, potentially causing severe complications in vital organ development and even fetal or postnatal death. Dr. Chown went on to establish a facility in partnership with Connaught Laboratories for producing Rh immune serum. His groundbreaking work significantly reduced the incidence of Rh disease in Canada and globally, protecting countless pregnancies and newborns from this condition.