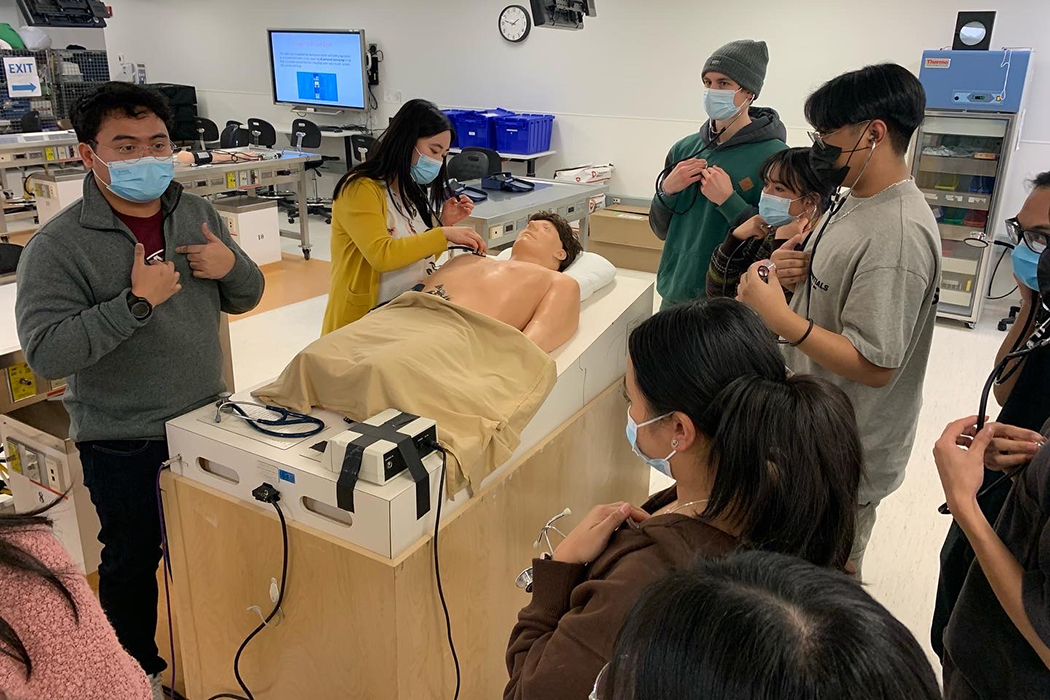 Campus visit exposes high school students to Rady Faculty programs
February 7, 2023 —
After listening to a panel of recent University of Manitoba medicine and nursing grads speak, Grade 12 student Isabella Dalisay had a better sense of what it takes to become a health-care professional.
"The most important thing I learned was the mindset one needs to have in order to succeed and progress in a career in health care," she said. "It boiled down to having a true passion for wanting to help others in any way you can."
Dalisay was one of 24 Daniel McIntyre Collegiate Institute (DMCI) students who visited the Bannatyne campus in January for an afternoon of health-care-related activities. The students are enrolled in DMCI's Medical Professionals Program, a three-year program which prepares learners for post-secondary education in the health sciences, and to work in careers related to health care and the biomedical industry.
The eager students took part in a Q&A session with two physicians, two nurse practitioners and one nurse.
The group participated in some hands-on activities in the Clinical Skills Lab. They learned about lumbar puncture procedure, auscultation of the heart, how to take blood pressure and how to use an otoscope to examine the ear.
The students also went on a tour of the Bannatyne campus to see where they could one day be attending classes.
"The experience was very informative and enriched our understanding of not only the education that goes towards becoming health-care professionals, but of what kind of mindset it takes to succeed on that kind of path," said Dalisay, who is thinking about becoming a medical laboratory technologist.
The afternoon was organized by Dr. Francis Diaz, a UM pediatrics resident, Dr. Katrina Leong, a UM family medicine resident, and Karen Cook, co-lead, Office of Community Engagement, Rady Faculty of Health Sciences.
When putting together the Q&A panel, Diaz said it was important to show diversity.
"We wanted the event to show that, 'hey, we are also visible minorities, we are in medicine, we are in health care, and it is possible for visible minorities to be in these positions if you work for it,'" said Diaz, who is a Class of 2013 DMCI grad. "It's about seeing a Filipino doctor like myself and realizing that it's not just a dream – it can be reality."
Leong said many of the questions the students had for the Q&A panel were about what it takes to become a physician. She said it's important to expose students to health-care careers beyond medicine and that's why they had a nurse and nurse practitioners on the panel.
"The next time we host the Medical Professionals Program students, we'll see if we can include an occupational therapist, a physiotherapist or a speech-language pathologist on the panel," Leong said. "Because even when I was starting medicine, I didn't really know what those professions did, so I think it's important to introduce other careers to the students to widen their perspective and show them what else is out there."
Cook said that the Office of Community Engagement always welcomes opportunities like the campus visit to sustain and develop its partnership with DMCI.
"I believe facilitating tours of the campus, including visits to the Clinical Skills Lab, gives students some perspective in terms of what it's like to actually be studying for a career in the health professions," Cook said. "Up until now, they've likely heard from their teachers and parents about university and college experiences, but physically being present and participating in discussions and activities led by a former DMCI graduate brings their post-secondary aspirations to an entirely different level."
Dan Gilbert, a DMCI teacher and the program coordinator of the Medical Professionals Program, said that collaborating with the Rady Faculty provides an opportunity to build a connection between high school and post-secondary education.
"It helps builds confidence and motivation, at the same time reduces the uncertainty and anxiety that many students experience as they make some of the toughest decisions regarding their futures," Gilbert said. "Our continued relationship with the Rady Faculty of Health Sciences provides an opportunity for mentorships and strengthens the overall sense of community."