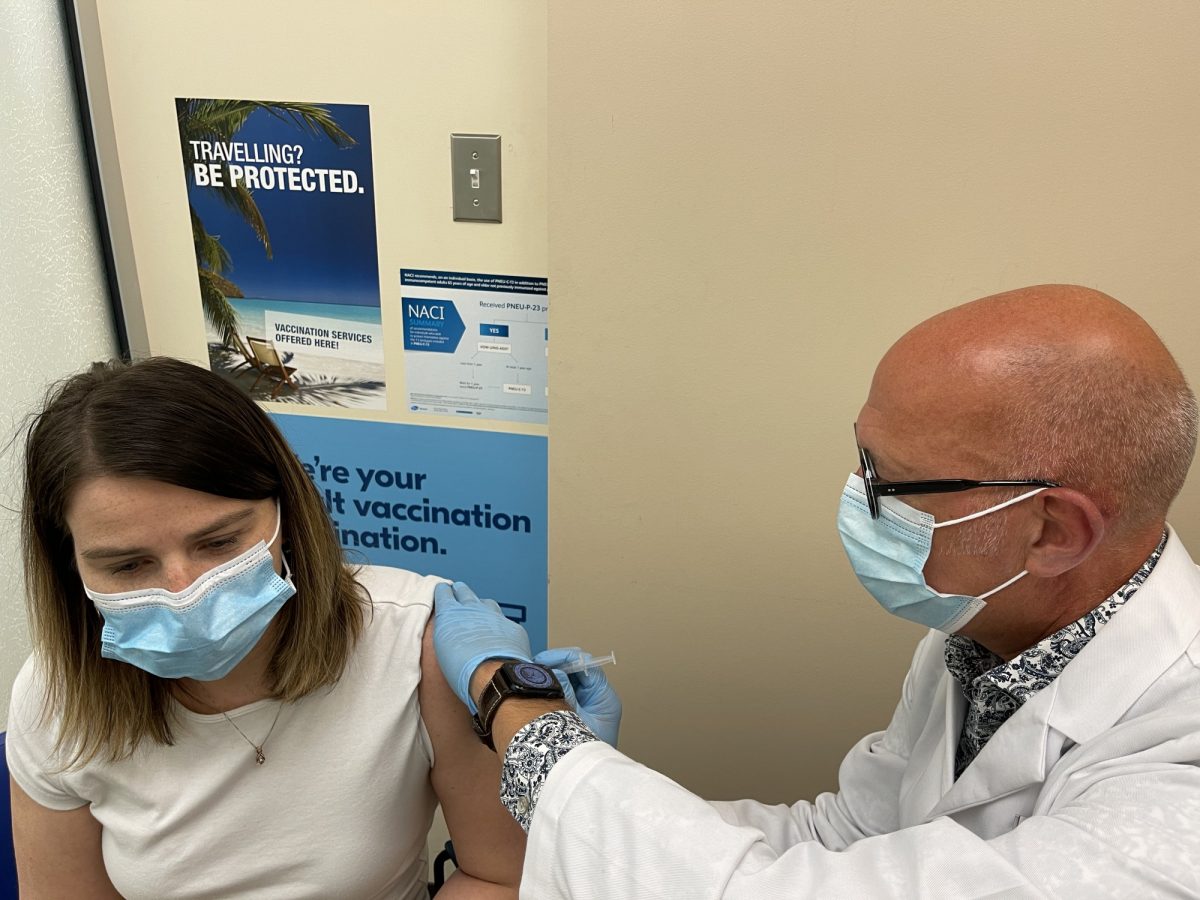 Calling the Shots
December 19, 2022 —
At the age of 24, Hans Epp [B.Sc.Pharm/84] became one of Shoppers Drug Mart's youngest franchise owners.
In his nearly four decades as a pharmacist, he has seen many changes in the profession.
"The twilight season of my career has definitely been the most rewarding," the alumnus says. "When pharmacists in Manitoba got the opportunity to administer vaccinations about eight years ago, I saw it as an exciting way to provide more hands-on health care. It has forever changed the relationship we have with our patients."
Epp retired in 2021 after nearly 35 years as the pharmacist-owner of the Shoppers in his hometown of Steinbach, Man. But he is still affiliated with the store's pharmacy in a role he finds highly satisfying: advising and vaccinating global travellers.
In 2017, Epp was certified by the International Society of Travel Medicine as a travel health specialist. Recently, he became the first pharmacist in Manitoba to be designated as an extended practice pharmacist in travel health.
He prescribes and administers vaccines against diseases such as yellow fever, typhoid and cholera, as well as medications to prevent ills such as malaria and altitude sickness. As part of the process, a doctor or nurse practitioner approves the recommended vaccines and medicines.
Epp has completed more than 800 travel health consultations, helping Manitobans stay healthy in destinations all over the world, from Everest Base Camp to Victoria Falls to Machu Picchu.
"I have always enjoyed travel," he says. "One enjoyable aspect of providing travel health consultations is the ability to be a part of my patients' adventures by helping them be safe and healthy."
Most patients are very open to the process, Epp says. But it can be challenging to educate some travellers to place value on the necessary health precautions. "I find that the best approach is to provide understandable information and personal experiences whenever possible."
Epp was still the owner of the Steinbach Shoppers Drug Mart when the global pandemic struck. He spoke out to encourage COVID-19 vaccination in the southern Manitoba community, where there was considerable vaccine hesitancy.
"I embraced going public and doing media interviews as the best opportunity to help educate," he says. "Pharmacists have a responsibility to be part of solutions. It was not always easy, but my goal was to be available for any questions or discussions, no matter the source or intent of the questioning."
Many people who did roll up their sleeves for COVID-19 vaccines left an impression on him. "I will never forget the tears of joy and the simple words of support," he says.
Such connections with patients are what originally attracted Epp to the profession. He had considered becoming a dentist, but the approachability of a pharmacist – which he observed while apprenticing under Wes Reimer at Steinbach's Reimer Pharmacy – was a better fit for him.
"Pharmacy had the image of connecting directly with many people as the most accessible health-care practitioner, and I was drawn to that," he recalls.
One of the most valuable lessons he learned in the UM pharmacy program?
"Make a positive difference in your patients' lives."