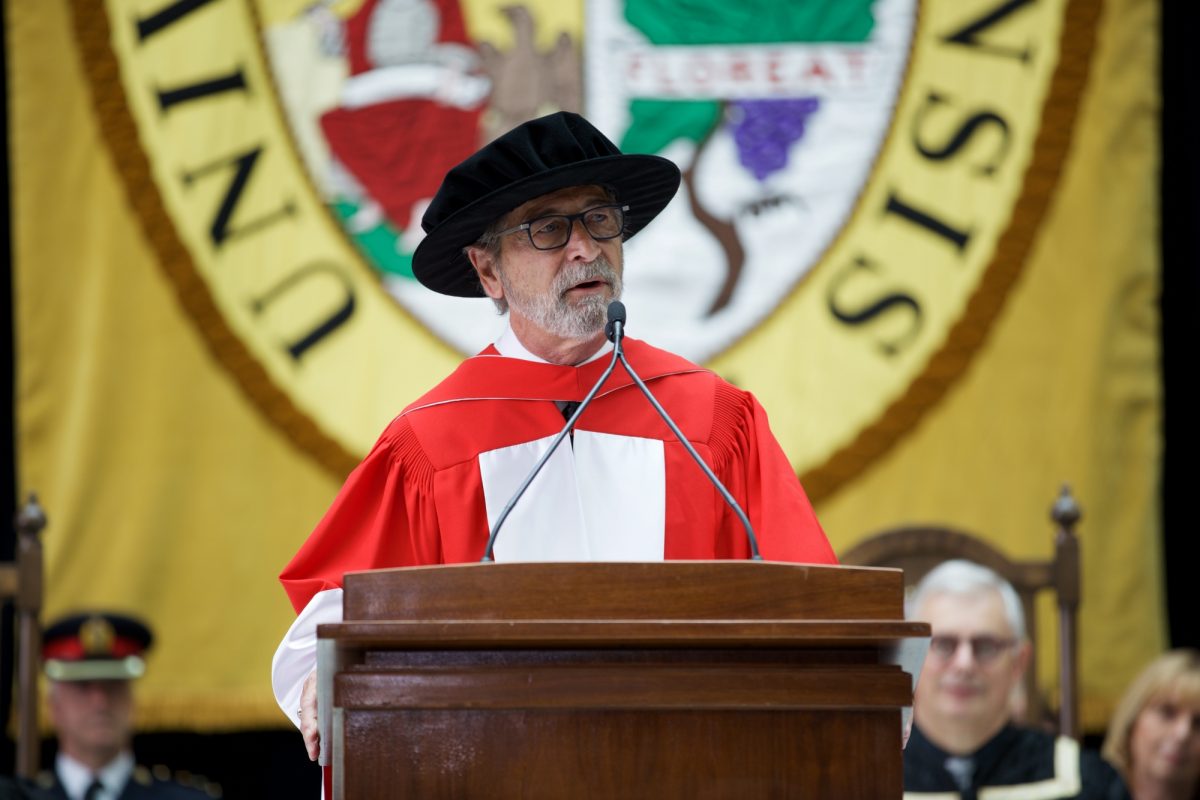 Business leader to U of M grads: What matters most is how you treat people
June 11, 2019 —
Winnipeg business leader Bob Silver has been highly successful in the clothing industry, manufacturing brands such as Silver Jeans and co-owning retail chains like Bootlegger and Ricki's.
But back in the 1970s, when he was first asked to take the helm of his family's garment company, he was reluctant. As he told the Medicine Class of 2019 in his Convocation address, he believed there was limited good he could accomplish in the apparel business.
"None of my jeans ever saved a life," Silver said after receiving an honorary doctorate at Convocation on May 23 on the Bannatyne campus. "They might've made you feel better. They might've made your bum look better … but they didn't save a life."
However, Silver recalled, as he grew into his leadership role and learned from others, he came to realize that what matters most is not what you do, but the manner in which you do it.
"How I treated my employees, how I treated my customers, how I treated my associates, how I treated members of my community, was more important than what I actually did," Silver said, urging the graduating doctors to be humble, honest, inclusive, and to treat everyone as they would like to be treated.
Silver, a U of M alumnus in science, has been influential as a community builder and philanthropist. He has led initiatives such as the United Way campaign, provided expertise to many boards and contributed to post-secondary education, chairing, for example, the Southwood Lands expansion of the U of M Fort Garry campus.
"Give back, not just through your profession, but through your lives; through the twinkle in your eye," he told the graduates. "I encourage you to do it right here in this wonderful community of Winnipeg and Manitoba."
Spring Convocation for four colleges of the Rady Faculty of Health Sciences took place on the morning and afternoon of May 23 on the Bannatyne campus, and on June 7 on the Fort Garry campus. The graduating health professionals included 109 in medicine, 33 in dentistry, 29 in dental hygiene, 47 in pharmacy and 115 in nursing.
Medical graduate Christopher Briggs, a member of the LGBTTQ* community, has been a national advocate for the inclusion of LGBTTQ* health curricula at medical schools. His student leadership roles included serving as senior stick of the Manitoba Medical Students' Association.
The new MD said he was struck during the ceremony by his class's diversity. "The dignitaries on stage were much less diverse than our class. The future of medicine is more reflective of our community," said Briggs, who is headed to Toronto for a residency in public health and preventative medicine.
Pharmacy graduate Kelly Yeo from Stonewall, Man., was the silver medalist in her program and has been hired as a full-time pharmacist in her hometown. She said it's important to her to get to know patients personally.
Yeo has been working at Stonewall Pharmacy as an assistant since before she was accepted into the program. "The people around town have watched me progress," she said after receiving her degree. "I remember in my very first week as an assistant, I would go home at night and Google what the drugs meant. To go from that to this is really surreal."
Dentistry graduate Nader Shaker was born in Egypt and immigrated to Canada at age 17. He was recognized with the award for the dental student who showed "the most outstanding qualities of leadership and character."
Shaker said his most memorable moment of dental school was providing dentures to a patient who was moved to tears and said she had gotten her life back. "I was able to change someone's life with the set of skills that I learned here," said Shaker, who is moving to London, Ont. for a residency in hospital dentistry.
Nursing graduate Lauressa Garson from Tataskweyak Cree Nation sees providing care in the North as a vital part of her career. She was honoured this year with a U of M Indigenous Award of Excellence for her work promoting a positive, respectful learning environment.
Garson was a research assistant for a project focused on mental health promotion and suicide prevention in northern Manitoba. She also completed a practicum in the Thompson hospital's mental health unit.
"Going through Nursing, it has solidified my passion for mental health," Garson said. "The practicum placements that I've chosen in northern Manitoba, and also previous clinical rotations, really made me realize how mental health is just as important as the physical."