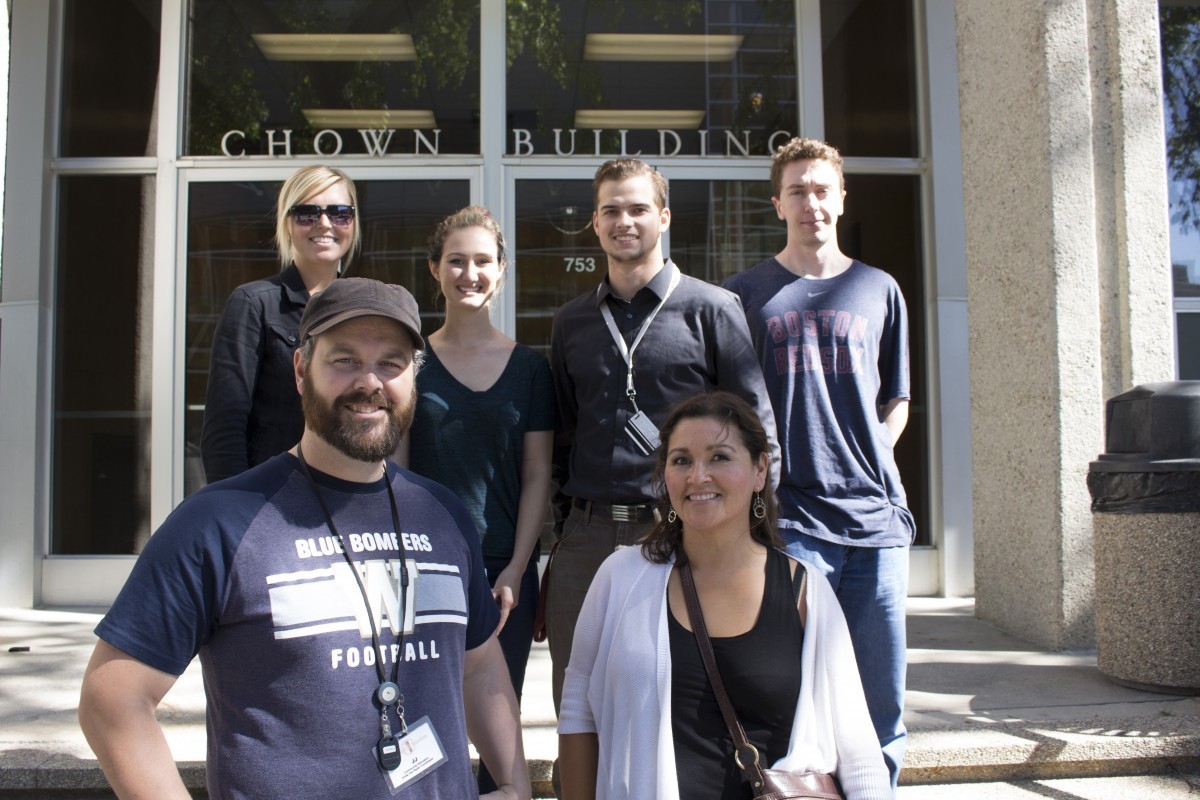 Buses and Bingo
August 24, 2015 —
Orientation bus tours at the Bannatyne campus usually don't incorporate a round of bingo, but this is exactly how first year medicine, dentistry and dental hygiene students are learning more about Winnipeg's inner city.
The Faculty of Health Sciences orientation bus tour is an annual event that lets faculty and staff lead first-year medicine, nursing, dental hygiene, pharmacy and rehabilitation sciences students on a guided excursion throughout Winnipeg's North End and inner city to familiarize them with key locations and communities surrounding the U of M's Bannatyne Campus.
Nearly 200 students participated in last week's tours and were handed bingo cards as they stepped onto the bus listing various locations in the city's core. Students were asked to look for these locations as the tour progressed to rack up their bingo scores. Winners received a CD from Sunshine House, an inner city drop in centre.
Gaining an understanding of the core neighbourhood – especially one just a proverbial stone's throw from the gleaming classrooms and state-of-the-art facilities in which most of the students will be honing their respective skills – is what makes these tours a vital learning exercise. Some of the locations visited by the students were the North Point Douglas Women's Centre, the U of M's Inner City Social Work campus, and Siloam Mission.
Students visiting Siloam were led on a guided tour by John Janzen, Siloam's Community Education Coordinator. The tour included Siloam's medical and dental clinic, kitchen, gym, art room and clothes sorting area.
For Paul Ricard, a first year dentistry student and bingo winner, the tour was an eye opener.
"It broadens my perspective," he said. "As professionals in the higher income groups we might not see much of these neighbourhoods. It gives us an opportunity to see what other people are going through and what their situations are."
Natali Trpkoska, another bingo winner and first year dental hygiene student, also found the bus tour valuable as a student and future health professional.
"This neighbourhood is not just a place where we learn, it's also our community," she said "It really opened my eyes to see that not everyone lives where I live and it makes me want to volunteer and use the skills that I will learn as a dental hygiene student and bring it everywhere, because not everyone can afford dental hygiene or dental care."
For Laura Macdonald, Associate Professor at the School of Dental Hygiene, the point of the bus tour is to get students to "think about what you can give back to the community and how you can serve the community. We need students to pay attention to the neighbourhood that we live, work, learn and play in."
There will be further orientation bus tours for first year Pharmacy and College of Rehabilitation Sciences students on September 2 and 9.