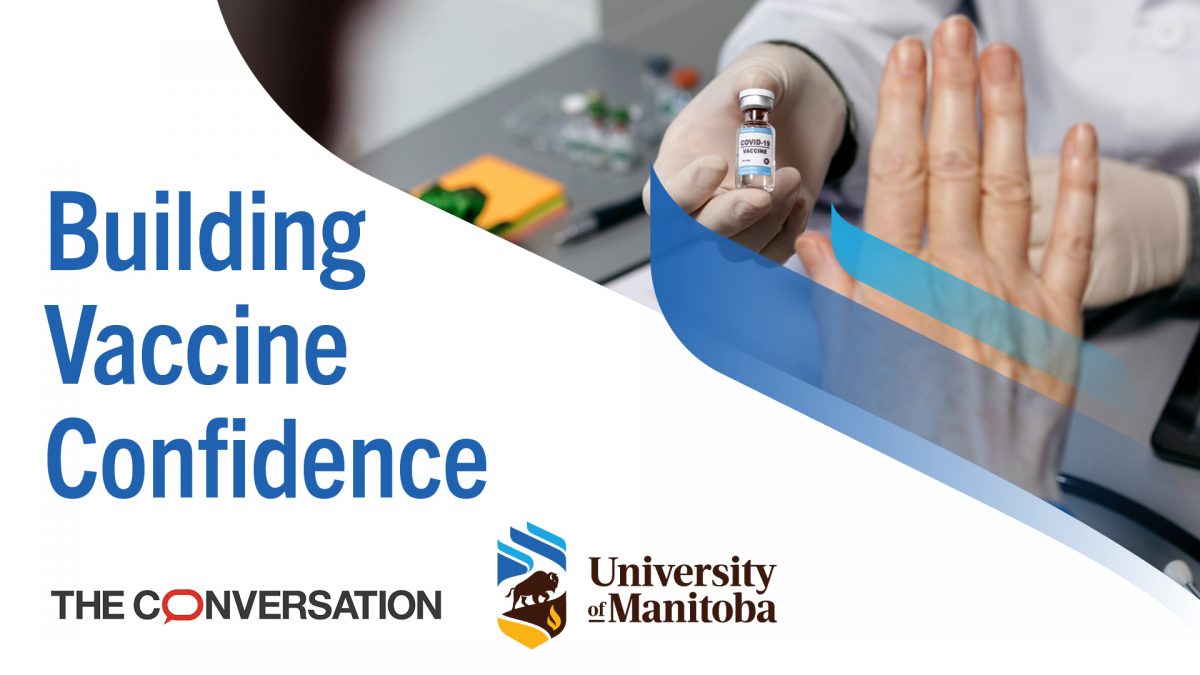 Building Vaccine Confidence – Online Event July 28th
July 20, 2021 —
The Conversation Canada and the University of Manitoba have put together a special live video panel of experts to explore and explain vaccine hesitancy and discuss what can be done to promote vaccine confidence.
As COVID-19 vaccine programs have rolled out, thousands of people have made the conscious decision not to get vaccinated. If large portions of the population remain unvaccinated, COVID-19 could continue to pose a threat to the general public and put a strain on our health-care systems.
The Building Vaccine Confidence online event takes place live over YouTube on Wednesday, July 28, 7:00 p.m. – 8:30 p.m. (no pre-registration required) and includes an opportunity for questions and answers with the panelists.
The panel features four prominent UM academics who have been using their expertise to provide important information, outreach and support to the public throughout the COVID-19 pandemic and vaccine effort.
Featured in the panel:
Dr. Marcia Anderson, vice-dean, Indigenous health, Rady Faculty of Health Sciences and executive director, Indigenous academic affairs, Ongomiizwin – Indigenous Institute of Health and Healing; public health lead with the First Nations Pandemic Response Coordination Team in Manitoba.
Dr. Esyllt Jones, professor of history, Faculty of Arts and of community health sciences, Max Rady College of Medicine; dean of studies, St. John's College; member, Royal Society of Canada COVID-19 Task Force; author of Influenza 1918: Death, Disease and Struggle in Winnipeg.
Dr. Jason Kindrachuk, Canada Research Chair in emerging viruses; assistant professor of medical microbiology and infectious diseases, Max Rady College of Medicine; researcher with Children's Hospital Research Institute of Manitoba.
Dr. Lori Wilkinson, professor and associate head undergraduate studies, sociology and criminology, Faculty of Arts; co-lead of the COVID-19 Impacts Research Project, studying the impact on mental and emotional health of Indigenous Peoples and newcomers in Canada, the U.S. and Mexico.
The panel will be moderated by Scott White, editor-in-chief, The Conversation Canada. The Conversation is an independent source of news and views that publishes articles specifically from academics and the research community.