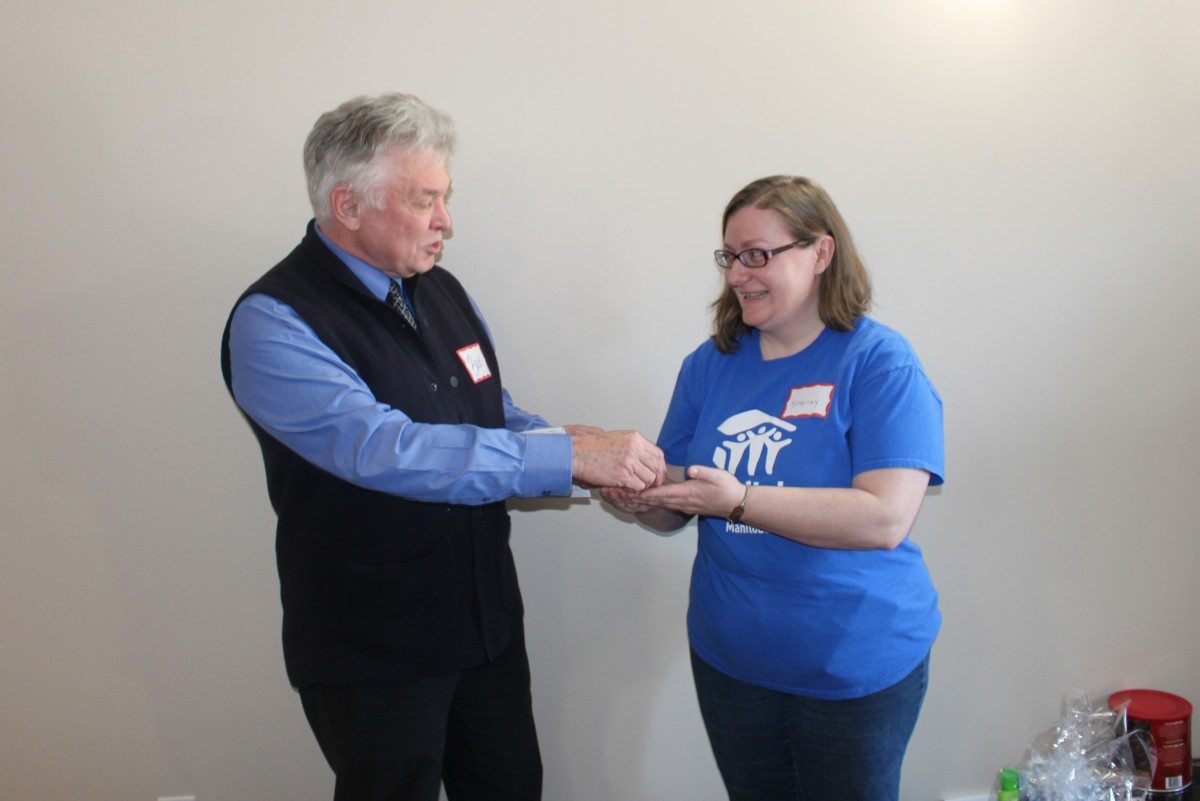 Building hope: Habitat partner family receives "Key" to bright future
February 17, 2017 —
Like most new homeowners, Shelley got pretty excited when she was handed the keys to her new house.
Her eyes lit up and she hugged them to her chest.
Then her eyes welled up. "This means we'll never have to sleep in our car again."
On February 15, 2017, the single mom and her two boys started a new chapter in their lives at a key ceremony celebrating the home built for her through a partnership between the Rady Faculty of Health Sciences and Habitat for Humanity Manitoba.
"Our journey has been long and hard," Shelley told the crowd assembled to help her celebrate. "But now we're here. This is the home I get to give my children—this is the home my children are going to have for the rest of their lives." She whispered a thank-you and the room broke into applause.
Every Habitat home is special, but this one is unique in that it's custom-designed for accessibility. Both of Shelley's sons have special needs. Shelley's elder son, Gary, has an Autism spectrum disorder. Miguel, now 13, has a form of Muscular Dystrophy—a muscular degenerative disease—that will ultimately result in the need for a wheelchair.
Herb Griffith, a safety coordinator with Habitat for Humanity, pointed out some of the special features that will make the home work well for all three family members. "There's a nice big bathroom on the main floor with grab bars and plenty of room to move around," said Griffith. "That's the kind of thing you might expect in an accessible home. But just look out the back—you can also drive right up to the back door and enter straight into the house."
He points to a brightly-lit rear entrance that opens onto a parking pad. Not only will there be a ramp, but a vehicle will be able to load a wheelchair directly into the home without ever touching the ground. In a city like Winnipeg where ice and snow can make sidewalks perilous for any Winnipegger, a little bit of foresight can make getting around not just easier, but a whole lot safer.
"We don't believe in using a cookie-cutter approach," adds Griffith. "We have general designs for our homes, but for each family, the house is built so it's right for them and their needs, whatever those may be."
Dr. Bruce Martin, speaking on behalf of the Rady Faculty of Health Sciences, described the university's long-association with Habitat for Humanity as a privilege. "As a faculty of health sciences, we're all acutely aware of the value of safe and secure housing," said Martin, Director of Admissions, Max Rady College of Medicine. "Day in and day out, we see the manifestations of what it means when people don't have the privilege and opportunity that many of us have had. Working with Habitat on projects like this helps us give back—whether it's sweat equity or financial donations."
Shelley's home is the third that volunteers from the University of Manitoba's community of health educators, researchers and learners in the health professions have helped with, both in terms of fundraising and construction. In 2013 and 2014, the Bannatyne Campus staff parking lot was transformed into a construction site, with builds taking place right on campus. The new homes were later moved to their permanent sites in the community.
In 2016, faculty, staff and students from the College of Dentistry, Max Rady College of Medicine, and the Colleges of Nursing, Pharmacy and Rehabilitation Sciences came together for yet one more build.  More than 100 people volunteered during the home's construction last June—this time on its permanent site in the inner city. The Rady Faculty of Health Sciences also raised $100,000 in support of the Habitat build.
"I want to applaud and acknowledge all of the volunteers who gave their time and effort to make Shelley's home a reality. Thanks to your hard work and our very generous donors, Shelley and her family now have safe, affordable housing and a bright future ahead," said Dr. Brian Postl, dean, Rady Faculty of Health Sciences.
"No one better understands the importance of a stable and healthy home in the well-being of a family than the faculty, staff and students of the Rady Faculty of Health Sciences," said Habitat for Humanity Manitoba CEO Sandy Hopkins. "That health care professionals, current and future, and the institution that employs and teaches them can come together in this manner is an outstanding example of leadership in our community."
As with every build, the homeowner is a vital part of the construction process, from start to finish. "More than anything else, today I am absolutely honoured to be here because of the relationship I established—and many of us established—with Shelley and her family," Martin said to the crowd in the moment before he handed over the keys. "It was wonderful to work along Shelley each day on the build. It was wonderful to see her dedication and commitment to it. But it was also wonderful to see her joy as we moved from a platform, to a foundation, to walls, to a home."