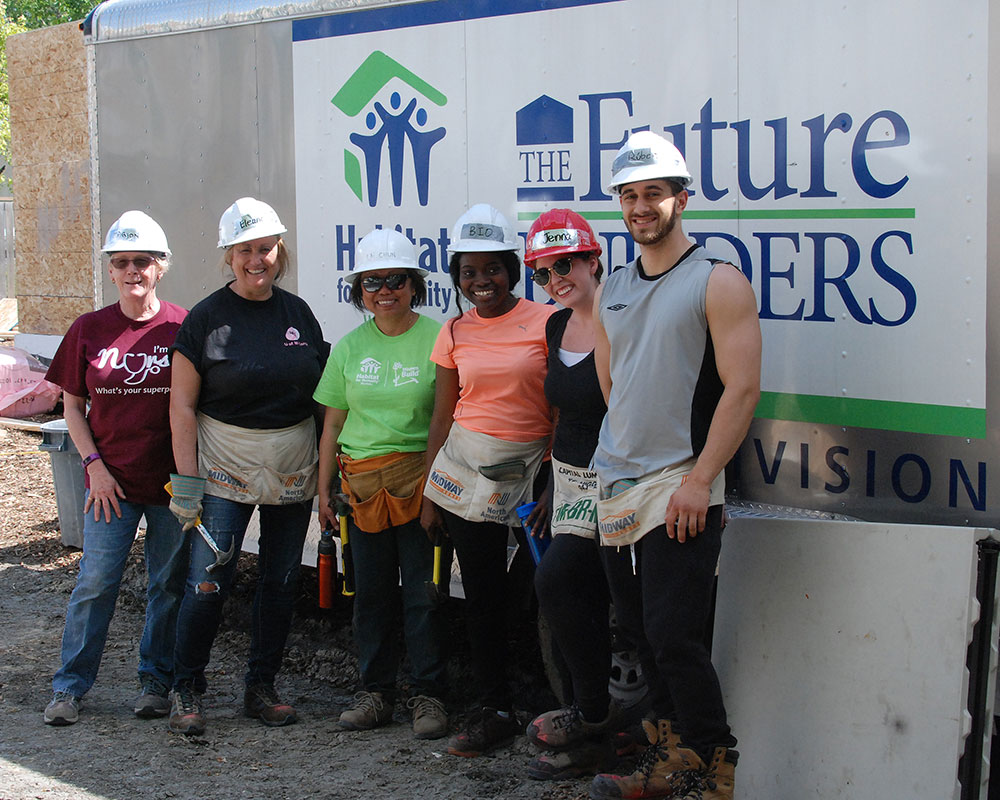 Building community
College of Nursing pitches in on Rady Faculty Habitat build
July 28, 2016 —
Thinking about building a house? Talk to Lai Chun Yee.
With more than 10 years of construction experience, there's hardly a task this College of Nursing staff member won't tackle.
Of course, it probably won't be your house she takes on next—she's already got a day job coordinating the College's HR activities, website and more to keep her busy. On the other hand, if it's Habitat for Humanity asking, that's a different story. She'll be on it before you can say "Women's Build" and she's going to give her all until the very last nail goes into the wall.
"Many times you donate money and you don't see where it goes," she says. "But with this, you can see the results immediately. You get to know the family that's getting the home. That's the part that's really rewarding. You meet the recipients."
She admits she hasn't always been a whiz at construction. "But how else do you learn except by doing it?" says Yee. "When they ask 'who wants to learn how to put in a window,' that's your time to find out." The tasks kept coming and Yee kept saying 'yes.'
It wasn't long before she became a confident builder that inspires friends and colleagues to pick up their own hammers and find out what they're made of.
Marion McKay, Director, Curriculum Integrity and Student Support Services, College of Nursing joined the Rady Faculty of Health Sciences build this year for the first time ever.
"It's something I've always wanted to do," says McKay. "I grew up in a small town and building houses together was just something people did. It's really a lot of fun."
But like many working professionals, McKay found that when it came time for a Habitat build, life always got in the way. She credits Yee with "walking the walk" in a way that inspired her to finally get involved. "Whether people know it or not, she's been quietly involved with Habitat for years. She even uses her holiday time to work on a build."
For Nursing student Ruben Freire, going into fourth year, it was also time to get in on the action. "It was a very cool experience," said Freire, who was new to construction. "The house we were building was for a lady whose son needed a ramp. It feels really great to give back to the community and be able to help out people who don't always get the kind of support they need."
To him, it makes perfect sense for Nursing to be involved in that kind of community work—it fits perfectly with his career goals to make a difference in the lives of those who need it most.
This year's Rady Faculty build took place from June 20 – 30, 2016, but the fundraising portion of the partnership with Habitat for Humanity-Manitoba continues. So far, the Rady Faculty of Health Sciences has raised $60,000 and is still working towards its $100,000 goal. Donations supporting the Rady Faculty Build can be made at http://www.habitat.mb.ca/get-theme-builds-uofm.cfm
According to Yee, it's not too early to start thinking about your plans for next summer. "If it's something you always wanted to do, you shouldn't be intimidated," she says. "I tell people, it's just a piece of wood. If you cut it wrong, you can cut another piece. There's no judgment. Anyone can do it!"