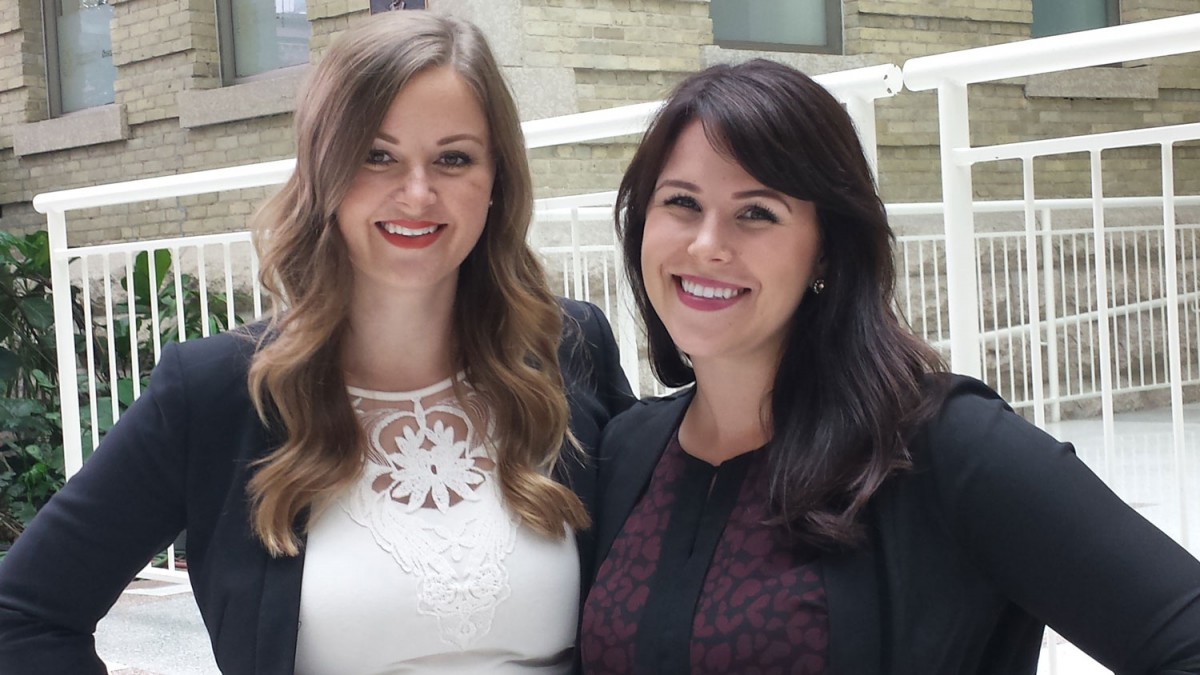 BRA Day to raise awareness of breast reconstruction options
October 5, 2016 —
When a woman is diagnosed with breast cancer, she faces difficult choices about treatment and surgery.
One daunting decision can be whether to have post-mastectomy breast reconstruction, and if so, what kind.
Does she want immediate reconstruction, done at the same time as mastectomy surgery, or is it better to live awhile without breasts and have delayed reconstruction?
Is it preferable to receive implants, or to have breasts constructed from tissue from her own body, such as the abdomen, back or thigh? What options does she have if reconstruction surgery is ruled out for health reasons?
Emily Saganski and Izabella Supel, medical students at the Max Rady College of Medicine in the Rady Faculty of Health Sciences, say cancer patients and their loved ones often lack a clear picture of how reconstructed breasts look and feel.
"About one in nine women will be diagnosed with breast cancer," notes Saganski, a fourth-year student who is considering a career as a plastic surgeon. Many breast cancer patients, she says, appreciate the chance to interact with women who have had reconstruction and surgeons who perform it.
Saganski, Supel and fellow student Joju Sowemimo have organized the first Winnipeg BRA (Breast Reconstruction Awareness) Day, which is not connected to Bras Across the Bridge events.
The educational BRA Day event is part of a Canada-wide initiative to inform and support women who are considering post-mastectomy reconstruction. It's free and open to the public, including men. Attendees are asked to pre-register on the BRA Day Winnipeg website.
The event is Oct. 25 from 6 to 10 p.m. at the Brodie Centre. There will be presentations (6:30-8:30 p.m.) in the Gaspard Theatre, with exhibits and refreshments in the Brodie Centre Atrium.
Speakers include Dr. Edward Buchel, section head of plastic surgery at the Max Rady College of Medicine, surgeon Dr. Ethel MacIntosh and women who have undergone reconstruction. Peer supporters from CancerCare Manitoba's Breast and Gyne Cancer Centre of Hope will be on hand.
BRA Day is being held this month in 22 Canadian cities. The Canadian Breast Cancer Foundation is the national coordinator.
"It's a scary topic," says Supel, who has a family history of breast cancer. "It alleviates stress to know about the resources that are there for you."
The event aims to help women "develop realistic expectations of what reconstruction can achieve." The topic is wrapped up with issues of body image, "whether you think reconstruction is to regain a sense of femininity, or a sense of identity, or just feel comfortable in your own body," Saganski says.
Most BRA Day events in other cities include a Show and Tell Lounge in which volunteers who have had reconstruction "open their shirts and their hearts" to show other women the results. The students say that if they hold the event next year, they may introduce a Show and Tell element.
This year, they have asked Winnipegger Kristina Hunter to present a photo exhibit from a project called Woman Redefined: Dignity, Beauty and Breast Cancer.
Hunter, a breast cancer survivor, partnered with a photographer to capture scars-and-all images and stories of women's post-mastectomy bodies. The photos celebrate breast cancer survivors as whole and beautiful, regardless of their personal choices on the cancer journey.