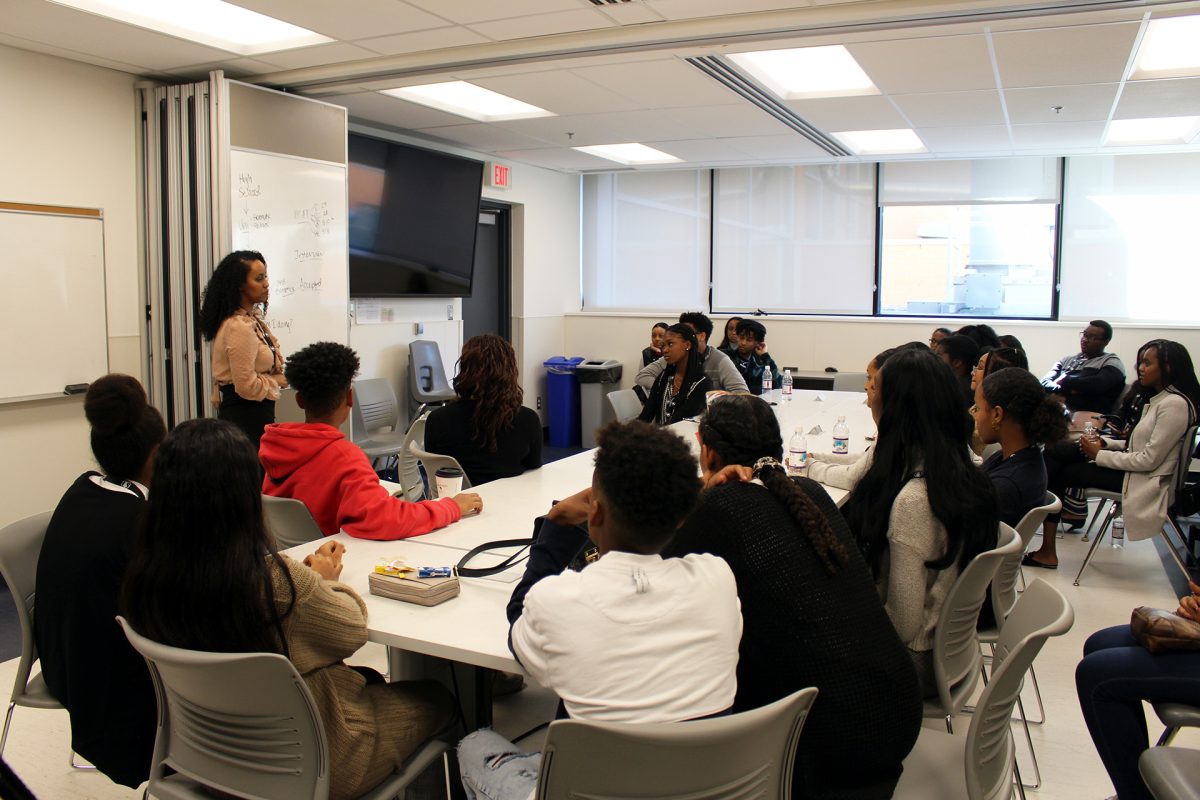 Breaking Barriers: First Black Health Symposium encourages diversity in health care
September 19, 2019 —
The inaugural Black Health Symposium "Breaking Barriers – Making a Career in Health Care More Accessible for Black Students" was held September 8 at the Bannatyne Campus. It targeted black youth primarily between the ages of 15-26, interested in a career in the health professions at the Rady Faculty of Health Sciences.
The event, organized by the Black Medical Students Association (BMSA), a new student group at the Max Rady College of Medicine, attracted more than 100 youth. The group aims to decrease barriers to entering a career in health care for the black population, particularly for black youth, and increase the number of black students admitted to the faculty.
Helen Teklemariam, Amir Ali, Yohanna Asghedom and Achieng Tago, fourth-year medical students and four of BMSA's founders, formed the student group because while the black population in Manitoba has increased significantly in the past few decades, there are still few black medical residents or faculty members.
"We wanted to get the ball rolling on increasing representation at our school," said Teklemariam, "We thought the best way to do that was by holding a symposium for the youth so we could foster their interest in medicine, provide them with resources and start the conversation about what they need to do to get into medicine."
Ali noted that it is important to increase representation, especially in diverse cities like Winnipeg, because diversity in staffing has been shown to have a positive impact on the quality of health care.
"There have been a lot of studies showing that a more representative health care team will lead to better outcomes whether it's heart disease, diabetes, or maternal mortality," he said.
The organizers hope the event will help the students in attendance to start thinking about their future career path early on in their education and plan accordingly, since the admissions process can be challenging and competitive. They also want to build a network of students interested in health care and follow them on their educational path to determine if events like the symposium end up leading to an increase in black students admitted into medicine.
At the symposium, students listened to keynote speakers Dr. Biniam Kidane, a thoracic surgeon and assistant professor, Department of Surgery, Max Rady College of Medicine; Mr. Markus Chambers, Deputy Mayor of the City of Winnipeg; Dr. Marcia Anderson, Executive Director, Indigenous Academic Affairs, Ongomiizwin – Indigenous Institute of Health and Healing, Rady Faculty of Health Sciences; and Uzoma Asagwara, an addictions specialist, psychiatric nurse and newly elected MLA for the Union Station riding.
The organizers developed a series of workshops for the attendees aiming to fit a variety of different interests and needs. Students received tips on preparing for the MCAT, prepping for interviews, building their resumes, volunteer opportunities and advice for overcoming obstacles. Another session provided students with information on other career paths in health care including dentistry, nursing, physiotherapy and pharmacy. Students also took tours of the Bannatyne Campus and had professional headshots taken.
At a panel discussion with medical students Abseret Hailu and Achieng Tago, and neurosurgery resident Dr. Andrew Ajisebutu, students asked questions about navigating challenges such as language and financial barriers, work-life balance, the admissions interview process and mental health.
Hailu is a third-year medical student, and said she wanted to participate on the panel to give young students a chance to pick their brains and gain valuable advice on how to pursue a career in medicine.
"The biggest takeaway I want the students to have is that nothing is impossible. I felt like I had a lot of barriers – being an immigrant, being a woman, being that English was my third language, being of low socio-economic status," she said, "I was able to push through. I don't want anybody to be deterred from doing what they want because of the barriers they have. I want this to be an inspiration for them, if somebody else can do that, I can do it as well."
Havtom Meresi, a fourth-year biochemistry major at the University of Winnipeg who hopes to get into dentistry, attended the symposium to learn more about the Rady Faculty and find potential mentors. After hearing the keynote lectures, what stayed with him was the feeling of possibility.
"Basically, don't close your mind. A lot of people aim lower than they think they can. Just know that you're capable of achieving what you set your mind to. Another thing that resonated with me is that you need to work hard, there's no shortcut," said Meresi.
Anderson and Asagwara delivered the final keynote lecture of the day titled, "We Out Here," which addressed racial bias and the importance of representation in the health-care system.
Asagwara wrapped up their address by emphasizing to the students that being themselves is an asset and a strength.
"Those are the greatest gifts you bring to the table, to any table," said Asagwara, "I'm still often the only one at the table who looks like me, who has my experiences, and that's what makes me invaluable. You've got to be able to recognize that, you can't minimize that for anybody and you can't allow anyone to minimize that for you."