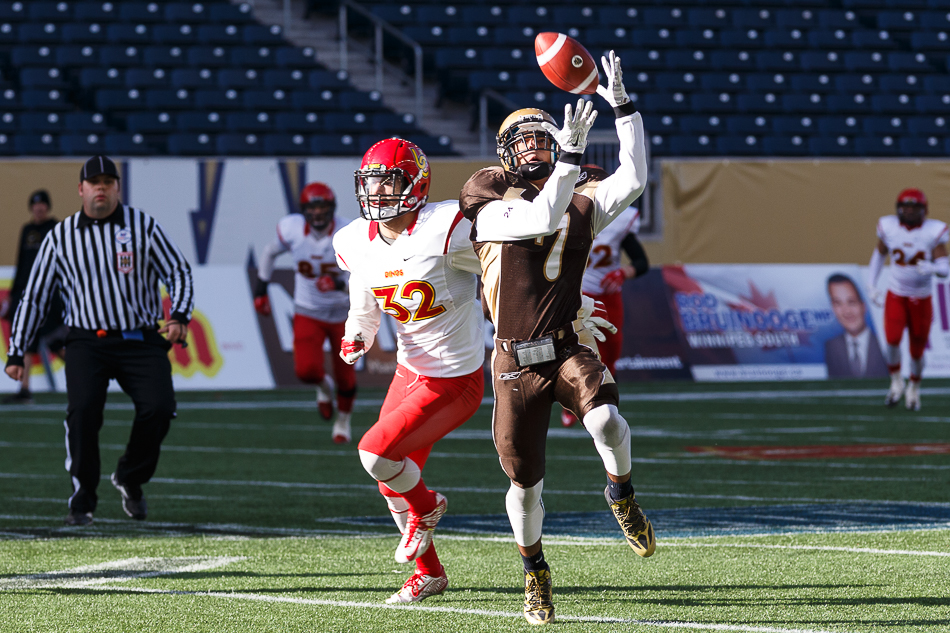 Bisons this week
November 7, 2014 —
Last weekend at home the Bisons football team earned a playoff spot with a 50-31 victory on November 1, the men's basketball team swept their season opening series against the Trinity Western Spartans while the women's basketball team dropped both matches against the Spartans.
[rev_slider Bisons-Nov7]
Thanks to that thrilling 50-31 win over the conference-leading Calgary Dinos on November 1, the Bisons football team will face the Saskatchewan Huskies on the road in the Canada West Semi-Final on Friday, November 7. This is the second consecutive season these teams have met in the conference semi-final. In 2013 the Bisons blocked a field-goal attempt on the final play of the game to edge past the Huskies by a score of 37-36. The road has not been kind to the Bisons football team this season; the squad has won all four games at home, while dropping all four road matches.
Kickoff is at 7:00 p.m. CT and can be watched live at canadawest.tv or on Shaw TV.
After spending the last two weekends on the road, the Bison volleyball teams return to Investors Group Athletic Centre on Friday and Saturday. The men's volleyball team started their season by winning five of their first six matches, but suffered back-to-back five-set losses last weekend against Trinity Western. The men's team is currently tied for fifth place in the Canada West standings and will be looking to gain some ground when they face the second place UBC Thunderbirds.
The women's volleyball team will also host the UBC Thunderbirds in a rematch of last year's CIS national championship final. The women's volleyball team hasn't quite found the success they had during last season's national championship run and hope to rekindle that magic this weekend.
The men's hockey team will face a big test this weekend when they host the conference-leading Alberta Golden Bears on Friday and Saturday. The Golden Bears have won eight straight games, and feature the top two scorers in the conference. Puck drop at Wayne Fleming Arena is 7:00 p.m. on Friday, November 7 and 6:00 p.m. on Saturday, November 8.
On the road:
Men's and women's basketball teams are on the road to face the Regina Cougars on Friday and Saturday.
First place in the conference is on the line when the women's hockey team faces the Alberta Pandas on the road on Friday and Saturday.
Bisons' cross-country team is at Memorial University in St. John's, NL for the 2014 CIS Cross Country Championship on Saturday, November 8.