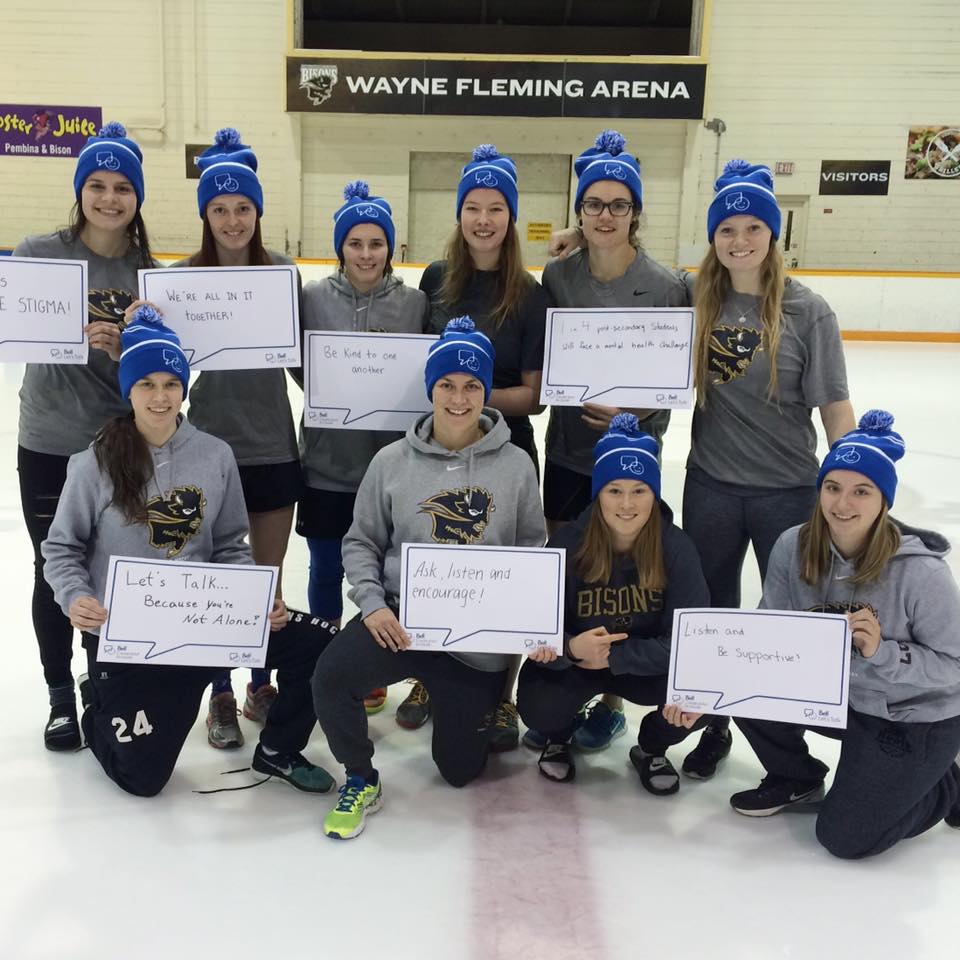 Bisons team up with Bell Let's Talk
Student-athletes help lead the campus conversation on mental health
January 16, 2017 —
The University of Manitoba Bisons were honoured to host a Bell Let's Talk event at the Fort Garry campus on Friday, Jan. 20.
During the slate of games that night, various mental health organizations were on hand and had special Bell Let's Talk giveaways and promotions throughout the night.
The Herd hosted games in women's hockey against Lethbridge Pronghorns and volleyball matches with both men's and women's teams versus the Calgary Dinos.
On Bell Let's Talk Day this January 25, more than 20,000 student-athletes helped lead the campus conversation about mental health, joining with fellow students and others in the university community to discuss the impact of mental illness and how to fight the stigma that keeps too many from seeking help. Student-athletes also hosted events at 100 university games leading up to January 25, and appearing in a new Bell Let's Talk video series.
"I'm ecstatic that student-athletes at campuses everywhere are coming together in such a huge way to drive the mental health conversation, sharing their stories and inviting their fellow students to join in making a difference," said Clara Hughes, Canada's six-time Olympic medalist and Bell Let's Talk national spokesperson.
"Athletes are deeply involved in campus life and passionate about their school communities, and I offer my heartfelt thanks to them all for bringing their incredible energy and ideas to the mental health cause."
"On behalf of the regional university sports conferences across Canada – the RSEQ, OUA, CWUAA and the AUS – we congratulate our student-athletes for leading the way," said Phil Currie, Executive Director of Atlantic University Sport.
"They'll be spreading the mental health message at campuses across Canada, sparking conversations with fellow students and offering their own perspectives on how we can all make a positive change."
"The Bell Let's Talk partnership with Canadian universities has grown from 11 schools in Atlantic Canada in 2016 to 53 right across the country this year, from 2,200 student-athletes to more than 20,000," said Mary Deacon, Chair of Bell Let's Talk. "Conversations will be taking place in classrooms, residences and sport facilities on campuses across the country, helping combat the stigma and supporting those who struggle. We look forward to the continued growth of this great initiative in the years to come."
Leading up to January 25, 100 university sports games across the country hosted Bell Let's Talk events. Fans will receive thunder sticks and temporary tattoos and have the opportunity to sign talk bubbles and banners in support of mental health. Fans were also encouraged to take pictures and share on social media on Bell Let's Talk Day to support Canadian mental health and drive Bell's funding for mental health programs.
To learn more, please visit Bell.ca/LetsTalk.