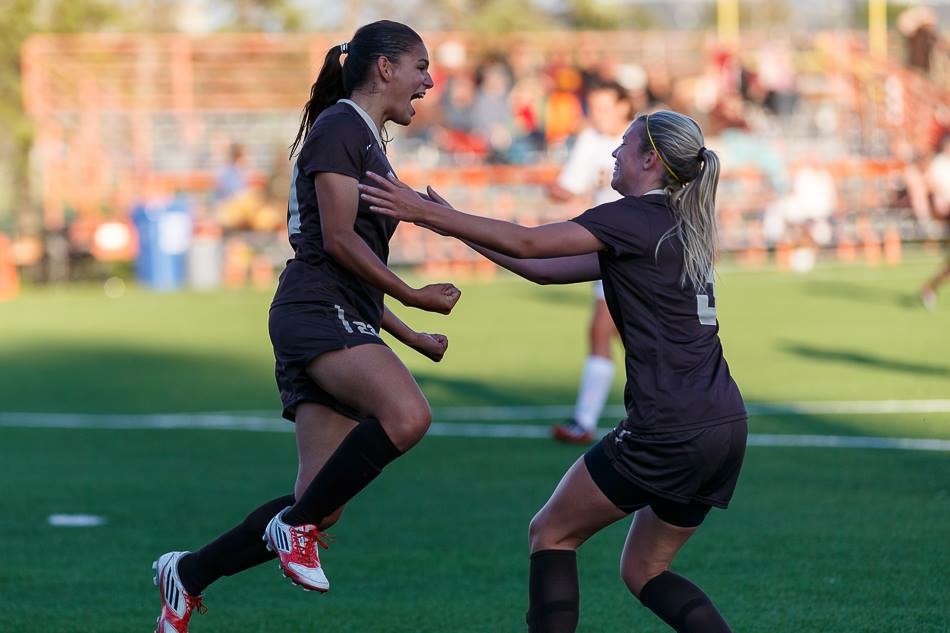 Bisons alum Bruna Mavignier makes it to Canada Soccer
Through adversity, Mavignier realizes coaching dream at national level
April 13, 2022 —
Bruna Mavginier [BKin/18,MSc/21], former Bisons soccer player, coach, and UM alum, has recently been hired full-time with Canada Soccer, working as a sports scientist with the NDC (National Development Centre) program in Ontario and the U-17 National Team, which will be travelling to the Dominican Republic for the Concacaf World Cup qualifiers on Thursday.
Mavignier's journey to Canada Soccer wasn't easy—it involved adversity and challenges, and adjusting her goals based on physical injuries she suffered as a player. What never changed, however, was her aim to eventually work in soccer at the highest level. This dream was supported by head coach Vanessa Martinez Lagunas, who worked with Mavignier since she first arrived in Canada from Brazil in 2013 and encouraged her to get involved in coaching.
As Mavignier was finishing her time with the Bisons, Lagunas told her about the inaugural U SPORTS Female Apprentice Coach Program, which ran in 2019 – 2020. Mavignier applied for it and was successful, which allowed her to stay on and work with the team after graduating. The program was crucial for Mavignier's career development, offering her funding to develop her skills in coaching, sports science, and strength and conditioning, all under Laguna's mentorship.
Female soccer players, coaches and professionals often don't have the opportunity to be mentored by other women.
Before coaching, Lagunas was a high-level player herself. She explained: "I played for the national team in Mexico, I played professional in Germany and played university soccer in the US, and in my whole career from youth to national team to professional player, I never had a female coach."
"One of my big desires is to encourage more women and help more women to get into coaching, and to be a role model that they can see," she said. "Because if you don't see somebody that is doing what you want to do it's very hard to get into it."
Mavignier and Lagunas benefitted from a pre-existing relationship formed from years of working together with Bisons soccer.
Lagunas has been the Bisons soccer coach since 2013, which is very special, she said, "because Bruna arrived in Canada in 2013."
"One day she came into my office saying that she wanted to try out for the team and that she was from Brazil," Lagunas recalled.
Like many Brazilian players, Mavignier had grown up playing futsal, a similar game that is played in a smaller space with a smaller ball and shorter shifts. Transitioning from fustal to soccer is natural, as players tend to already have advanced technical skills. What can be difficult, explained Lagunas, are the physical challenges that come with playing on a large field with longer shifts.
"I wasn't sure if things would work out because I had never played," explained Mavignier, "so I was like 'you know what, I'm just going to give it a try'."
"She was amazing," said Lagunas, praising Mavignier's adaptability and determination, "she put in the work. And since then, we've been working together."
Mavignier's first and second seasons with Bisons women's soccer were amazing, she said, but in her third she suffered several injuries.
"That was definitely the hardest part of my career," she said, "I had two major injuries and all the little ones, and that took me away from the game for a while."
Following rehabilitation, Mavignier returned to the field for a strong final season while managing her injuries. Upon graduation and finishing her time with Bisons, she said it was necessary to reassess her potential to continue as a player, given her physical condition post-rehab.
"I still wanted to be a player, that was my dream since I was five years old," she said. "But with my injuries and my physical condition because of my injuries I realized that would be pretty difficult for me to get there."
During her time pursuing a bachelor's in kinesiology and then a Master of Science with a focus in exercise physiology, Mavignier had become interested in strength and conditioning, and her experiences on the field had inspired her to approach this interest with an emphasis on injury prevention.
She began to ask herself: "what can I do to help players to not have to suffer knee surgeries, or all types of injuries?"
When Lagunas suggested Mavignier stay on with the Bisons women's team as a coach post-graduation, she saw this as an opportunity to stay involved with the team while exploring these interests. The resulting experience "was really awesome," said Mavignier "because she gave me the basics for the job that I do right now, because I was able to learn a lot and she led me to try new things, and all of that, so that was definitely a huge step for my career."
After working for a few years with the Bisons and then with the Canadian Institute of Sport in Victoria, B.C., Mavignier applied for a position with Canada Soccer as a junior sports scientist. The position was created to support Chloe Werle, another Bisons alum who was working as a coach at the national level.
Lagunas said that the competition was steep, and that there were several steps used to assess potential candidates. "At the end of the day they selected Bruna because she's really good," she said, "she has worked super hard, and of course her background, you know, combining the coaching side with the sports science side and strength and conditioning is a perfect fit for them."
She added that Mavignier was a very well-rounded candidate. "Bruna was also a fantastic player, she was a forward, a striker, in our program and she was also one of our best strikers programs history."
"She also excelled in the classroom" she said. "I'm just really, really proud that she got selected."
Mavignier has only been working with Canada Soccer for a few months, and she has already supported the U-20 women's team in qualifying for the World Cup and will be doing the same with the U-17 girl's team this week. Though her role is changing slightly as she transitions to full-time, she is thrilled to have the opportunity to grow her career at the national level, and to work closely with and learn from Werle, who has been with Canada Soccer for several years.
Mavignier explained that growing up she had a similar experience to Lagunas, being trained almost exclusively by male coaches.
"Vanessa was my first official female coach, and it was great because you see (her) resume, you see how much she achieved and you see that it's completely possible," she said.
Transitioning to a new country, adapting from futsal to soccer, growing as a player and dealing with the injuries she suffered on the field was certainly a challenging journey.
"I feel like I had the best time of my life and the worst time of my life with the Bisons . . . a lot of emotions, and amazing things," she admitted.
Being supported by Lagunas during this time had incalculable benefits for her development. Not only is Lagunas a dedicated and demanding coach, but she is committed to ensuring that young women see themselves in coaching positions, that they know that achieving their dreams is possible.
Having had no experiences with female coaches growing up, Lagunas explained: "there was a point where I was asking myself if women could be coaches, because I had never seen one . . . I don't want that to happen to other women and the younger generation."
Mavignier is also now benefitting from Werle's mentorship at the national level. "(Chloe) is at the top now, she's coaching the senior team," said Mavignier "so you can see how much she grew, and as a woman she has a lot of respect, which is amazing."
Though her journey hasn't always been easy, Mavignier explains she's lucky to have had skilled, encouraging female coaches at her side, who have supported her in achieving her goal of working in soccer at the highest level in Canada. She hopes to progress her career and eventually work with the senior teams in the future.
As the third Bisons women's soccer alum to work with Canada Soccer, alongside Werle as well as player Desire Scott, Mavignier's journey is an important example of success for young female athletes who aspire to make it national. On top of this, her story is one of perseverance in the face of adversity and demonstrates the formative influence that female mentorship can have in the world of sports.