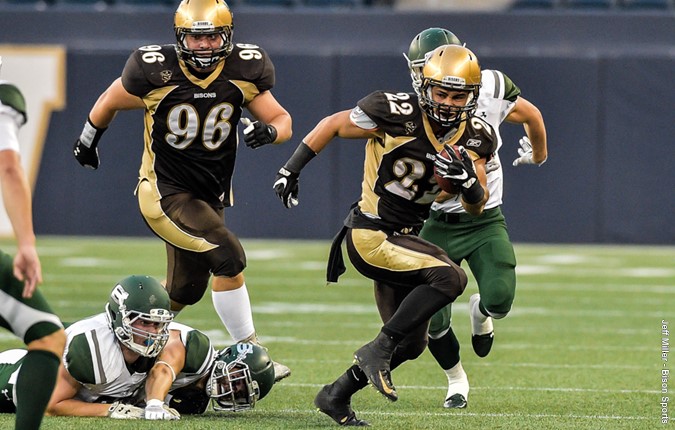 Bison RB named Canada West Special Teams AOW
September 7, 2017 —
In the first week of the 2017 Canada West football regular season, Manitoba Bisons second year kick returner/running back Jamel Lyles was named Canada West Special Teams Football Athlete of the Week for the week ending September 3/17.
The 2015 Canada West Rookie of the Year and CW All-Star, who spent last year at the junior level with the Westshore Rebels, made his conference return during Week 1 for the Herd against the Saskatchewan Huskies and looked much like he did two seasons ago.
Jamel (pronounced: Ja-melle) Lyles did it all for the Bisons to start the 2017 campaign, registering 81 rushing yards, 23 receiving yards, and 121 kickoff return yards. Thanks to his big return day, which featured a 49-yarder, the Surrey, BC native is the conference special teams player of the week.
Despite his strong effort coming in a 44-23 home loss against the Huskies, Lyles started his season on the right foot individually, taking the early conference lead (second in U SPORTS in average per all-purpose yards) in all-purpose yards with 218.
Lyles is no stranger to the CW Special Teams recognition as he won this weekly honour twice for this category in his rookie season in 2015.
This is the first time that Manitoba Bisons football players has earned conference player of the week honours in 2017 season (week one: special teams – Jamel Lyles).
Bison Football Notes: Manitoba (0-1) continues their 2017 Canada West football regular season with the first road game of the season against the UBC Thunderbirds (0-1) with kickoff on Saturday, September 9 at 3 p.m. CT at Thunderbird Stadium in Vancouver. The game will be available on live webcast on canadawest.tv (fee required).