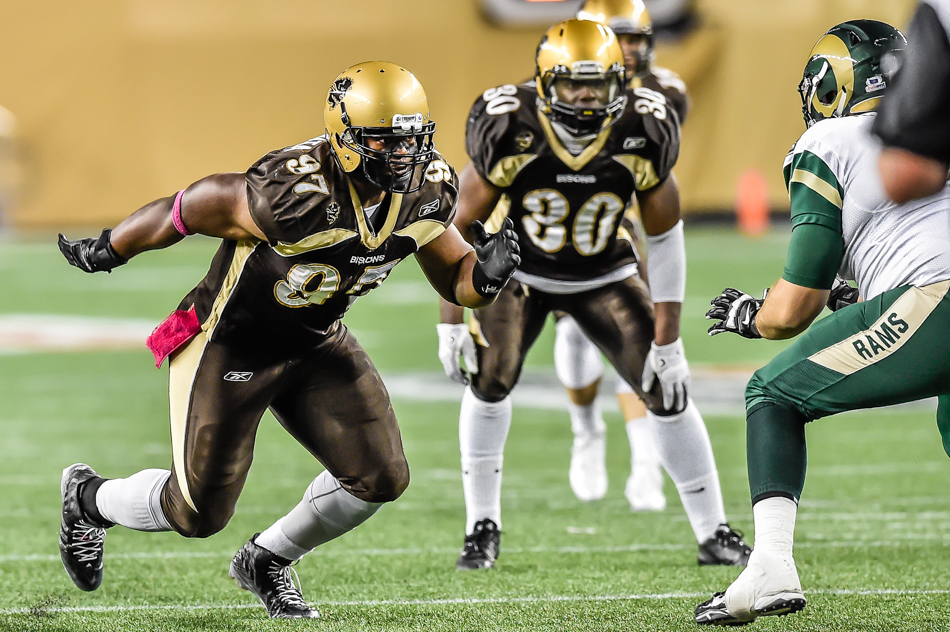 Bison headed to East-West Bowl
David Onyemata is fourth Bison to be selected for the prestigious event
December 14, 2015 —
University of Manitoba Bison football star, David Onyemata, is headed to the East-West Shrine football game.
Onyemata is only the fourth Manitoba Bisons to be selected for the prestigious event.
"I am happy about the opportunity to attend the Shrine Game," said Onyemata. "It is a tremendous honour to be only one of four Bisons to have ever been selected to play in this game. I will work hard to be ready and be prepared for the game in January."
The game takes place on Saturday, January 23, 2016 at Tropicana Field in St. Petersburg, Florida.
Onyemata, 23, finished his fourth playing season at Manitoba (red shirted for one season) and was selected as 2015 J.P. Metras Trophy award winner, which is presented to the Outstanding Down Lineman of the Year in CIS Football.
"We are proud that David has been selected to represent the University of Manitoba, Canada West and is one of only three CIS selections this year at the East-West Shrine Game," said Bison football head coach Brian Dobie. "This tremendous honour becomes a great opportunity for David to showcase his skills and is yet another accomplishment in what has become a true 'Cinderella' story in CIS."
The longest running university all-star game in the United States, the Shrine Game has been played annually since 1925 to raise funds for Shriners Hospitals for Children and to raise awareness about the expert orthopedic, burn, spinal cord injury rehabilitation, as well as cleft lip and palate care, available to patients and families through the 22 Shriners Hospitals for Children in the USA, Canada and Mexico.