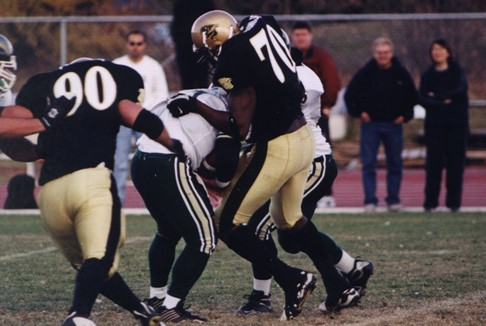 Idonije first-ever Bison football player to have number retired
Alumni Jerseys and Jeans Scholarship Dinner pays tribute to #70
March 14, 2016 —
The University of Manitoba retired a number for the first time in the program's history.
Number 70, worn by Bison superstar Israel Idonije, was officially retired over the weekend at the Alumni Jerseys and Jeans Scholarship Dinner.
"As a player, Israel was an often unstoppable and always relentless defensive lineman," said head coach Brian Dobie. "But more importantly, he was a great teammate. Off the field, Israel has continually represented the sport of football as a humanitarian, giving back to his communities in Winnipeg, Chicago and Nigeria. He has been recognized as such by being a finalist for the Walter Payton NFL Man of the Year award."
Idonije was the first Bison football player to be signed and make it onto a NFL team roster. He signed originally by the NFL's Cleveland Browns in 2003 and was placed on their practice squad before moving on the Chicago Bears as a practice player late in 2003. He made the final NFL roster with the Bears in 2004 and played with Bears from 2004-12 before one last year with the Detroit Lions in 2013 season to end his 11 year NFL playing career.
To name a few, other accolades for Idonije include the Province of Manitoba inducted him into Manitoba's Order of the Buffalo Hunt in his hometown of Brandon on March 14, 2007. In addition, on March 8, 2007: Winnipeg Mayor Sam Katz presented Honorary Citizenship to Idonije at City Hall. Idonije accepted a key to the City of Brandon from Mayor Shari Decter Hirst in March 2011.
"In retiring the only jersey ever in our Bison Football program's history, we recognize that Israel represents the class, integrity and pure competitiveness that all of us strive for," said Dobie. "We salute the most-accomplished player in Manitoba history and one of the greatest players this country has ever produced. We thank you, Izzy for always being a Bison."
A formal on-field presentation at a Bison Football game will take place at a determined time and date in the future.