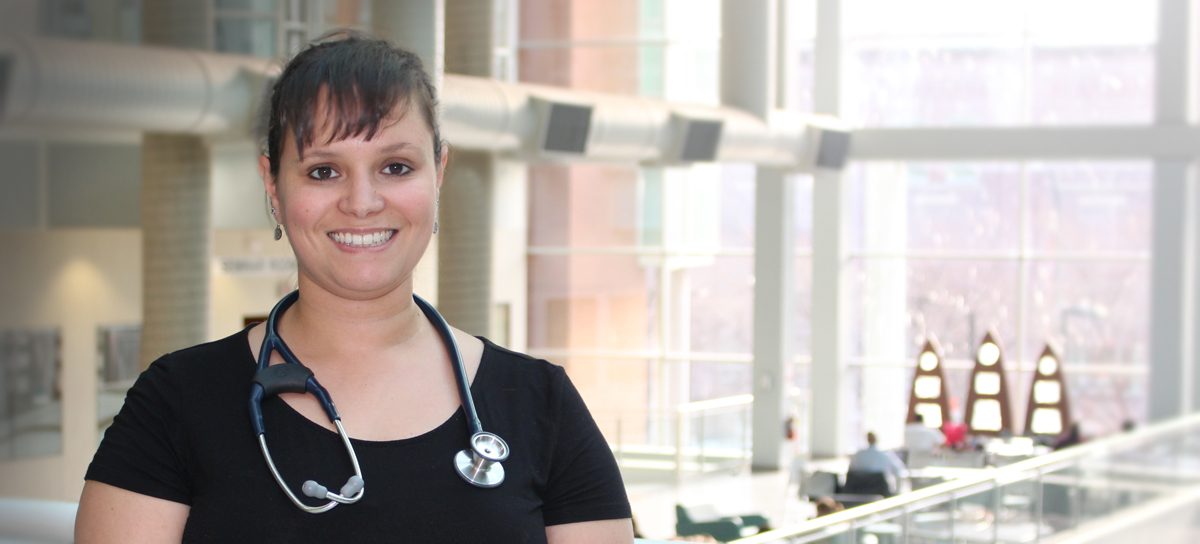 Birth in community or travel for C-section?
New resource to help rural doctors assess moms in labour
December 12, 2017 —
Any parent will tell you, babies don't always arrive according to plan.
In a best-case scenario, a mother gives birth without complications, in a setting of her choosing.
Experienced health-care providers can assess the situation when a mom is struggling and determine when it's time to intervene. But rural family physician Kheira Jolin says it's always a tough decision.
Without a standardized method for how and when to make the hard calls, there's no data to rely on to prove what Jolin and her colleagues believe strongly: most low-risk births can happen right where the mother planned – in her home community.
Jolin, a physician and researcher in the Department of Family Medicine, Rady Faculty of Health Sciences, has delivered many babies at her practice in Ste. Anne, Man.
"From the patient perspective, it can be really important to be able to stay where they live, with a care provider they know. It's better for them," said Jolin, adding, "It's also safer and more cost efficient."
As someone who has practiced in an area that only recently began providing C-sections, she's well aware of the risks. When you're hours away from a surgical facility, switching from a natural birth to a medical intervention can mean calling for an ambulance or even a helicopter.
That's when she knew she had to develop a formal tool to help physicians decide when to make that important call.
Her research project, "A tool to predict C-section in rural and First Nations in Manitoba," is now in its second year. Results to date are positive with plans to start the second phase in Cross Lake First Nation this summer. The timing couldn't be better, said Jolin. "They're looking at having an obstetric unit in their community, so they want to determine who can deliver there and who should be sent to Thompson or Health Sciences Centre."
With a comprehensive tool, health-care providers will have greater confidence that they're making the right decision for their patients, allowing more mothers to deliver safely where they feel most comfortable.
"That's what we really want," Jolin said. "The best results for mothers and their babies."