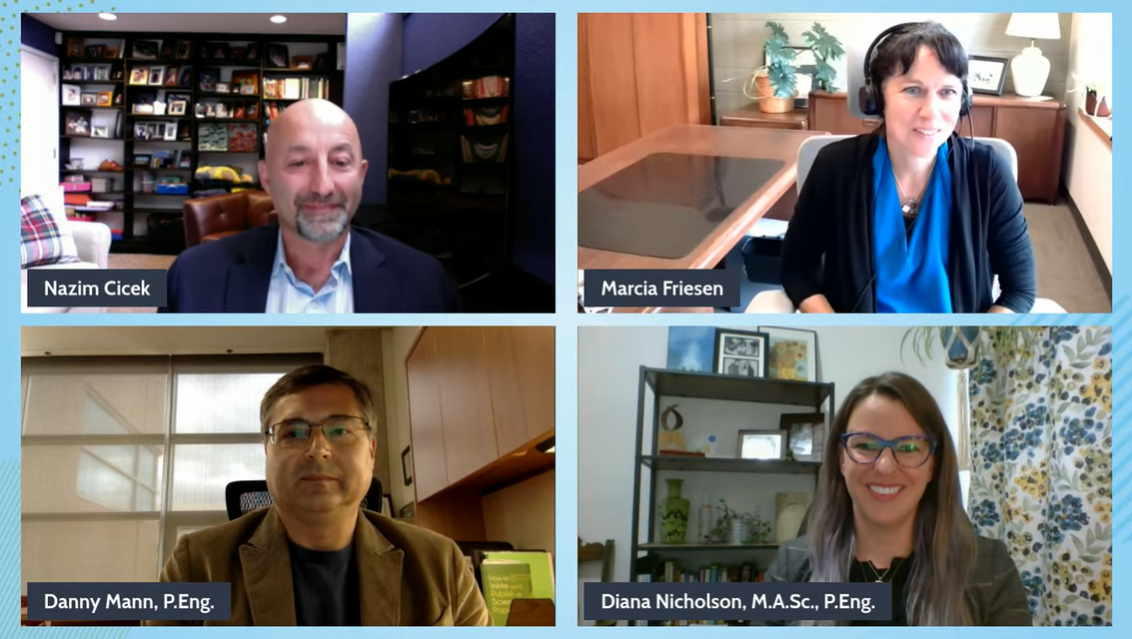 Biosystems program recognizes outstanding alumni at Homecoming 2021
September 26, 2021 —
Homecoming is a time for our community to gather and celebrate our collective UM pride and accomplishments, as well as highlight some of the remarkable achievements by fellow alumni.
This year was a particularly special year for the Biosystems Engineering program as it celebrated its 50th anniversary as a program at the University of Manitoba in the Faculty of Agricultural and Food Sciences as well as the Price Faculty of Engineering.
Panelists Dr. Danny Mann, Dean Marcia Friesen and 2016 Outstanding Young Alumni award winner Diana Nicholson joined moderator Dr. Nazim Cicek for an engaging Fireside Chat covering a wide range of topics.
Additionally, five notable alumni of the program were recognized for their achievements and contributions to the University, the Faculty and the engineering community at large with the inaugural Alumni of Influence award. Separate awards were presented for those alumni who graduated prior to 1995 (Agricultural Engineering) and those who graduated after 1995 (Biosystems Engineering). Here are the winners:
Undergraduate (pre-1995)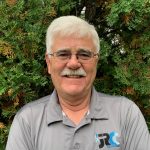 Gerard (Jerry) Cousin was a graduate of the first class of the University of Manitoba Agricultural Engineering program in 1971. Jerry has worked for various organizations, such as the Manitoba Development Corporation, the Manitoba Department of Agriculture Rural Water Projects, and the Prairie Agriculture Machinery Institute. In 1981, Jerry founded an award-winning consulting firm (JR Cousin Consulting Ltd.), where he helped to advance the careers of many young engineers coming out of the University of Manitoba. He worked with over 50 First Nations and numerous Rural Municipalities, towns, villages, and cities in Manitoba, Ontario, and Saskatchewan. Over the years, his projects have included improvements to water and wastewater treatment facilities and development plans, helping communities to thrive and accommodate growing populations. Jerry is an active member of his community and has contributed to various committees and engineering organizations and associations.
Undergraduate (post-1995)
Martin Petrak began his career as a medical research engineer, integrating specialized medical imaging technology to Manitoba from Europe. Martin now focuses on executive leadership as the President and CEO of the Orthopaedic Innovation Center and as the Co-Founder and CEO of Precision ADM Group of Companies in Winnipeg, focused on advanced manufacturing in the Medical and Aerospace sectors. Martin has led his company's growth through advancement of domestic production of PPE to all Canadians. Martin is most proud of building a talented team to design and manufacture millions of Canada's first 3D printed nasopharyngeal swabs for Covid-19 testing while developing a reusable and recyclable medical respirator manufactured in Manitoba for Canadian frontline healthcare providers
Graduate (pre-1995)
Dr. Alagusundaram Karuppiah obtained his undergraduate degree in Agricultural Engineering from Tamil Nadu Agricultural University in India, MEng. degree in Farm Mechanization from Asian Institute of Technology, Thailand, and M.Sc. and Ph.D. degrees from the Department of Biosystems Engineering at the University of Manitoba (1993). He served as a professor of Agricultural Engineering in Tamil Nadu Agricultural University, India for nearly 15 years. Dr. Alagusundaram is heading the Agricultural Engineering Research System in India by serving as the Deputy Director General (Agricultural Engineering) in the Indian Council of Agricultural Research, since 2016. In this capacity he is holding responsibilities of prioritizing research in 22 Nationally important Institutes and 28 All India Coordinated Network Research Projects, functioning from nearly 600 Centres in the entire country.
Graduate (post-1995)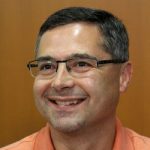 Professor Danny Mann grew up in western Manitoba where he attended school in Roblin and was introduced to the profession of agriculture on the family farm. Danny received a B.Sc. degree in Agricultural Engineering (University of Manitoba, 1992), an M.Sc. degree in Biosystems Engineering (University of Manitoba, 1995), and a Ph.D. in Biosystems Engineering (University of Manitoba, 1998). Danny has been a faculty member in the Department of Biosystems Engineering since 1998 and has served as the Department Head since 2009, where he has overseen significant growth in student numbers. Danny has been heavily involved with curriculum development at the undergraduate level, especially the development of the Department's innovative capstone program that spans the final three years of the program.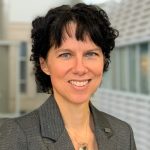 Professor Marcia Friesen is the current Dean of the Price Faculty of Engineering and the NSERC Chair in Design Engineering. She received her undergraduate and graduate training in Biosystems Engineering, earning a PhD in 2009. Marcia served as the Director of the Internationally Educated Engineering Qualifications Program (IEEQ) from 2003 to 2017 and was responsible for leading a team that developed and delivered a qualification recognition pathway for internationally-educated engineers. In 2016, she was appointed the Director of the Centre for Engineering Professional Practice and Engineering Education, where among many other actions, she championed Indigenous engagement in engineering and enhanced participation of women in engineering. A thoughtful leader with a vision for the future, Marcia has been integral to shaping the next generation of engineering students, positively impacting the engineering profession and engineering education at local, national or international levels.
Miss the event? Watch now on our YouTube Channel: