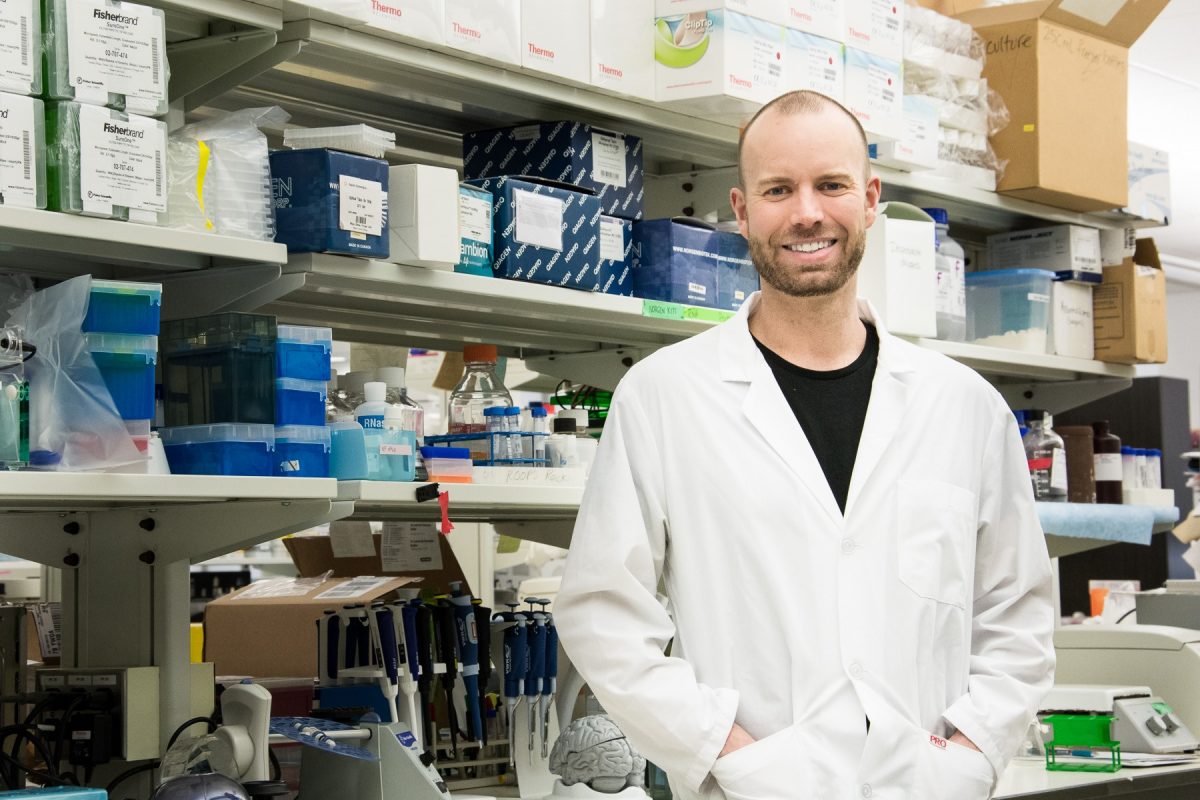 Biochemistry prof branches out in business
September 10, 2022 —
A career spanning two sectors – industry and academia – brings different kinds of satisfaction to Dr. Brent Guppy.
"In industry, I thrive on the fact that every day presents a new challenge. The problems are real, the stakes are high, and you have to rely on your training and experience to solve problems quickly," says the entrepreneurial scientist.
"It's also important to me to guide and support students, because receiving strong mentorship was one of the keys to my success during my PhD and postdoctoral training."
Guppy, who grew up in Winnipeg, earned his bachelor's degree in genetics before completing his PhD in biochemistry and medical genetics in 2016 in the Max Rady College of Medicine.
In the pharmaceutical sector, he is the co-founder, chief scientific officer and head of laboratories at three Winnipeg-based companies: BioScision Pharma, a licensed producer of cannabis products; BioScisionLabs, a Health Canada-accredited analytical chemistry laboratory; and BioScision Diagnostics, a human diagnostic laboratory accredited by the College of Physicians and Surgeons of Manitoba.
As an academic, Guppy has an affiliated appointment as assistant professor of biochemistry and medical genetics at UM and is research chair in the department of genomics at Red River College Polytechnic.
Guppy completed postdoctoral fellowships in Austria (2016-18) and at UM (2018-20) before co-founding the BioScision group of companies. Believing that postdoc training offered an ideal chance to explore a field unrelated to his PhD, he shifted his focus from genetic therapies for colorectal cancer to the field of antibody engineering, and then to combinatorial drug therapies.
"Make yourself uncomfortable, put yourself in an uncomfortable situation where you don't know the materials, then learn the materials and attempt to thrive," Guppy advises.
"You'll grow as an individual, you'll grow as a scientist, you'll grow as a human being, and you'll gain another skill set. It will make you a great candidate for industry or academia."
At BioScision Diagnostics, Guppy simultaneously manages and mentors, overseeing several technicians and reviewing data to ensure accuracy. He also handles business development strategies, managing new client intake, setting up legal contracts and working with physicians to identify new testing platforms and strategies.
BioScision Diagnostics regularly performed more than 1,500 polymerase chain reaction (PCR) tests per day during the peak of the COVID-19 pandemic. The lab services both the public and private sectors, providing urgent test results.
"This is 100 per cent a Manitoba story," Guppy says. "Virtually all our staff scientists were trained in Manitoba, at either UM or Red River. We need to retain our highly skilled, homegrown scientists and simultaneously keep our dollars in the province."
Asked to name the most important skill he acquired during graduate school, Guppy says, "Writing."
He credits his UM advisors, Dr. Kirk McManus and Dr. Tamra Werbowetski-Ogilvie, with developing his writing and critical thinking skills while he was a graduate student and postdoc.
"Effective communication straddles the academic and business worlds," he says. "At all stages of my career, strong written communication skills have helped me achieve my goals."