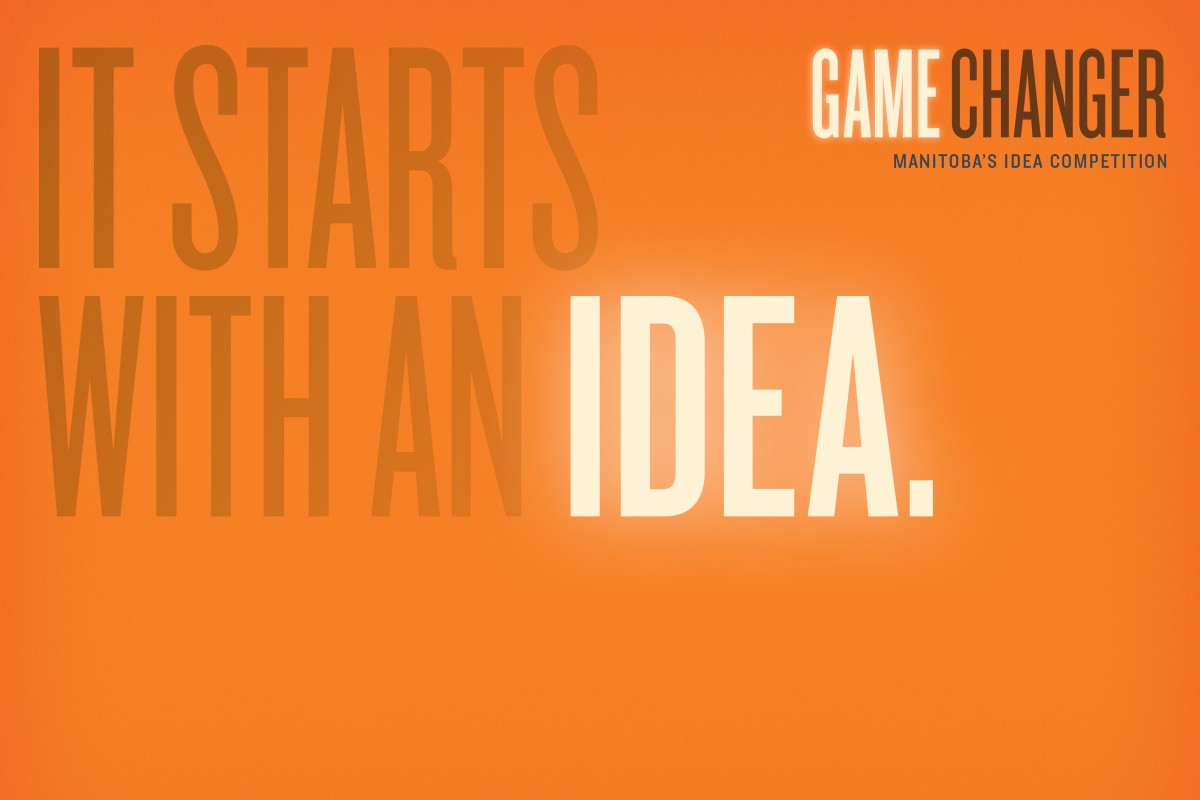 Be a Game Changer
$20,000 in prizes available for turning ideas into reality
September 8, 2016 —
Manitoba's idea competition is back.
Game Changer is a two-part competition open to all Manitoba post-secondary students who can identify problems with a global reach and find tangible solutions for them.
"This competition will challenge all post-secondary students in Manitoba to come up with the best ideas and solutions," says Dr. Digvir Jayas, Vice-President (Research and International) of the University of Manitoba and the originator of the Game Changer Manitoba competition. "We know that Manitoba's students are up to the challenge and can create game-changing solutions by working together. This competition exposes them to the concepts of entrepreneurship that will foster collaboration, learning, and innovation. It all starts with an idea."
Starting September 7, students from all disciplines (and across faculties) are encouraged to simply submit an idea – one that identifies practical, real-world challenges and has potential to enact positive change if a solution was found. Individuals or groups can submit a maximum of two problems each. A committee will choose the best 5 single problems which will go on to the next round of competition. Up to 5 winning ideas will each receive a $250 prize.
Last year's problems – and solutions – included addressing sedentary lifestyles, food security issues, early screening for Alzheimer's, and CO2 emissions.
For phase two of the competition, students will form cross-faculty teams to develop viable, practical solutions for any of the winning problems from the first phase. The top 10 solutions will move to a final round where faculty, industry, and community professionals will mentor and sponsor teams to develop the idea into a viable product or business. The grand-prize winning team will receive $10,000.
The contest aims to increase awareness of entrepreneurship and showcase the creativity and the intellect of post-secondary students says Darren Fast, director of U of M's Technology Transfer Office.
"Last year's inaugural competition was primarily for U of M students," says Fast. "This year we wanted to work more collaboratively and showcase the skill and expertise we know is present across the Province."
The Phase 1 deadline for submitting problems is Sept. 21.
For more information, visit umanitoba.ca/gamechanger
Learn more about the Stu Clark Centre for Entrepreneurship.
Research at the University of Manitoba is partially supported by funding from the Government of Canada Research Support Fund.