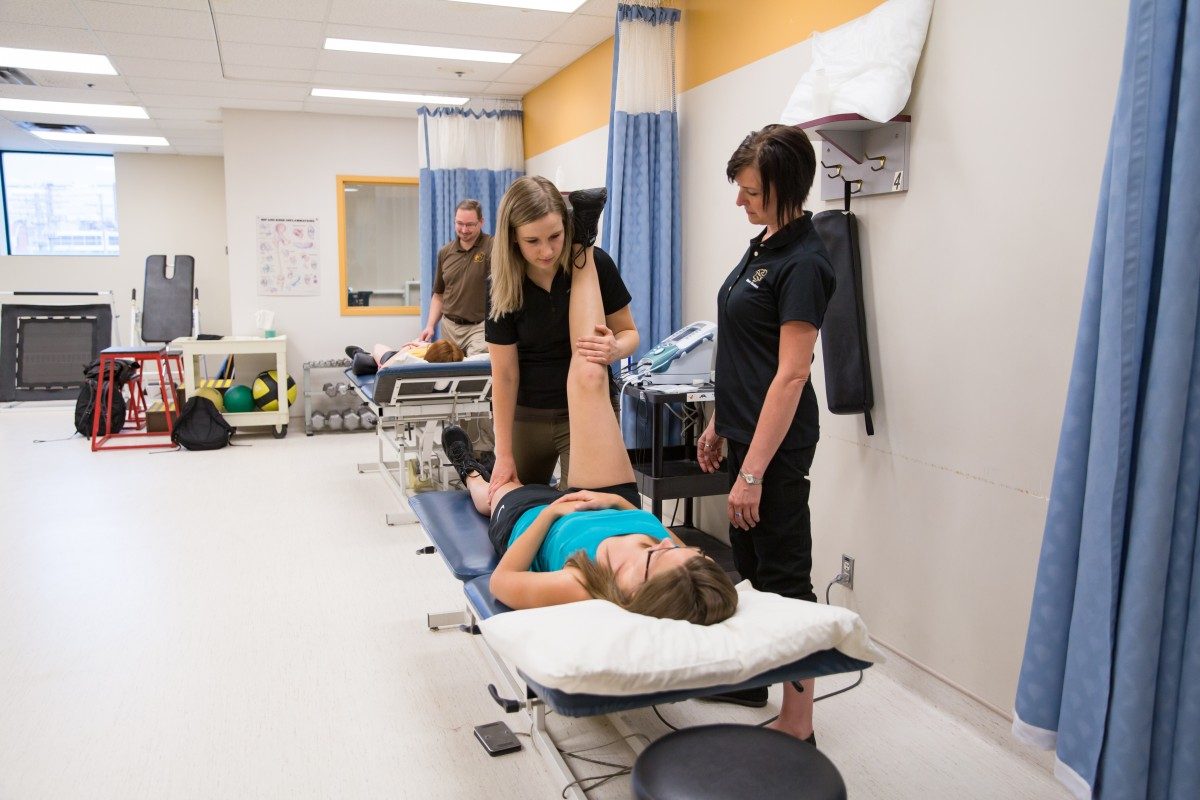 Athletic Therapy Centre to focus exclusively on Bison student-athletes
The clinic will also remain a teaching component of the Faculty of Kinesiology and Recreation Management's bachelor of kinesiology-athletic therapy degree program
May 11, 2017 —
Effective immediately, the Bison Athletic Therapy Centre (BATC) is focusing exclusively on the health and well-being of University of Manitoba Bison student-athletes.
The BATC is no longer accepting U of M staff, students, or the general public as athletic therapy patients. Massage therapy services will continue to be offered until June 30.
The BATC will continue to remain a teaching and practicum component of the Faculty of Kinesiology and Recreation Management's bachelor of kinesiology-athletic therapy degree program.
The University of Manitoba and the BATC would like to thank past clients for their business, referrals, and trust.
"It has been a pleasure and a privilege to provide our client-base with athletic and massage therapy care," says Gene Muller, Director of Recreation and Athletics, University of Manitoba.
"As our athletic programs continue to grow, it's paramount we have a significant and primary focus on injury rehabilitation and injury prevention of our student-athletes."
For a listing of reputable athletic therapy options, please visit Manitoba Athletic Therapy Association.
Visit Massage Therapy Association of Manitoba for a listing of Massage Therapy clinics in close proximity to the U of M.
If you have any questions, please see our Q&A below:
WHAT'S HAPPENING WITH THE BISON ATHLETIC THERAPY CLINIC (BATC)?
As of May 1, 2017 the BATC will only be servicing University of Manitoba Bison student-athletes. After April 30, 2017, the BATC will no longer be offering its services to U of M faculty, staff, students, or the general public.
WHEN IS BATC NO LONGER ACCEPTING NON-BISON SPORTS CLIENTS?
May 1, 2017
ARE THERE ANY SERVICES THE BATC IS STILL OFFERING TO NON STUDENT-ATHLETES?
Massage Therapy and Orthotic Casting appointments will continue to be offered to all clients until June 30, 2017.
HAVING AN ATHLETIC THERAPY CLINIC ON CAMPUS WAS CONVENIENT FOR ME. ARE THERE CLINICS CLOSE TO THE U OF M I CAN GO TO?
Yes, please visit the Manitoba Athletic Therapy Association at www.mata.mb.ca or the Massage Therapy Association Manitoba at www.mtam.mb.ca for a list of reputable athletic and massage therapy clinics in close proximity to the U of M.
AS A STUDENT, I BENEFITED FROM BATC'S DIRECT BILLING TO MY UNIVERSITY OF MANITOBA STUDENTS' UNION (UMSU) HEALTH PLAN. WILL MY UMSU HEALTH PLAN ACCEPT DIRECT BILLING FROM OTHER CLINICS?
Direct billing is available at many athletic therapy and massage therapy clinics. Please inquire with the clinic directly when you make your appointment.