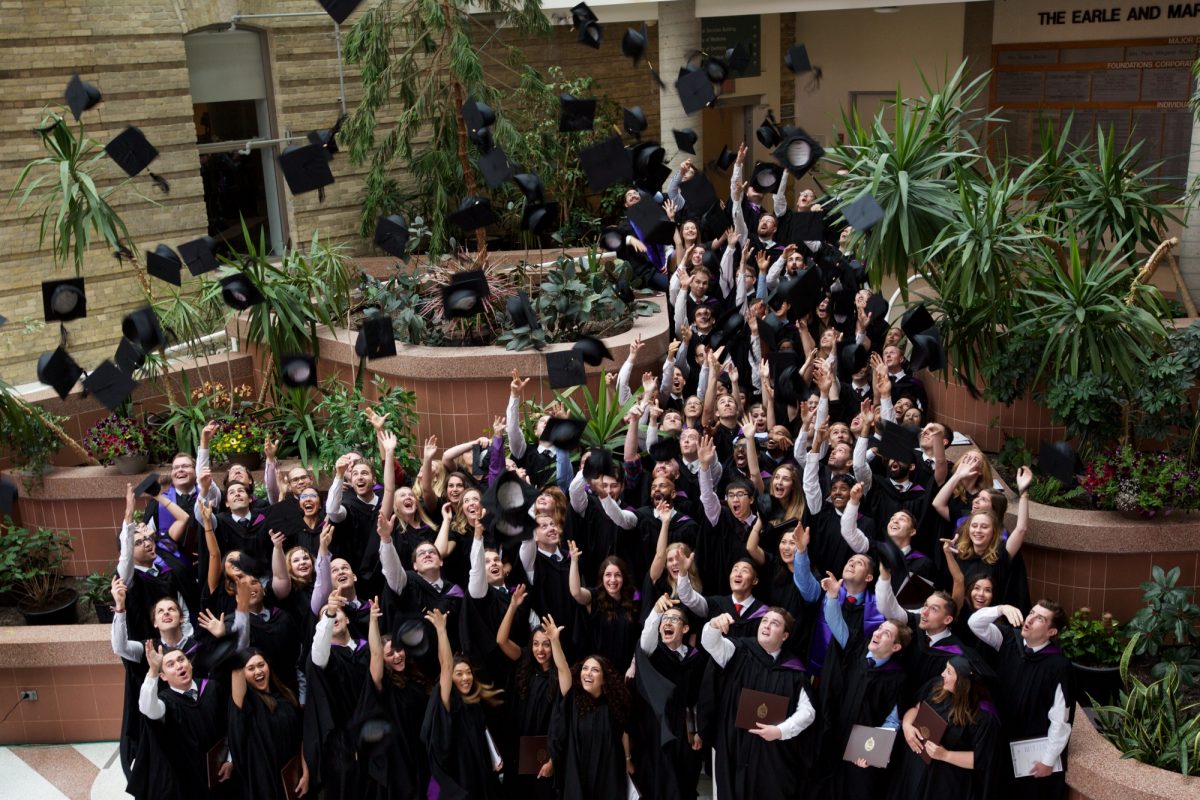 New Manitoba health professionals graduate
May 22, 2019 —
Manitoba's newest health professionals will officially graduate on May 23 at morning and afternoon convocation ceremonies in the Brodie Centre Atrium on the U of M Bannatyne campus.
The graduates represent three colleges of the Rady Faculty of Health Sciences: the Max Rady College of Medicine, College of Pharmacy, Dr. Gerald Niznick College of Dentistry and the School of Dental Hygiene.
The Medicine Class of 2019 includes 109 graduates. As they move on to residency training, 70 of the graduates (64 per cent) are staying in Manitoba. Of the 36 undertaking residencies in family medicine in the province, five will be in northern and remote locations and 20 in rural locations.
The class includes 11 students of self-declared Indigenous ancestry and six French-speaking students who are graduating in the college's bilingual stream.
"In all the colleges of the Rady Faculty of Health Sciences, we are making progress toward our goals of greater equity, diversity and inclusion," said Dr. Brian Postl, dean of the Max Rady College of Medicine, dean of the Rady Faculty of Health Sciences and vice-provost (health sciences).
"We are committed to educating health-care professionals who reflect the populations we serve. I am particularly proud to see 11 students of Indigenous heritage receiving their medical degrees as we celebrate all our graduates' achievements on the Bannatyne campus."
At the afternoon ceremony, the graduating Dentistry Class will include 33 students, the Dental Hygiene Class 29 students, and the Pharmacy Class 47 students.
During the morning ceremony, the U of M will confer an Honorary Doctor of Laws degree on alumnus Bob Silver, influential business leader, community builder and philanthropist. As president and co-owner of Western Glove Works, Silver has achieved international success with brands such as Silver Jeans. He co-owns the Winnipeg Free Press and the Brandon Sun, as well as several retail chains. He shares his expertise as a board member of organizations such as CentrePort Canada and currently chairs the board overseeing the Southwood Lands expansion of the U of M. He is a generous supporter of cultural assets such as the Assiniboine Park Conservancy.
The honorary doctorate recognizes Silver's service to post-secondary education, leadership in enhancing the economic, cultural and social vibrancy of our communities, and dedication to empowering others. Read more about Bob Silver.
Here's a look at some of the 2019 graduates:
Dentistry student Nader Shaker, 28, was born in Egypt and immigrated to Canada at age 17. "I didn't speak a word of English until I was 14," he says. Shaker has been a student leader and is graduating with several awards. In addition to his dentistry degree, he is receiving a bachelor of science in dentistry, having conducted summer research on the 3D printing of dental implants. Shaker organized student volunteers to provide oral care at an event put on by End Homelessness Winnipeg. He is headed to London, Ont. for a residency in hospital dentistry. "I want to continue to learn," he says. "I'm considering a dental specialty in the future."
Pharmacy student Kelly Yeo, 24, is from Stonewall, Man. She is graduating as the silver medalist in her program and has been hired as a full-time pharmacist in her hometown. Yeo represented the U of M on the Canadian Association of Pharmacy Students and Interns Council. She was one of 10 students across Canada recognized with a Centennial Leadership Award from the Canadian Pharmacists Association. "I hope to be a driving force for change in our profession," she says. "Pharmacists are so knowledgeable in drug therapeutics that we should be helping prescribe for certain conditions, making therapeutic substitutions and more."
Medical student Émilie Fowler, 24, is graduating in the bilingual stream. The Franco-Manitoban student grew up in Notre Dame de Lourdes, Man. and Winnipeg, and completed all her education prior to medical school in French. She is a champion fiddler. Her volunteer work during medical school included working with Santé en Français to promote the importance of bilingualism in health care to high school students. Fowler is doing her residency in bilingual rural family medicine. "I'm looking forward to serving Manitoba's French community as a bilingual doctor," she says.
Medical student Amanda Fontes, 25, grew up in Winnipeg and Belair, Man., and is proud of her Métis roots. Fontes was president of the Indigenous Health Promotion Group, a medical student group that worked on anti-racism, cultural safety and health access projects. In 2017 she was recognized with a U of M Indigenous Award of Excellence for her achievements as a community builder. This year, she received a Canadian Medical Association 150th Anniversary Award. Fontes is headed to Portage la Prairie for a rural residency in family medicine. "I want to work with Indigenous communities to help improve access to care and create safer spaces for patients and their families," she says.
Medical student Christopher Briggs, 27, grew up mainly in Thompson, Man. A proud member of the LGBTTQI* community, he is a national advocate for the inclusion of LGBTTQI* health curricula at medical schools and for educating medical students on issues such as gender-based violence. He and a classmate won a U of M health advocacy award for lobbying Manitoba Pharmacare to cover the cost of HIV-preventative medication for at-risk individuals. Briggs is headed to Toronto for a residency in public health and preventative medicine. "I plan to split my time working in public health and as an inner-city family doctor with a focus on sexual health and addictions medicine," he says.