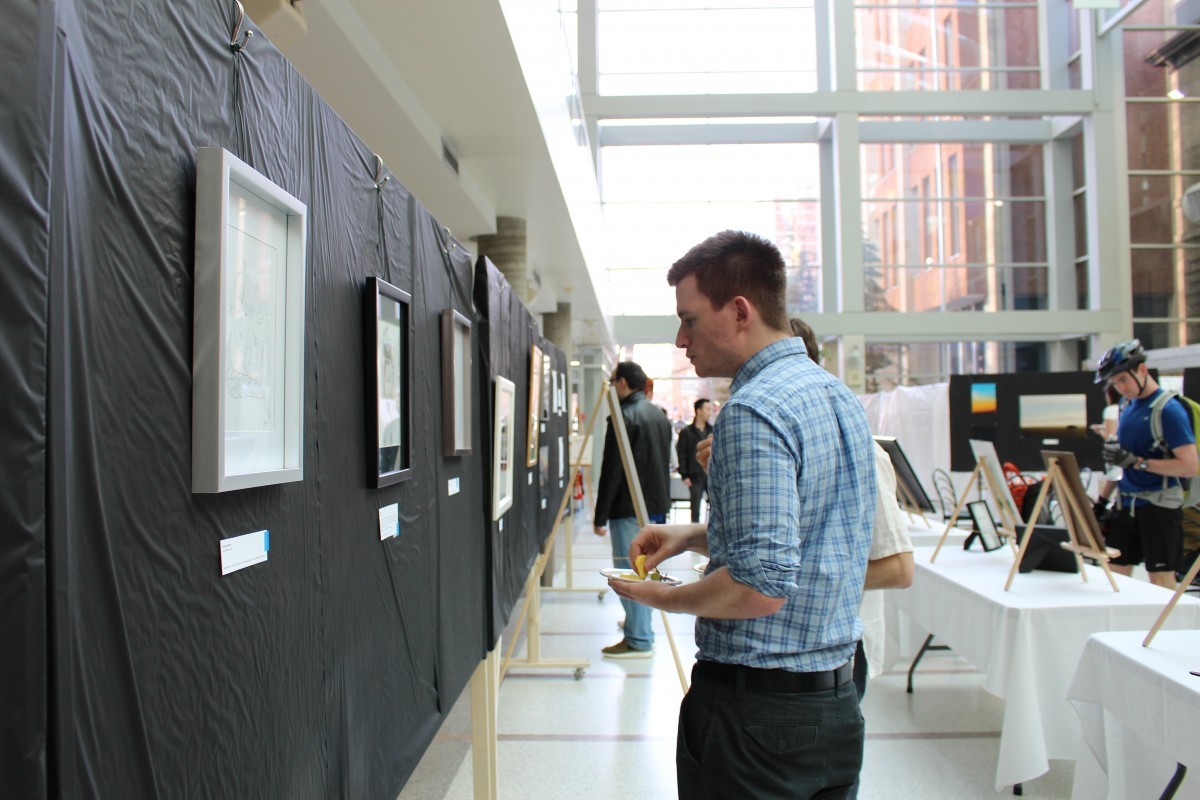 Bannatyne art show shines light on local young talent
April 27, 2015 —
Imagine finding out the unassuming classmate you're sitting next to in anatomy class is a piano playing prodigy or that your physiology instructor is a highly gifted artist who exhibits his or her work in galleries.
Each year a committee of medical students puts out a call for submissions for an annual art show; and every year, students, staff and faculty members are astounded by the creative talents of their classmates or colleagues.
Members of the Faculty Health Sciences – based out of the Bannatyne Campus – were invited to submit their work, including the Colleges of Dentistry, Pharmacy, Rehabilitation Sciences, and the Master of Physician Assistant Studies program. This year's theme is, "Balance: keeping steady while living on the edge."
The five-day exhibit officially opens on April 27 in the Brodie Centre Atrium, at the U of M's Bannatyne Campus. A free, and open to the public, evening gala event will take place on April 28; all
are welcome to check out the displays and meet the artists.
What: Student Art Show 2015 – Balance: Keep steady while you're living on the edge
When: April 27 to May 1, 2015; Gala evening April 28, 5:30 – 7:30 p.m.
Where: Brodie Atrium, 727 McDermot Avenue; University of Manitoba, Bannatyne Campus
The Student Art show has been presented for over 10 years, and has always been a student-led effort, explains Dr. Merril Pauls, Director, Pre-clerkship, College of Medicine.
"This year we are particularly proud of the Art Show student leaders who have built an exciting and inspiring relationship between the Art Show and Art City – a not-for-profit community arts centre dedicated to providing people of all ages with high-quality arts programming, free of charge," says Dr. Pauls.
A total of 18 Med I and Med II students participated in the afterschool volunteer sessions held at Art City, including Art Show committee member Sherry Bilenki.
"We created art with them and talked to them about education and medicine, and the importance of learning about their body,"says the Med II student. "I like being with kids, they're so imaginative and have such unique and interesting ways of looking at the world."
Bilenki recalls working with an 11-year-old boy during one the sessions and asking him if he knows what a nephron is, turns out he hadn't heard the word before but came up with some really interesting ideas of what a nephron might be.
"It was just really cool to inspire his imagination," shares Bilenki. "He created this whole picture just from his imagination without knowing what it is."
The young boy's art, along with over 55 other works of art done by kids at Art City, will be displayed at the upcoming show.
Art Show committee members are available for media interviews.
For more information contact Melni Ghattora, Communications Officer, College of Medicine, at: 204-272-3110, or email: melni [dot] ghattora [at] umanitoba [dot] ca.