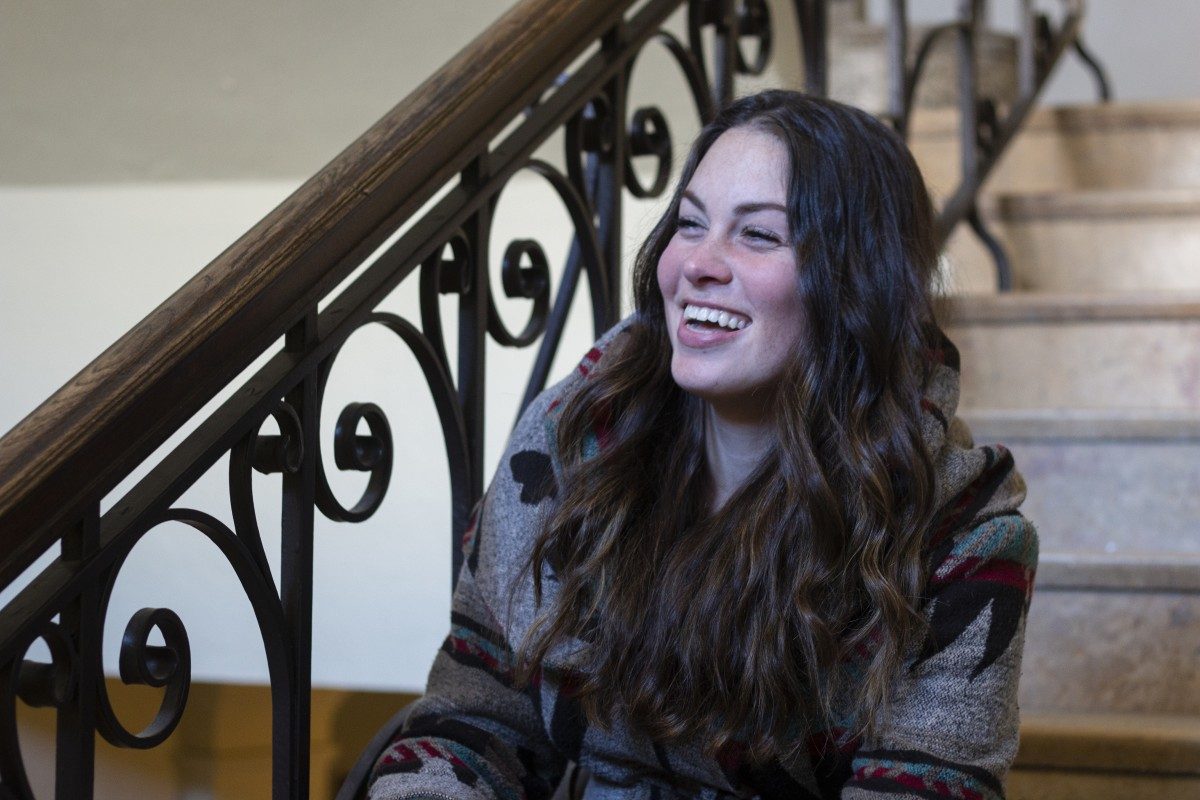 Bachelor of Recreation Management & Community Development Profile: Madison Wilford
December 7, 2018 —
Madison Wilford is used to standing out.
As a Bison Soccer goaltender, she's the one wearing the different colour jersey. She's also the one putting her body on the line, batting balls out of the air, the singular last line of defence playing on a proverbial island of one.
Wilford's been a standout in the classroom, too. It hasn't come easy, she says.
"It's definitely a really hard balance to maintain. Our season is intense and compacted, only lasting about two-and-a-half months max. During that time, it's hard to manage your complete commitment to succeeding in your sport, while also staying on top of your studies," Wilford says, who played her final season with the Bisons this past fall.
But, she's done it. And, as evidenced by her U SPORTS academic all-canadian and Dean's Honour List achievements, has done it well.
Program: Bachelor of Recreation Management and Community Development
Year of Study: 5
Hometown: Winnipeg, Man.
Outside-of-school interests/extra-curricular activities: Bison soccer, sports in general, I still play co-ed volleyball. I also really love photography, hiking and camping.
How have you found juggling your duties as a Bison athlete and as a student:
Typically, even in the off-season, we're still training five-to-six times a week. The balance really requires your attention the entire school year. Time management is a skill I've worked hard to develop throughout my university years.
Why did you choose to study Recreation Management and Community Development at U of M:
I started in University 1, taking a full course load towards an Agribusiness degree. In year two, I transitioned into the Faculty of Agriculture. After about another semester, I decided an Agribusiness degree wasn't right for me. I spent another couple semesters taking a mixture of random courses, trying to find an area I was passionate about pursuing a career in. I was weighing a variety of options—both inside and outside of school. But after taking a few courses in the Faculty of Kinesiology and Recreation Management (and doing well in them), it was my coach [Vanessa Martinez-Lagunas] who suggested I look into the Recreation Management and Community Development degree program. I did just that, and decided it was perfect for me. It kept me involved in sports (something extremely important to me), and involved the management, organization, and planning that I love.
What's been one highlight so far:
I did my fieldwork placement this past summer with True North Sports & Entertainment and had an amazing experience learning a lot in a hands on experiential learning environment.
What are your plans for after graduation:
I would love to continue playing high level soccer after I graduate, and would love to work in event planning within the sports world. My long term goal is to have a role coordinating an international sporting event, such as the Commonwealth or the Invictus Games.
What advice do you have for those interested in studying your major at U of M?
I would definitely recommend talking about the program with a current student in the program. Recreation Management and Community Development might not be a well known degree, but it covers such a wide variety of career options in the tourism and recreation industries. I loved this degree because it gave me practical knowledge that I've already begun incorporating into my professional practice. The professors and instructors in this degree stream come from successful academic and professional backgrounds. They're approachable, knowledgeable, and supportive. I particularly appreciated this level of incredible support while being a Bison athlete. The level of support I received, and my newfound passion for my degree, helped me become a U SPORTS Academic All-Canadian in the 2017-18 and also helped me earn a place on the Dean's Honour List.