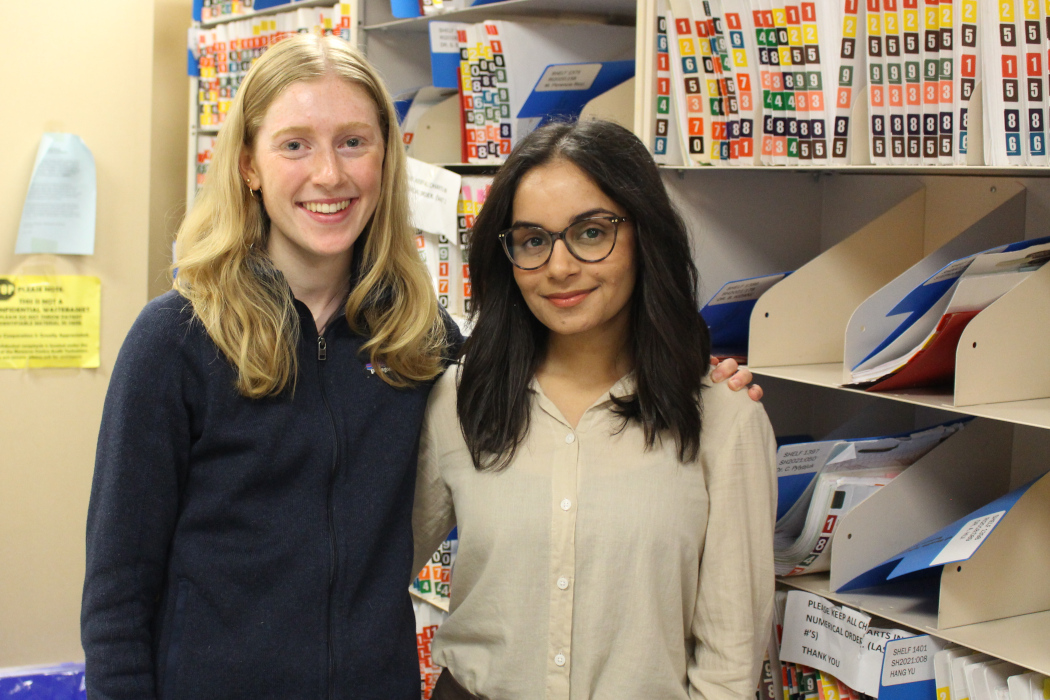 B.Sc. (Med.) program provides students with valuable research experience
October 30, 2023 —
Meeting like-minded people was one of the reasons Guneet Uppal took part in the bachelor of science in medicine (B.Sc. (Med.) program.
"To me, research is about contributing to the current field of knowledge, but you also get to meet people who are interested in doing the same," Uppal said.
This year, Uppal was one of 62 (43 first-year and 19 second-year) Max Rady College of Medicine students who took part in the B.Sc. (Med.) program. The program allows learners to spend two summers after their first and second year of the four-year MD program immersed in their own research project.
Med students wanting to only spend one summer (from the end of May until the end of August) conducting research can enroll in the Med Summer Research Program. This year, 26 medical students took part in this program.
Uppal, who has completed the first year of the B.Sc. (Med.) program, spent summers during her undergrad at UM working in a chemistry research lab, which helped her gain valuable wet lab and hands-on skills. With this wet-lab experience, she wanted to gain an additional set of skills and chose a B.Sc. (Med.) project that's a chart review study.
Uppal's project is focused on analyzing stillbirths in Manitoba from 2020 to 2022 to determine if there were changes in stillbirth rates related to the COVID-19 pandemic and restrictions. She is working alongside another B.Sc. (Med.) student, Diana Prince, to collect medical chart data that includes the number of doctor visits, how many were virtual visits, and how often blood pressure was taken. They are also looking at whether there were any complications during labour and delivery.
"The pandemic was a time of limited resources, so in the future, in case something like that does happen again, or if there are any restrictions in resources, we're hoping that this research will help give us a sense of what to prioritize if it does recur and what we can do better in a future pandemic or similar situation," Uppal said.
Her supervisors are faculty members from the department of obstetrics, gynecology and reproductive sciences, and include Dr. Vanessa Poliquin, department head and associate professor, Dr. Christy Pylypjuk, associate head of research and associate professor, and Dr. Rachelle Govia, assistant professor.
"The B.Sc. (Med.) program is an excellent way for medical students to gain a thorough understanding of the research process," said Dr. Peter Nickerson, UM vice-provost (health sciences), dean of the Rady Faculty of Health Sciences and dean of the Max Rady College of Medicine. "This comprehension will be helpful when they're physicians and are reading about the latest research findings in journals. This exposure to research also provides learners with the opportunity to see if they'd like to pursue a career as a clinician-scientist."
Christian Liebzeit, who finished his second year of the B.Sc. (Med.) program this past summer, gained invaluable knowledge from his B.Sc. (Med.) experience – from how to design a research study to the craft of scientific writing.
"Having some basic research skills under your belt so you might be able to take on research opportunities in the future seems like a big advantage," Liebzeit said. "I definitely would say the B.Sc. (Med.) program opened my eyes to some of the advantages and attractive parts of research, as well as the opportunities that are out there. I'm more excited to pursue research down the road."
Liebzeit's project was focused on studying genetic data from women in a sex worker cohort in Nairobi, Kenya. He worked with blood samples to see if the levels of certain genes were higher or lower between the HIV resistant and HIV susceptible women.
His research found that 23 genes were at different levels in the HIV resistant women compared to the rest of the population. He said a lot of the genes were involved in a biological process called transendothelial leukocyte migration, which is when white blood cells leave the blood vessels and go to the sites of inflammation to help with healing and repair.
"An effective HIV vaccine does not yet currently exist but would likely be the only way to fully end the HIV pandemic," Liebzeit said. "Working on my B.Sc. (Med.) project was a fascinating opportunity, as it could help identify genes that could be used in the future for development of HIV vaccines."
Liebzeit's research received two honours at the Max Rady College of Medicine's Joe Doupe Symposium – the B.Sc. (Med.) Program Award for an Outstanding Basic Science Project and the Morris Neaman Memorial Award for Excellence and Outstanding Promise in Research During the First Summer of the B.Sc. (Med.) Program.
Liebzeit's supervisors are Dr. Ma Luo, adjunct professor of medical microbiology and infectious diseases, and Dr. Binhua Liang, assistant professor of biochemistry and medical genetics.