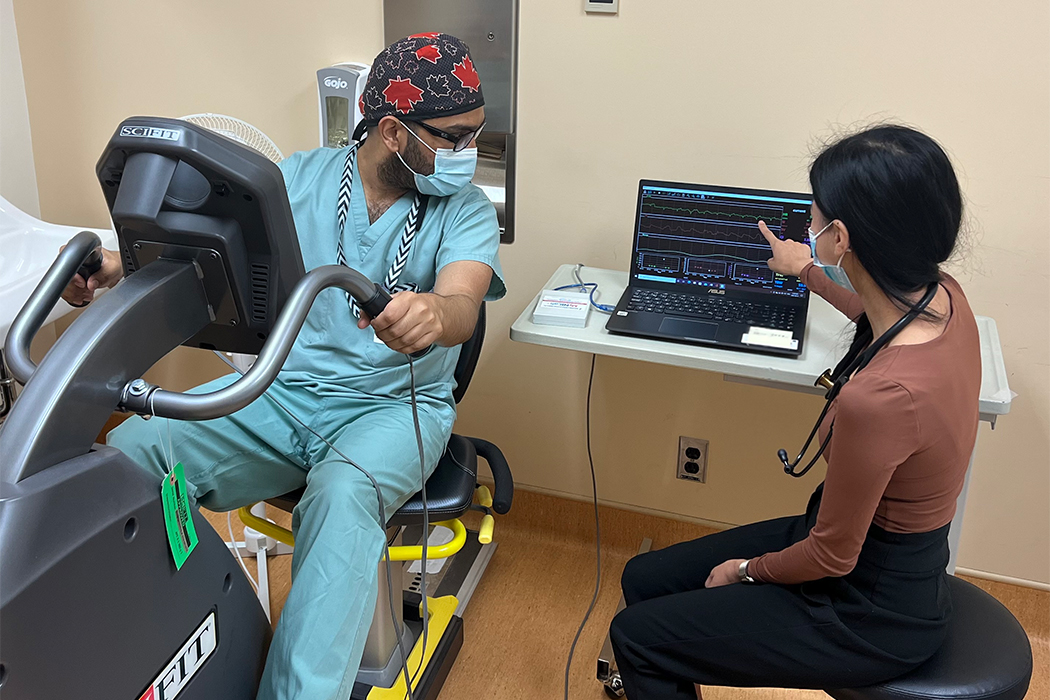 B.Sc. (Med.) program gives medical students 'enormous' opportunity to learn
September 26, 2022 —
Emelissa Valcourt enrolled in the bachelor of science in medicine (B.Sc. (Med.) degree program because she wanted to see the impact of her research up close.
While Valcourt had experience working as a research biologist before entering medical school, all her work was done in a lab. However, her B.Sc. (Med.) project allowed her to gain clinical research experience.
"I went from working with cells and microbes to clinical research with patients," Valcourt said. "My project definitely puts a face to why we do research in the first place."
The B.Sc. (Med.) program allows Max Rady College of Medicine students to spend two summers after their first and second year of the four-year MD program immersed in a research project. This year, 57 (20 first-year and 37 second-year) students were enrolled in the undergraduate medicine research program at the University of Manitoba.
Medical students who only want to spend one summer (from the end of May until the end of August) conducting research can enroll in the Med Summer Research Program. This year, 23 (13 first-year and 10 second-year) medical students took part in the Med Summer Research Program.
Valcourt's research aimed to identify better markers to predict outcomes in heart failure. She connected patients to a monitor, similar to an electrocardiogram, and took readings when they were resting, laying down, sitting and after 12 minutes of exercise. Valcourt found that there were some markers that were significantly different between people who did poorly and those who were relatively stable after six months.
"I hope that this research can be used one day to identify high-risk patients so that we can hopefully prevent them from experiencing poor outcomes," she said.
Valcourt's supervisor, Dr. Ashish H. Shah, an assistant professor of internal medicine, Max Rady College of Medicine, was impressed with her performance. He said in their first meeting he was explaining the rationale of the study, but by the second summer, Valcourt was bringing new ideas to Shah.
"The B.Sc. (Med.) program gives students an enormous opportunity to learn," Shah said. "I take my B.Sc. (Med.) students to my clinic, on ward rounds, to cardiac catheter laboratories to view various procedures and to different educational meetings in the section of cardiology. They really get a feel for what life is like for physicians and clinician-scientists."
The fact that the students leave the program having completed a real research project is just one of the many advantages of the summer programs, said Dr. John Embil, professor of internal medicine and medical microbiology/infectious diseases, Max Rady College of Medicine, and the director of the B.Sc. (Med.) and Med Summer Research Program.
"The programs have multiple benefits – there's a financial benefit, there's an academic benefit and there's a benefit to making academic connections," Embil said. "Some of these young minds will be pure clinicians, some will be clinician-scientists and some will be pure scientists with a little bit of clinical on the side, so this program serves as a springboard or whets the appetite of young investigators."
In addition to research experience, students receive a stipend of $7,500 per summer and two weeks of vacation time. The learners also receive one-half day per week of clinical exposure.
Ashley Bryson, who wrapped up her second summer in the B.Sc. (Med.) program, said she could write a long list of the skills she was able to improve through her research experience, including critical thinking, collaboration and independence.
"I've learned a lot about the scientific process," she said. "I feel like every time I came into the lab, I learned something new."
Bryson's research was looking at how to prevent cardiotoxicity (heart damage) induced by anthracyclines, a type of chemotherapy. The study had 19 women who were undergoing chemotherapy for breast cancer take part in aerobic exercise in an attempt to mitigate potential damage.
Bryson noted that the exercise regime they had the women undertake had a high adherence, so it was workable while the women were undergoing chemotherapy. She said that this is an exciting finding because it could lead to a new pre-habilitation standard of care. Bryson said there are plans to do a larger study.
"I felt very lucky to be taken on for this project," she said. "My supervisor, Dr. Davinder Jassal, has been exceptionally supportive as a mentor and the other members of our laboratory have been incredible to get to know as well."
Murtaza Jafri took part in the Med Summer Research Program because he liked the flexibility it offered. He said he could gain research experience in one summer and it freed up his second-year summer for other opportunities related to medicine.
Jafri's research was looking at the anti-inflammatory properties of heparin, a drug used to prevent blood clotting. His research showed that heparin had anti-inflammatory properties. He said that his research suggests that physicians could keep a patient on heparin a little longer to keep the anti-inflammation properties going. It could help prevent that person from developing scar tissue, he said.
"I'd never written a research paper before and that's one thing I'm really proud of," said Jafri, who was supervised by Dr. Ma Luo and Dr. Ben Liang, both adjunct professors of medical microbiology and infectious diseases, Max Rady College of Medicine. "I feel really proud to have been able to work on this project and finish it. It's really a great feeling."