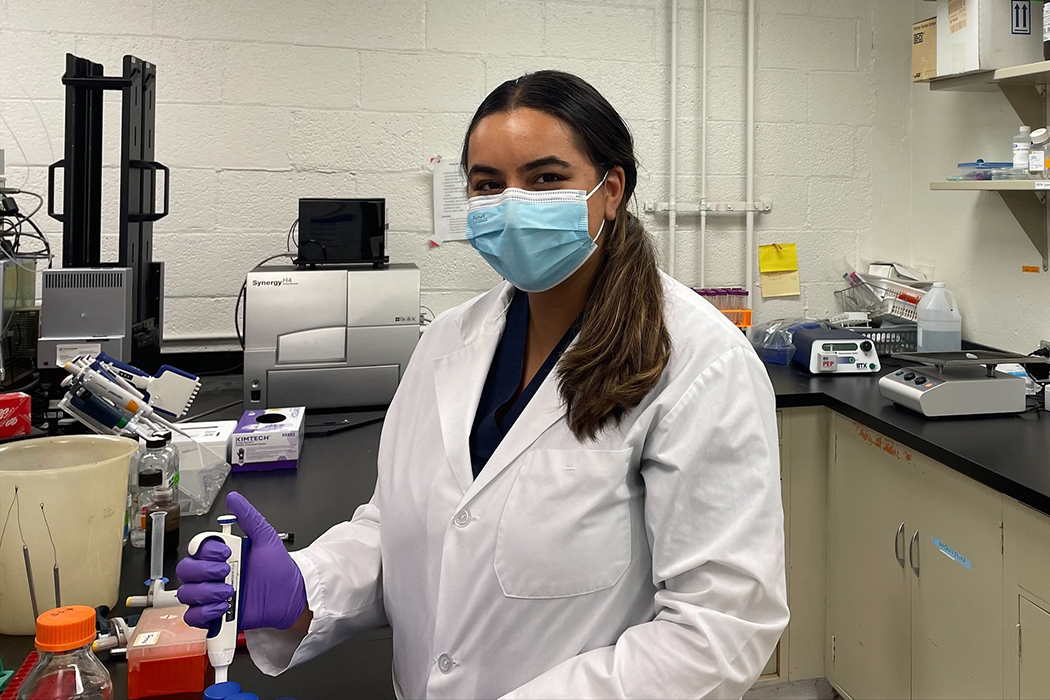 B.Sc. (Dent.) program opens door to dental research
September 27, 2021 —
Natalie Pesun became fascinated with the materials used in dentistry during her first year at the Dr. Niznick College of Dentistry, so she approached the professor teaching the dental materials class to see whether he was conducting research over the summer that she could take part in.
This led Pesun, a third-year dental student, to enroll in the bachelor of science in dentistry (B.Sc. (Dent.) program.
The program provides students with the opportunity to conduct full-time research over the course of two summers. Learners have the option of enrolling in the program at the end of their first or second year of dental school, and they receive a $5,000 stipend each summer.
Pesun joined Dr. Rodrigo França, associate professor of restorative dentistry, Dr. Gerald Niznick College of Dentistry, Rady Faculty of Health Sciences, to study the materials used to make crowns and different cements used to affix crowns to teeth. She looked at different methods to remove the cement from the crowns and how it affects the materials.
"I'm really thankful for the B.Sc. (Dent.) program," Pesun said. "It's a great way for dental students to spend their summers and we're really lucky to have something like this at the University of Manitoba."
The program, which eight first-year and eight second-year students were enrolled in this past summer, allows learners the opportunity to gain valuable research experience.
Navi Mann, a second-year dental student, never had the chance to conduct research during her undergrad because of the COVID-19 pandemic, so she thought the B.Sc. (Dent.) program would be a great way to gain research skills.
Her project is looking into the effects of Candida dubliniensis, a fungi, on the growth of streptococcus mutans, the main bacteria that causes cavities.
"The B.Sc. (Dent.) program has been way better than I expected," Mann said. "I honestly expected for me to be really overwhelmed because my project is very microbiology based and I'd only taken one microbiology class during my undergrad. But I've been able to get so much help. Not only is my supervisor so helpful, but I have a lot of PhD students willing to help me, too."
Dr. Kangmin Duan, professor of oral biology in the college, is Mann's supervisor. He said Mann worked hard this summer and brought her sense of curiosity to the research.
"I think B.Sc. (Dent.) is an excellent program for the students, because if they're doing research they will see things from a researcher's perspective, and I think it's helpful for their career in dentistry," Duan said.
Dr. Raj Bhullar, associate dean (research), Dr. Gerald Niznick College of Dentistry, agrees with Duan. He said the program is beneficial for students because it allows them to be critical thinkers and they will be able to make evidence-based decisions.
"The B.Sc. (Dent.) program provides an opportunity for the students to be exposed to the importance of research in advancing the field of dentistry," Bhullar said. "Research is the cornerstone for advancement in improving human health."
In addition to research skills, Pesun said the program has taught her a lot about self-discipline.
"The B.Sc. (Dent.) projects are really student motivated, so you have to make sure you're on a good schedule," Pesun said. "You have to make sure that your project runs smoothly because it really is your project. It's not just working under a supervisor, you're doing your own research project with your supervisor."
At the end of the program, students turn in a mini-thesis and give a presentation outlining the project results. The college also provides funding for students who want to present at national meetings.
Pesun, who didn't have any previous research experience, said the program opened her eyes to how much there was to study in the field of dentistry.
"I'd definitely be interested in doing more research after graduation," she said.