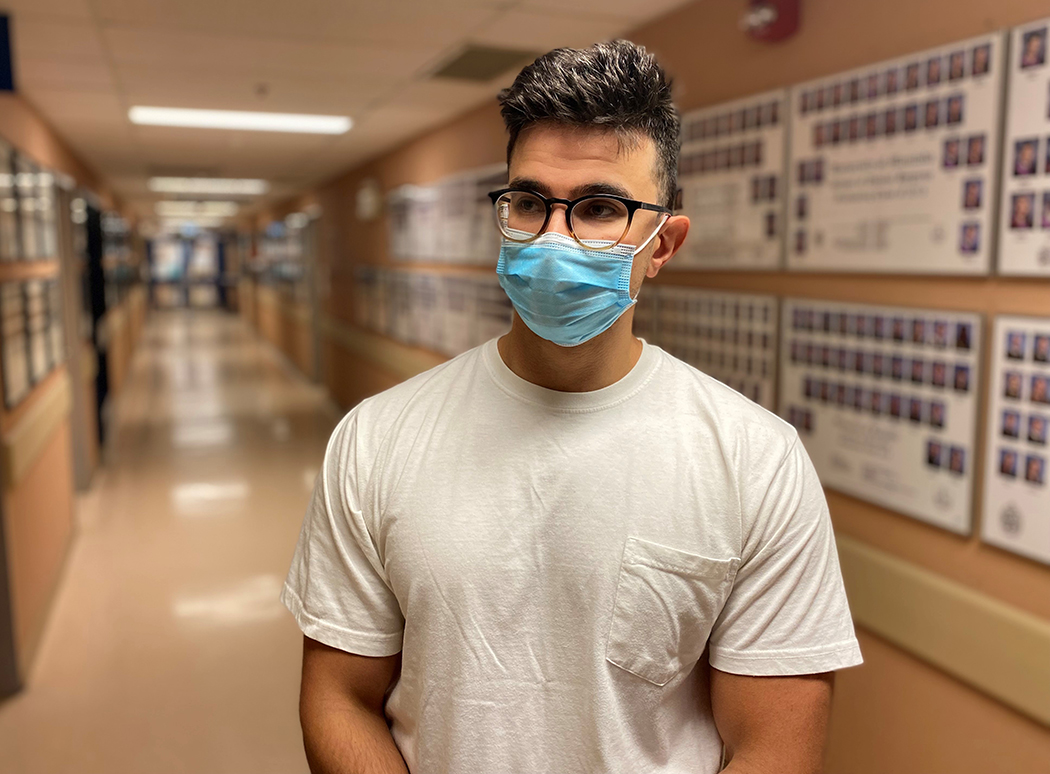 B.Sc. (Dent.) program 'excites' dentistry students about research
September 7, 2022 —
Dmytro Shulyakov had little research experience heading into dental school, so he enrolled in the bachelor of science in dentistry (B.Sc. (Dent.) program to see what it was all about.
The B.Sc. (Dent.) program, which provides dental students from the Dr. Gerald Niznick College of Dentistry with the opportunity to conduct full-time research over the course of two summers, opened his eyes to the world of research.
"I think research is a really important aspect of dentistry," said Shulyakov, who was in his second-year of the B.Sc. (Dent.) program, and is in his fourth-year of dental school. "It progresses the field. With more research, there's more innovation and advancement."
Shulyakov is helping advance the field of dentistry with his B.Sc. (Dent.) project that's analyzing mandibular (lower jaw) fractures treated at the Health Sciences Centre. He's analyzing treatment outcomes and complications associated with mandibular fractures and determining a more effective treatment.
Shulyakov, who was supervised by Dr. Adnan Shah, department head of dental diagnostic and surgical sciences, said a detailed understanding of mandibular fractures can help in future treatment and allow health-care practitioners to better understand their patient outcomes.
"The B.Sc. (Dent.) program is an excellent way to get into research, especially if you've never been involved in it before," Shulyakov said. "I definitely want to do more research in the future."
One first-year and eight second-year students were enrolled in the B.Sc. (Dent.) program this summer. Students have the option of enrolling in the program at the end of their first or second year of dental school, and receive a $5,000 stipend each summer.
Dr. Raj Bhullar, associate dean (research), Dr. Gerald Niznick College of Dentistry, said the program is not only beneficial for students who want to continue in a career as a researcher, but the skills they develop will also be helpful when they enter practice.
"The ability to assess the relevance of new information and its practical use is essential in the practice of dentistry," Bhullar said. "These skills are of the utmost importance as immense amounts of new scientific information is being generated that will impact the practice of dentistry going forward."
Christelle Tan, who was a second-year B.Sc. (Dent.) student and is in her fourth-year of dental school, said that one invaluable skill she developed through the program is the ability to understand research articles.
"I can now judge much more easily whether or not it's a good article. I know what I'm looking for and I realize how difficult it is to produce really solid research," said Tan, who was supervised by Dr. Chrysi Stavropoulou, assistant professor of periodontology, Dr. Gerald Niznick College of Dentistry, and Dr. Carol Hitchon, associate professor of internal medicine, Max Rady College of Medicine.
Stavropoulou said that Tan was a hard-working student and became more familiar with the research process over two summers.
"One of the goals of the B.Sc. (Dent.) program is to get students excited about research," Stavropoulou said. "The experience opens students up to see what it's like to be a researcher and it makes them think about dentistry outside of just a clinical aspect."
Tan had the unique opportunity to collaborate on her project with Simrit Dhaliwal, a bachelor of science in medicine student. They did a systematic review of research that looked at optimal oral health self-care practices and professional treatment for adult patients with rheumatoid arthritis.
The students found research that shows that having one's teeth cleaned at a dentist's office can help improve one's rheumatoid arthritis. They reported that there's some evidence that some oral rinses and some tooth brushing techniques might help. They also saw that some medications that people take for rheumatoid arthritis also improve oral health.
"In dentistry there's a big focus on the connection between oral health and systemic health," Tan said. "So we're hoping that this research will shed more light on that connection and help people realize the importance of oral health and how it relates to systemic health of the rest of their body."