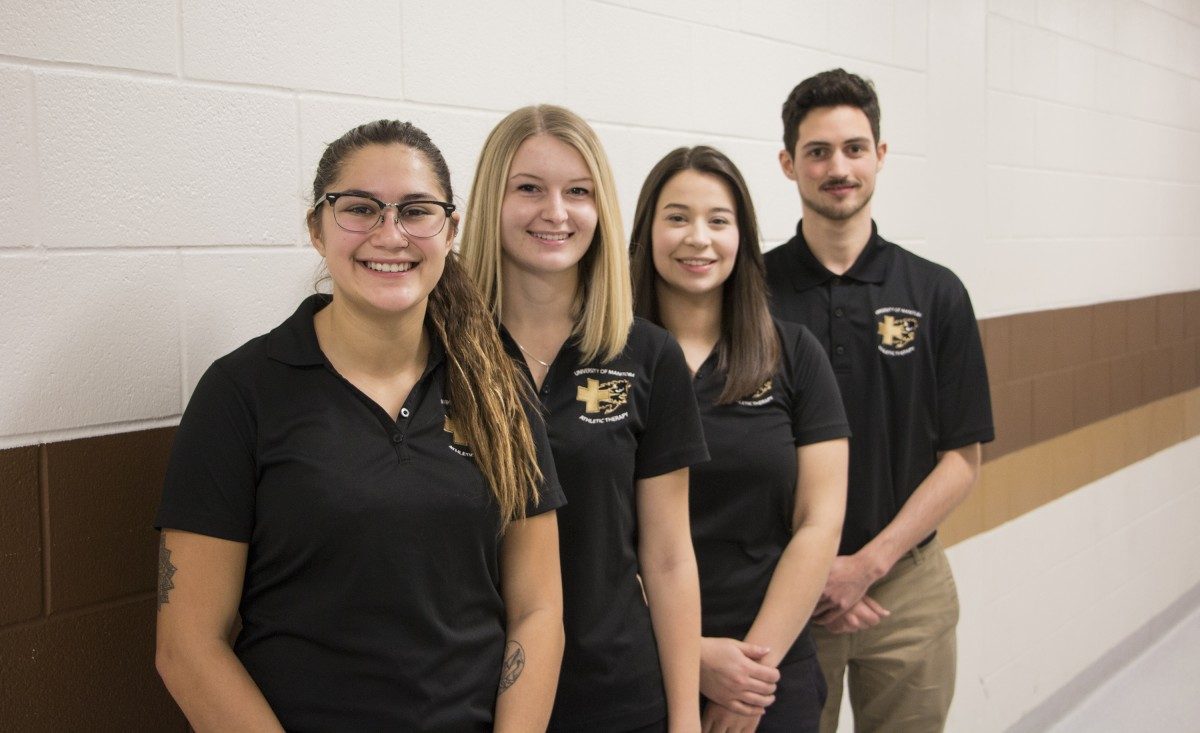 Athletic therapy students all set for NYC
Internship with NY Rangers 'opportunity of a lifetime'
December 8, 2017 —
Start spreading the news: a group of University of Manitoba athletic therapy (AT) students are headed to the Big Apple.
Four students from our fold will be interning with the NHL's New York Rangers' training staff over the holiday break and reading week, gaining a behind-the-scenes exposure of the inner-workings of a professional hockey team.
Sara Cusack and Andrew Kulas embark on their internship from Dec. 13 – 20, while Katya Mackling and Shanlyn Parkhill are slated to hit the Empire City during reading week.
Mackling says the chance to work with a pro hockey club is the opportunity of a lifetime.
"I'm so excited," says Mackling, 20, brimming ear-to-ear. "My plan is to work in hockey in the future, so getting this opportunity is super awesome and I'm looking forward to it."
The third-year student currently serves as a student AT with the Bisons Men's Hockey squad. She's part of a team that provides therapeutic services for the players, such as pre-game stretching and taping, and in-game/post game support, amongst other vital services.
The internship partnership between the Athletic Therapy Department and the Rangers dates back to the early 2000s. The Rangers' head athletic trainer & director of sports medicine, Jim Ramsay [B.PE/87], is a UofM grad and a former classmate of current FKRM AT director, Jackie Elliott.
(Fun fact: one of the first UofM AT student to be selected for the Rangers internship is current Winnipeg Jets director of athletic therapy, Rob Milette [B.AT/02].)
Elliott says the students will spend their internship shadowing and observing the Rangers' training staff during games and practices throughout their one-week stints. She expects them to soak it all up and use this as a stepping-stone to further their education and eventual careers.
"It's really an opportunity of a life time to get to see how a big U.S. professional sports team operates. There will be lots to see and learn," says Elliott.
University of Manitoba AT students also intern with local pro clubs, such as the Blue Bombers, Goldeyes and Jets, respectively, Elliott adds.
Mackling is a hockey fan and adds she's been trying to learn as much as she can about the Rangers before her internship begins.
"I've started keeping an eye on some Rangers games and been trying to get some names down and get a little more familiar with the team," she chuckles.
The B.Kin. – AT program is designed for students interested in careers in the expanding field of physical activity, health and wellness. In addition to taking core courses in the exercise sciences, students have the flexibility to take additional courses or practicums that allow them to design an educational experience best suited to their interests. Students may obtain a variety of fitness-related qualifications and certifications that would complement their career aspirations. For more information about applying, visit umanitoba.ca/kinrec.