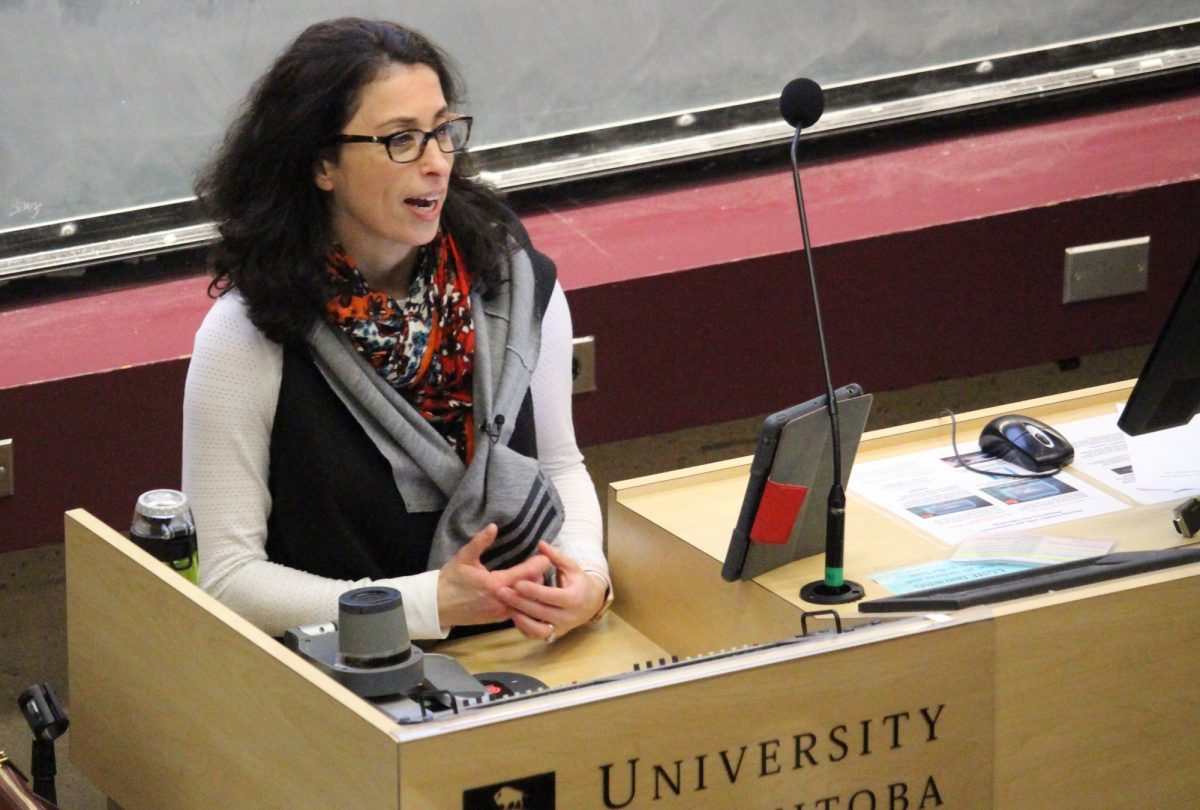 Athlete offers message of resilience to medical students
January 27, 2020 —
At a recent wellness fair hosted by Undergraduate Medical Education (UGME) Student Affairs, Winnipeg-based gold medal athlete Carolyn Lindner urged first-year students in the Max Rady College of Medicine to be resilient and be their "own inspiration" during difficult or stressful times.
In 2013, Lindner became a bilateral below-the-knee amputee following a serious flu and 40-day coma. She had to learn to walk and breathe all over again, but within a few years she was a gold medalist at the Canadian Wheelchair Curling Championships. She now has her sights set on both the winter and summer Paralympics in curling and archery.
"I decided I wasn't just going to live; I was going to thrive," Lindner told students. "My illness and recovery have allowed me to live in the moment, and it is important to have an open heart and an open mind."
Dr. Aviva Goldberg, associate dean, UGME Student Affairs, called Lindner one of the most resilient people she knows.
"She recovered from a devastating and life-altering illness by setting small, concrete goals for herself," Goldberg said. "She is an inspiration for medical students because they too need to find ways to achieve difficult things, sometimes with a lot of obligations other than schoolwork making the path even steeper."
Student Cecily Taylor said she was moved by Lindner's inspiring message of setting small attainable goals to overcome traumatic events.
"I think that her presentation was helpful for us as people, because we will all eventually face events that seem insurmountable," Taylor said. "But it was also helpful as future physicians, because it gives an insight into how we can help our patients thrive after they survive traumatic events."
The event, mandatory for students, was held on Jan. 17 at Bannatyne campus. Another wellness fair for second-year medical students will be held on April 22.
"The faculty values wellness, and it's important to have events like this to show that there are ways to practice wellness even during a demanding academic or clinical schedule," Goldberg said. "I do understand the criticism of mandatory wellness activities as yet another strain on a packed schedule, and I think it is our responsibility that we make these events worth the time that the students spend in them."
The day also included a group session on managing finances, and breakout sessions exploring activities like yoga, Indigenous beading, medical improv and dodgeball.
Taylor said she took part in a board game session. She admits that at the start of the session, she thought she'd be better off using that time to study. However, by the end of the 80 minutes, she was able to see the benefits of some game time for her well-being.
"As medical students we don't prioritize our health and wellness as much as we should sometimes," she said. "This was such a good example of how taking time to de-stress can have a significant improvement in your mental health. I know that for me personally I haven't laughed or smiled that much after having a final exam in a long time."