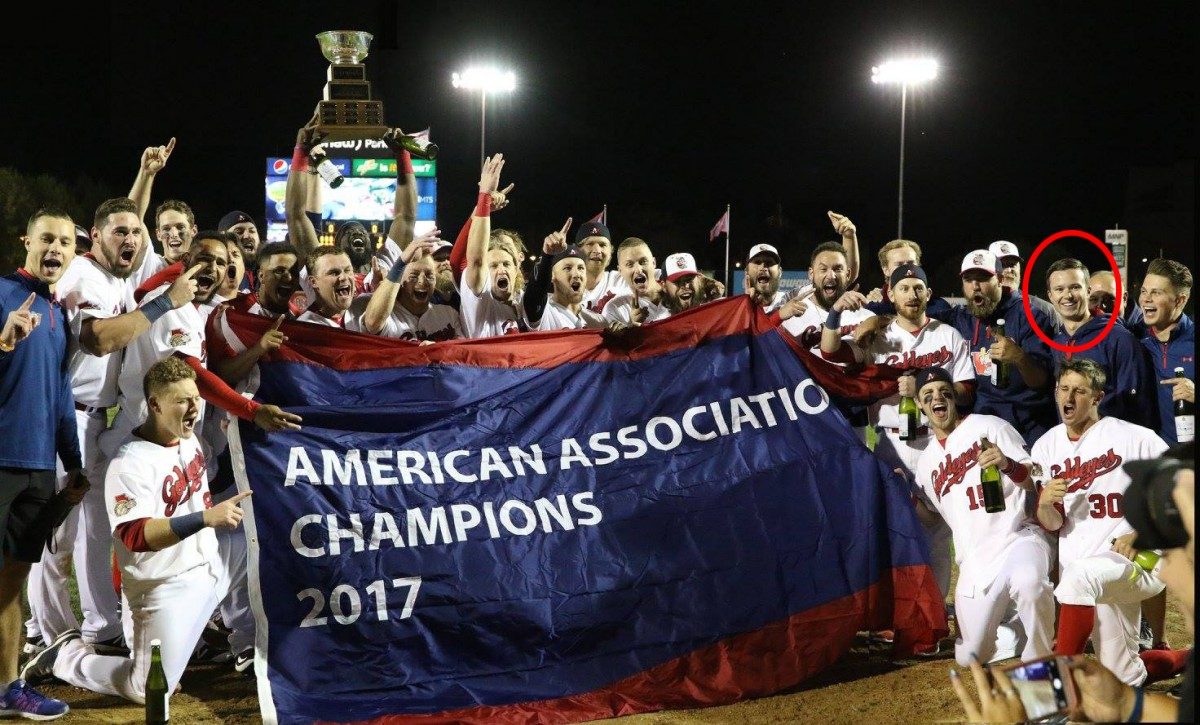 AT Grad Student A Back-To-Back Champ With Goldeyes
September 29, 2017 —
On the evening of September 20th, while most of his fellow graduate students were getting into the autumn groove of research and studying, Derek McLennan was at Shaw Park in downtown Winnipeg, drenched in Champagne.
The U of M grad student had just spent his second summer as the Athletic Therapist for the Winnipeg Goldeyes baseball club, and the flowing bubbly was part of the celebration of the Goldeyes winning back-to-back league championship titles.
"I never expected this!  Win it once, okay, that's awesome. But to come back and do it again, especially after how crazy the playoffs were this year, I was not expecting it,"  says McLennan.
McLennan graduated with his Bachelor's degree in athletic therapy from the U of M's Faculty of Kinesiology and Recreation Management last year, and is now in his second year of his Masters studies.
It was last summer (2016), with only a few weeks remaining in the season, when McLennan was offered the chance to join the Goldeyes in an athletic therapy role.  As a recent AT grad, he was excited to put his skills to use in a professional sports setting, something he had on his career bucket list.
The timing couldn't have been better, as the team barely squeaked into the playoffs and went on an improbable run to win its first league championship since 1994, eventually clinching the title in Wichita, Kansas.
McLennan returned to the U of M mere days after that big win and began his Masters work.  Then, when summer and baseball season rolled around in 2017, he was once again offered the job as the full-time Athletic Therapist with the team. This time, it would be for the entire season from May through September.
"I was able to talk to my advisor, (Assistant Professor) Jon Singer, and convince him to give me the summer off of my Masters work so I could go and back and get more of this real world experience, and keep my skills up," says McLennan. "He knew it would be valuable experience so he was very supportive."
Back-to-back championships are rare in pro-sports at any level, so winning another ring wasn't on McLennan's mind as he immersed himself in his Goldeyes role, putting his education to use and honing his skills on the job.
He was the only full-time health professional on staff, with the team's chiropractor, physiotherapist and medical doctor serving on an on-call basis. (Fortunately, if McLennan ever needed help or advice, it was always just a phone call away.)
His days typically began at 11am and went until a couple of hours after games were over, so 12 hour days were the rule.  And, he traveled with the team as well, so McLennan only had a handful of days off during the four months of his tenure with the club.
Essentially, as the team's AT, McLennan was in charge of keeping the players healthy.
He explains, "It's not necessarily dealing with acute injuries but instead when the players have minor issues or aches and pains, it's my job keep those from becoming full blown injuries that would keep them from playing.
It's a lot of maintenance work, making sure they're on top of their recovery with things like sleeping properly and eating right, and making sure they're getting into the gym.
Even though it's a long day every day, they still need to get in and do exercise.  I also have to make sure they're all stretching properly and cooling down after workouts.  That's huge. I run a dynamic stretch every day before games, I do all of their taping, make sure they're getting into the cold tub after games. All of those sorts of things.  My goal every day is to work with the guys so they can feel better and then they play better."
McLennan says although there was somewhat of a learning curve when he started the job, his education served him very well.
He says he went in feeling like he had all of the knowledge he needed thanks to extensive hours in clinical and field settings during his bachelor's degree studies, but the Goldeyes job was his first experience getting to make big decisions on his own.
"In the AT program, you get a chance to apply what you've learned because you have all sorts of practical experience but in that situation, you make a decision and you double check with someone to make sure it's right. In school, you always have a second opinion.
Whereas in a job like this, you're the sole person making the decision on what a player needs, what kind of treatment they're going to get and what you think will make them better.  For the first couple weeks it's a weird feeling, you're wondering if you're doing the right thing or if you could do something better for them.  But you do have to just trust your education, and fortunately we had a great staff I could bounce ideas off of," he says.
And considering the health of the Goldeyes roster throughout the season, it's clear he was doing something right.
After a slow start to the season, that healthy roster got on a roll late in the year and ended up beating the Wichita Wingnuts for the second year in a row in the American Association championship final, but this time on home turf in Winnipeg.
Being in his hometown, on the field as a member of the team when the Champagne started flowing, was the feeling of a lifetime.
Now, he's back on campus and working on his thesis research, looking at balance measures in 12-17 year old hockey players to see the possible effect of concussions on young athletes.
He's currently busy collecting data and thoroughly enjoying the work, so would he go back next year to try and chase a three-peat?
"A three-peat has never been done!" he laughs. "But we'll just have to see where life takes me. However, doing athletic therapy work for a professional sports team is high on my list of goals. If I had the chance to keep pursuing this line of work down the road, it's something I would very strongly consider."