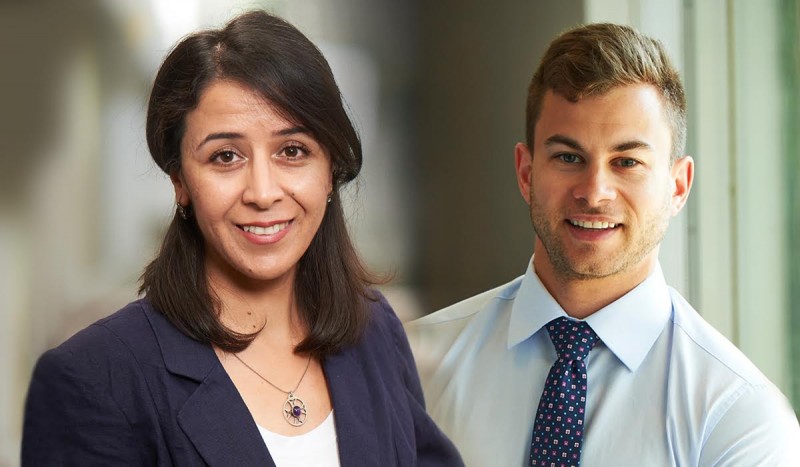 Asper students receive G. Clarence Elliott Fellowships
September 24, 2015 —
Two graduate students from the Asper School of Business are the 2015-2016 recipients of the prestigious G. Clarence Elliott Fellowship. Raymond Lavoie is pursuing a PhD in Marketing, and Sepideh Yeganegi is pursuing a PhD in Business Administration. These exceptional students each received an award valued at $3,500. This is the first year since the fellowship was launched two decades ago that all winners originate from the Asper School of Business.
Each spring, eligible candidates are interviewed by the G. Clarence Elliott Fellowship Selection Committee consisting of Mr. Steve Demmings, Ms. Elizabeth Marr and Mr. Corey Greenham (former graduates of the University of Manitoba). This year's winners were chosen after undergoing a personal interview and were selected for their pursuit of academic excellence, their dedication to hard work, their commitment to perseverance, and their spirit to "giving back" to the community.
About the G. Clarence Elliott Fellowship
Mr. Elliott was a former Vice-President and Treasurer of the Great-West Life Assurance Company. He was a pioneer in real estate investment. In the 1940's he began to build an institutional real estate and mortgage portfolio for the company. He played an instrumental role in developing joint venture and business relationships with many companies that became Canadian corporate leaders; including Bentall Properties, Cambridge Leaseholds, Equitable Real Estate, Kenair Apartments Ltd., Larkspur Foundation, Oxford Development Group Inc. and PCL Constructors. Mr. Elliot possessed the ability to identify the unique skills of people and for nurturing the best in talent. In 1994 a group of colleagues who had the good fortune to work with Mr. Elliott decided to develop a legacy project in his name. Steve Demmings, former CEO of the Thunder Bay Community Economic Development Commission; Gillian Ewing, Assistant Vice President of Harris Private Banking; and Mr. Ernie Johnson, former Associate Treasure of Great-West Life were instrumental in founding the G. Clarence Elliot Fellowship. Each was also a former employee of the Great-West Life Assurance Company; all felt deeply indebted to Mr. Elliott for his mentorship, his friendship, his kindness and his humility.
The fellowship is available to full-time students in either a master's or doctoral program in Agricultural Economics (Faculty of Agricultural and Food Sciences), Architecture (Faculty of Architecture), Business Administration (Asper School of Business), City Planning (Faculty of Architecture), Economics (Faculty of Arts) and Statistics (Faculty of Science). Preference may be given to students who grew up in a geographic area outside a major urban centre (as Mr. Elliott's roots originated in rural Saskatchewan), candidates who demonstrate strong academic leanings, and who have a commitment to "community".
Since its inception in 1994, the G. Clarence Elliott Fellowship has made awards to 52 University of Manitoba students who have received over $162,000 in financial benefits.
For more information about the G. Clarence Elliott Fellowship, or to apply, please visit umanitoba.ca/faculties/graduate studies/funding/elliott.html