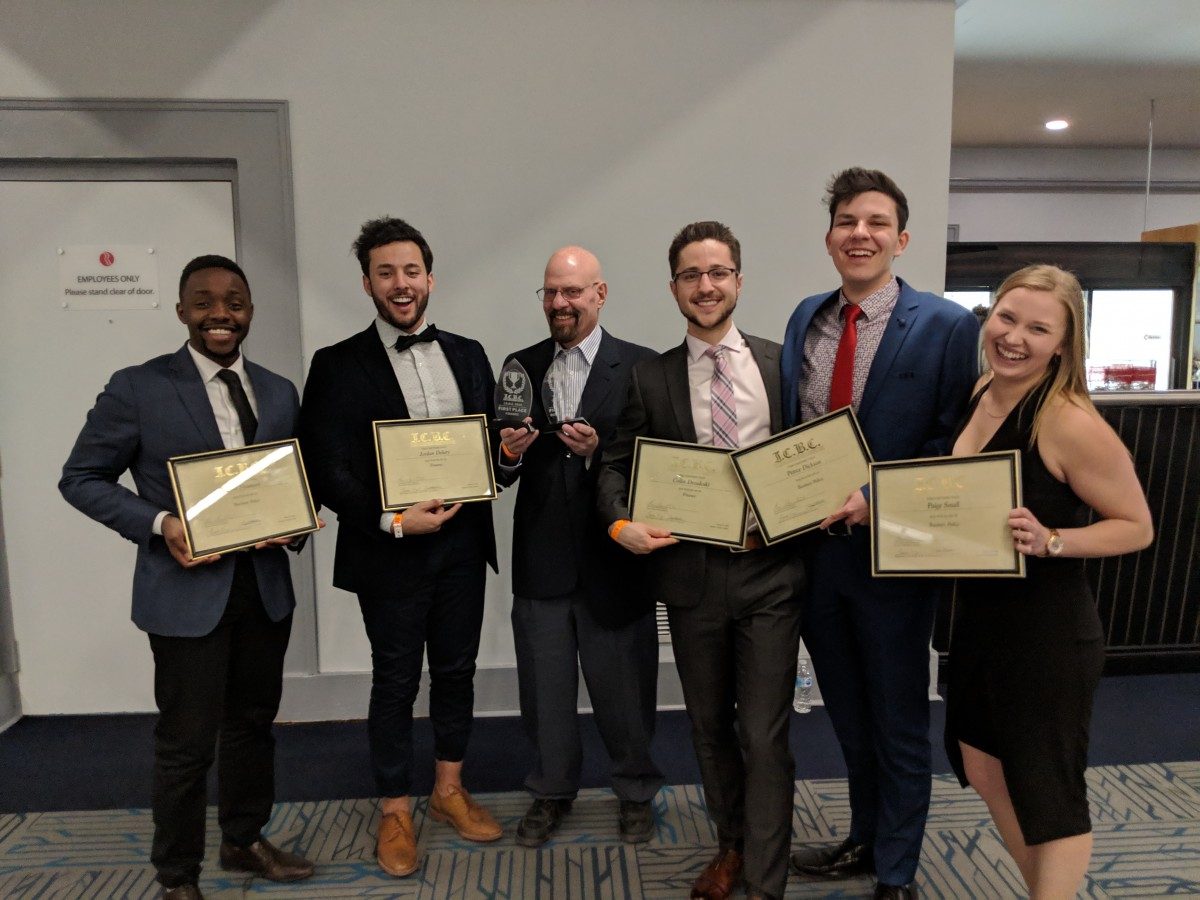 Asper students finish first in two categories at ICBC
January 31, 2019 —
Two teams of students from the Asper School of Business recently competed at the finals of the Inter-Collegiate Business Competition (ICBC) at Queen's University from January 17-19. Both teams of students won first in their categories, which were finance and business policy.
The finance team consisted of Collin Drosdoski and Jordan Delury, while the business policy team consisted of Paige Small, Peirce Dickson and Abel Nyamori. The team was coached by Asper professor Howard Harmatz, who has given much of his free time to coach competition teams over the years.
Harmatz's efforts do not go unnoticed to students like Dickson: "Professors like Howard Harmatz, who invest time in coaching their students, are able to take learning from inside the classroom to high-profile venues anywhere in the business world."
"Our students are amazing and the only input I gave was to do their presentation backwards from how they initially planned. That was it," says Harmatz.
The teams initially applied to be a part of the competition in the fall, along with five other teams. Submissions were then narrowed down to the top six, who were invited to Kingston to compete in the final round.
The final round was intense to say the least. Students were sequestered to a resolution room, where they were given a case and five and a half hours had to create a business plan. After their allotted time, students had twenty minutes to present their business plan, followed by a five-minute question-and-answer period.
"The feeling after we were finished the presentation was the highlight of my weekend. I felt not only relieved, but that we did a really good job," says Small. Her team found out they won later that day.
Besides the big win, the students that competed took home lots of skills they can apply in their careers after graduation. When asked about what she learned from competing in competitions like ICBC, Small says: "My presentation skills have improved as has my ability to analyze and understand the many potential problems facing businesses today. This experience has helped me prepare for my career post-graduation."
Her teammate Nyamori agrees: "There is unique value gained from participating in case competitions. The collision of subjects, time pressure, open ended-ness, and required collaboration create an especially fertile environment to develop a conscientious and highly competent business professional."
Small realizes that not all schools recognize the value in experiential learning.
"I am grateful to attend a school that truly appreciates the value of experiential learning outside the classroom" she says. "Without the support of the University of Manitoba, and the Asper School of Business, students like myself would not have the opportunity to go outside of their comfort zone and participate in such fulfilling endeavors like the ICBC competition."
ICBC is Canada's oldest and longest-running undergraduate business case competition. Students from the Asper School of Business have placed second and third in recent history, but have not won.