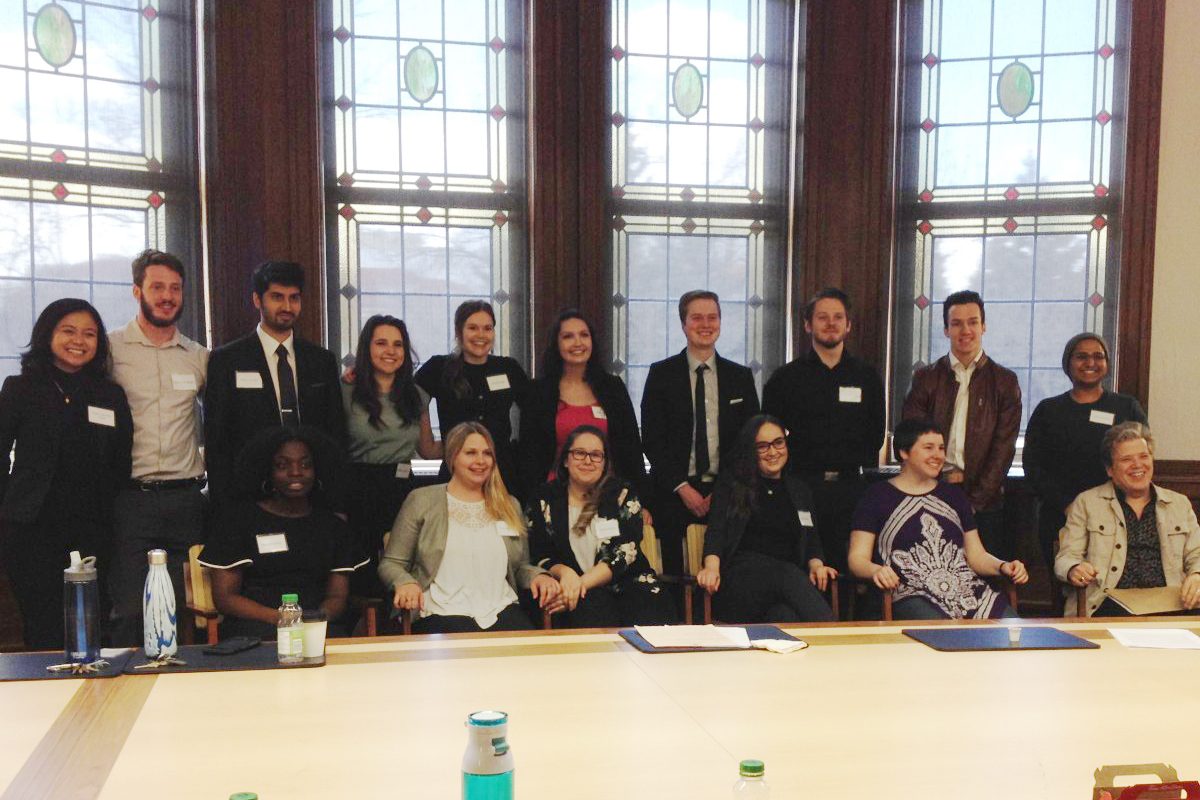 Arts undergrads gather to share research
April 12, 2019 —
On March 28, 2019, 24 Arts undergraduate students proudly presented their research projects at the 7th annual Arts Undergraduate Research Symposium.
Students apply to present research they conducted to fulfill the requirements of their honours thesis or projects they completed as part of 2018's Undergraduate Research Awards (URA), where they were funded to work over the summer months with an Arts faculty member.
The event provides an opportunity for students to gain valuable experience presenting research. The Arts symposium, along with the university-wide Undergraduate Research Poster Competition, colloquiums hosted by Arts student groups and academic and student conferences together can help to add to the overall academic experience for Arts undergraduate students.
"It is important for students to have an opportunity to celebrate the many hours of work that went into their research projects," explained the symposium's host Dr. Jason Leboe-McGowan, Associate Dean for Undergraduate Studies, Faculty of Arts. "Presenting their summaries helps the students feel pride in their work and provides a chance to practice the valuable skills of public speaking and communicating research findings in front of an audience."
The day began with a keynote from Dr. Peter Kulchyski, Native Studies, where he set the tone presenting his research findings on the activities of Manitoba Hydro in constructing hydroelectric facilities, explaining the ongoing devastating and permanent effects of those activities on the environment, as well as on indigenous communities, their culture and their traditional ways of life.
The students then took the stage presenting under themes such as:
Crime, Punishment and Policing
Environment; Who's Responsible?
Indigenous Settler Relations
Identity and its Representations
Consumer Behaviour
The Faculty was well represented with students presenting topical research from the areas of Psychology, Global Political Economy, Sociology & Criminology, Native Studies, Political Studies, Linguistics and Women's & Gender Studies. Two participating students, Sarah Hoffman and Jamie Campbell, offered clips of the day to the @umstudent Instagram community through an account takeover. Their posts helped to showcase all the student's efforts.
Omar Lucman, a fourth year honours student in Sociology and Criminology, presented on Anti-Muslim Propaganda in the Media and Its Impact on Canadian Muslims where he outlined his honours thesis research on negative stories and negative reporting done by the media on Muslims around the world and the societal impacts on Muslims in Canada. When asked about the importance of events like this, Lucman shared, "While the task of presenting at the symposium seemed daunting at first, I am ultimately quite happy that I was able to share the results of my research with such a welcoming and curious audience. After months of grueling work, I would have regretted not presenting at the symposium as we had a ton of practice in developing our presentation skills throughout the term. It would have been like practicing piano diligently in preparation for a concert performance only to never actually perform."
For 2019, there are more than 25 Arts students scheduled to conduct research as part of the URA program. We look forward to hearing the results of their research and others next March.