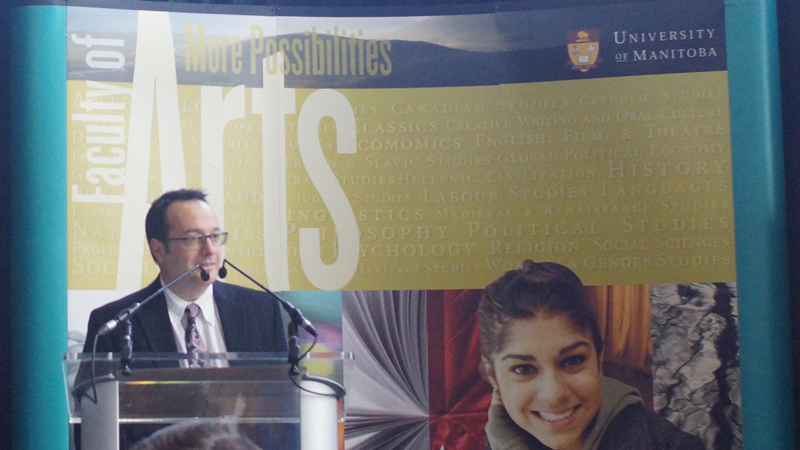 Arts recognizes Indigenous alumni
Arts Celebrating Arts Recognizes Karen Beaudin and Nahanni Fontaine
October 5, 2016 —
The Faculty of Arts held the 16th annual Arts Celebrating Arts luncheon on September 23, 2016, marking the occasion by celebrating the achievements of two important alumnae. Karen Beaudin and Nahanni Fontaine, the 2016 celebrated alumni, have each made substantial contributions to their community.
Karen Beaudin earned her Bachelor of Arts from the University of Manitoba, and went on to study part-time to obtain her Bachelor of Social Work four years ago. Ms. Beaudin is a proud Manitoba Métis, who spent most of her childhood in St. Eustache before transferring to St. Paul's Collegiate in Elie, Manitoba. In 2002, Ms. Beaudin initiated the City's Aboriginal Employee Group, serving as its spokesperson. Founded to provide Indigenous employees with information about training, education, and scholarship opportunities, the Group also works to dispel any negative stereotypes about the community among co-workers. Ms Beaudin also won a Distinguished Alumni Award for Community Service earlier in 2016.
Nahanni Fontaine has a Bachelor of Arts degree from the University of Winnipeg, and earned a Master of Arts degree in Native Studies, Women's Studies, and Critical Theory from the University of Manitoba. Ms. Fontaine was recently elected as the MLA for the St. Johns constituency in the Province of Manitoba. She serves as the NDP critic for Status of Women; Persons with Disabilities; Families; and Missing and Murdered Indigenous Women and Girls (MMIWG). Ms. Fontaine is Status Ojibway from the Sagkeeng Anishinaabe First Nation in southern Manitoba, and as a young girl and teen, Winnipeg's North End was Ms. Fontaine's home.
Arts Celebrating Arts began in 2000, and was first held in a large white tent on the Duckworth Quadrangle. From there it moved inside the Great Hall at University College, then to the multipurpose rooms in University Centre , and finally to Marshall McLuhan Hall where it currently takes place. While the venues have changed, the traditions, such as inviting celebrated alumni to speak and recognizing the contributions of faculty, support staff, and students, have continued.