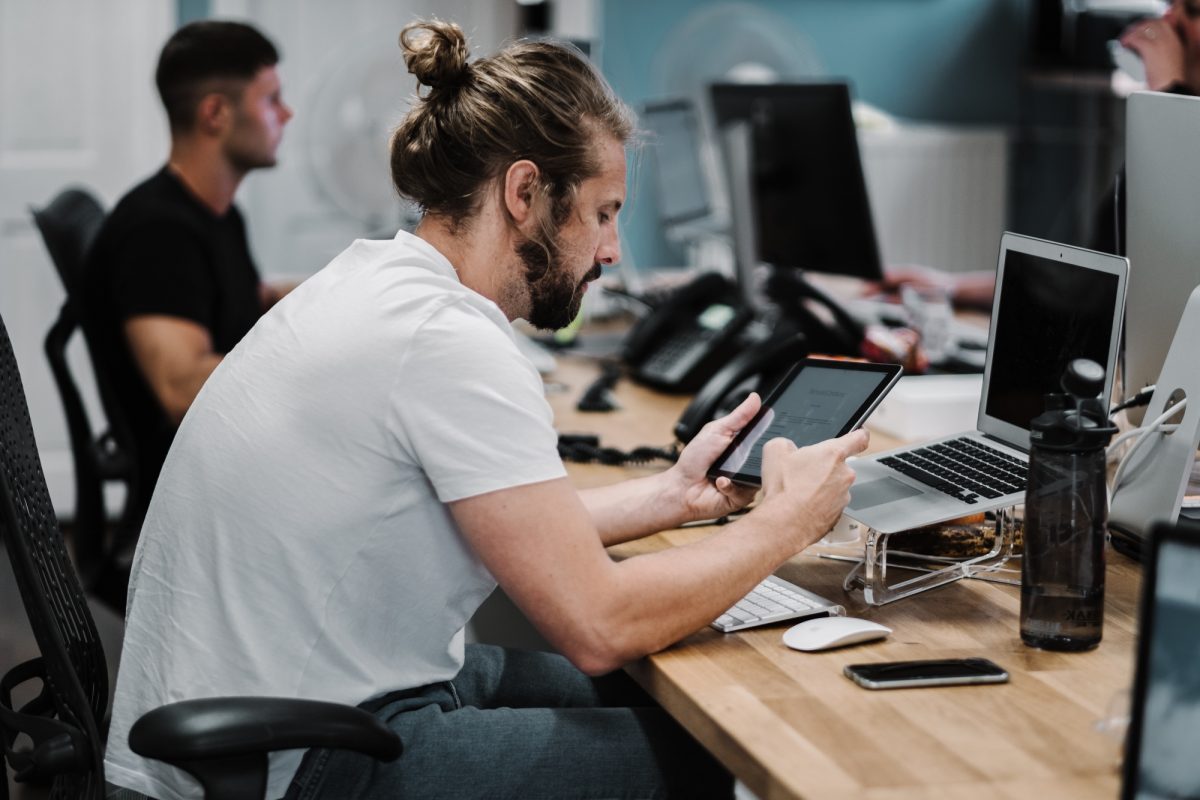 Arts jobs in the tech industry
An Arts degree will open doors to exciting and challenging careers
November 13, 2019 —
When you think about people who are employed at Apple, Google, or Microsoft what types of education do you think they have? Engineering? Computer Science? Business? What about a Bachelor of Arts?
As Steve Jobs put it, "It is in Apple's DNA that technology alone is not enough—it's technology married with liberal arts, married with the humanities, that yields us the results that make our heart sing."
As a student in the Faculty of Arts you are gaining many marketable skills from your degree. If you are interested in both the liberal arts and technology, keep reading to learn about four tech industry occupations filled by Arts graduates.
Senior Recruiter – Apple Inc.
When scrolling through Linkedin and viewing the profiles of people who are employed by Apple, you can see multiple Linkedin members who have earned a Bachelor of Arts, including a Senior Recruiter who majored in Economics.
Technical Writer – Google LLC.
Google's online Careers page shows that they also hire Bachelor of Arts graduates with a major in English for the position of Technical Writer. Candidates need to have some knowledge of coding but, it is the English major that is the primary focus.
Corporate Affairs Manager – Microsoft Corp.
Microsoft's online job postings show that they employ Bachelor of Arts graduates with majors in Economics and Political Studies as Corporate Affairs Managers. These individuals are responsible for creation and management of Microsoft's Constituency Relations Program working with civic associations and advocacy organizations, with the purpose of supporting underrepresented communities.
Language Manager – Google LLC.
Google's online career page shows that they hire people with Masters Degrees in Linguistics as Language Managers. One aspect of this position is to develop innovative terminology for features and products that Google is developing.
Hopefully these occupations caught your attention because these jobs are just a sliver of what is out there. Here are three easy ways to learn more about jobs in the tech industry for B.A. graduates:
Use Linkedin to view employees who are employed by tech firms. Take note of their education and experiences to get insight into how they developed the necessary competencies to secure that job.
Look at job postings for tech companies and scan the knowledge, skills and attributes the organizations are looking for.
Check out Career Services' online job search resources – or attend a Job Search or Linkedin workshop. Register on careerCONNECT to attend workshops.
Think critically about your coursework in Arts and the skills you are developing that apply to jobs within the tech industry. Enhance your classroom learning by getting relevant part-time or summer work, and if available, apply to the Faculty of Arts co-op education program. Joining a student club on campus is another great way to gain experience. Volunteering on campus or in the community can also help you create professional connections and give you a low-risk taste of an occupation you are considering.
Take time to reflect on your experiences both inside and outside the classroom and what you have learned. Participating in experiential opportunities will not only help you make informed decisions, you will also develop the skills employers are looking for.
If you need help with career planning, exploring your career options or developing a plan to reach your goals, visit Career Services at 474 UMSU University Centre and speak with a Career Consultant. For help in planning a course of study congruent with your goals, visit the Arts Academic Advisors at 134 Fletcher Argue Building.