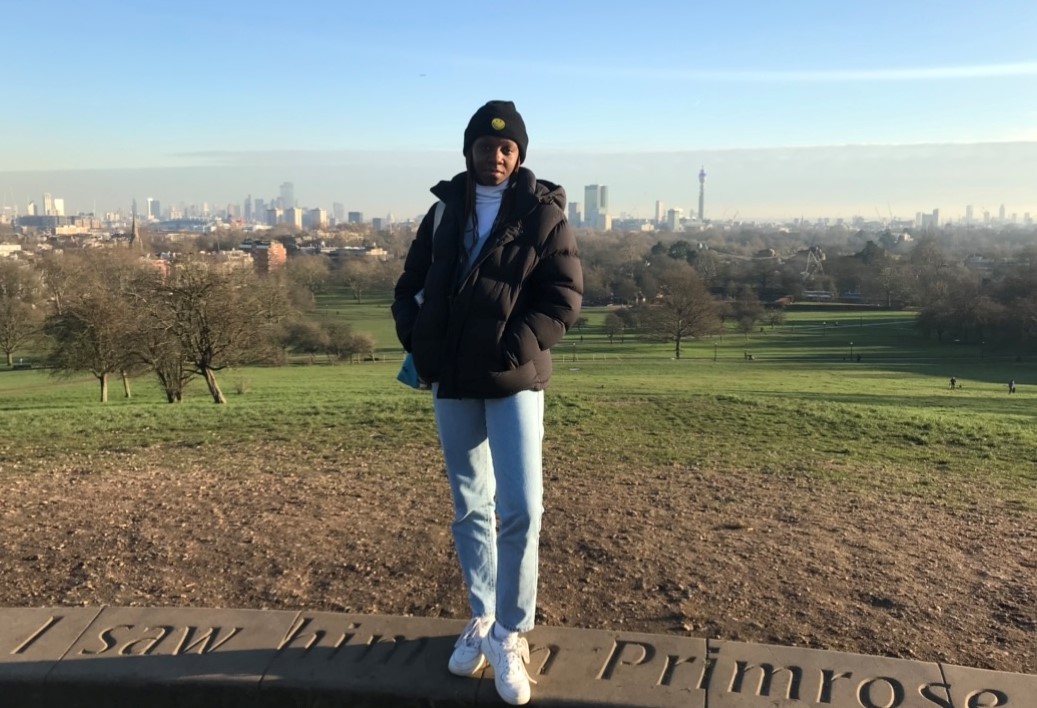 Arts grad ends degree with Creative Expression Award
June 11, 2021 —
Rebecca Simiyu [BA/2021] looks back fondly at the friends she made during her time in the Faculty of Arts and is grateful for the professors who not only taught her valuable lessons but also expressed caring and support for her to succeed.
Along with over 550 other Faculty of Arts undergraduates this spring, Simiyu completed her degree virtually and will celebrate the same way she studied over the past year – online. Simiyu graduates with a major in political studies and a minor in women's and gender studies. "I've always had an interest in politics, human rights and activism and this combination includes all of those areas," she said. Simiyu hopes to work in government in the future. "The topics overlap quite a bit and being in both provided a well-rounded learning experience."
Focusing on papers, research projects and exams doesn't always leave much time for students to express themselves in creative outlets, so when Simiyu received an email back in March from her professor about the UM Women's and Gender Studies Creative Expression Award, she jumped at the chance to enter. It was a good decision, as her photo and artistic statement entry was the award committee's unanimous choice for first prize.
Simiyu's entry was a black and white photo of local artist and performer Kayla Fernandes speaking at a Winnipeg Black Lives Matter rally in June 2020. The photo features Fernandes engaging passionately with the crowd as they recite an original poem.
The contest asked students to capture an original feminist perspective on contemporary reality in the form of a video, speech, visual art piece, policy brief, performance or other multi-media platform.
"We applaud Rebecca for the acuity and symbolic potency of her vision," said Dr. Nancy Kang on behalf of the committee. "Her entry features the speaker in profile, their demeanor resembling that of a young Audre Lorde. With fist raised, they match words and actions with conviction, eloquence and youthful candor." Kang adds that in her artist statement, Rebecca reveals that she found the protest to be "a liberating event that combined solidarity and social awareness with the chance to illuminate the power of black women's voices, not as an abstract or theoretical experience but as a lived and immediate reality."
"This is the photo I have been waiting to take ever since I first picked up a camera all those years ago," says Simiyu. "As an artist I have never been in a space that was not only so welcoming but also created for black artists. The event was organized by young black femme community organizers. I saw myself reflected in them and that made the task of taking photos very personal. This photo is a product of the entire day and event as a whole, it is one of the best pictures I have taken because the environment I was put in allowed me and encouraged me to create from my own perspective. And as a black woman in the photography field, being given the chance to create in this space might be a once in a lifetime opportunity." Simiyu adds that winning the contest was very unexpected and has boosted her confidence as an artist.
Like many this year, Simiyu will be celebrating her graduation at home surrounded by family as she watches the virtual convocation ceremony, fetes her accomplishments, remembers the fantastic people she met during her degree and looks forward to what the future will bring.