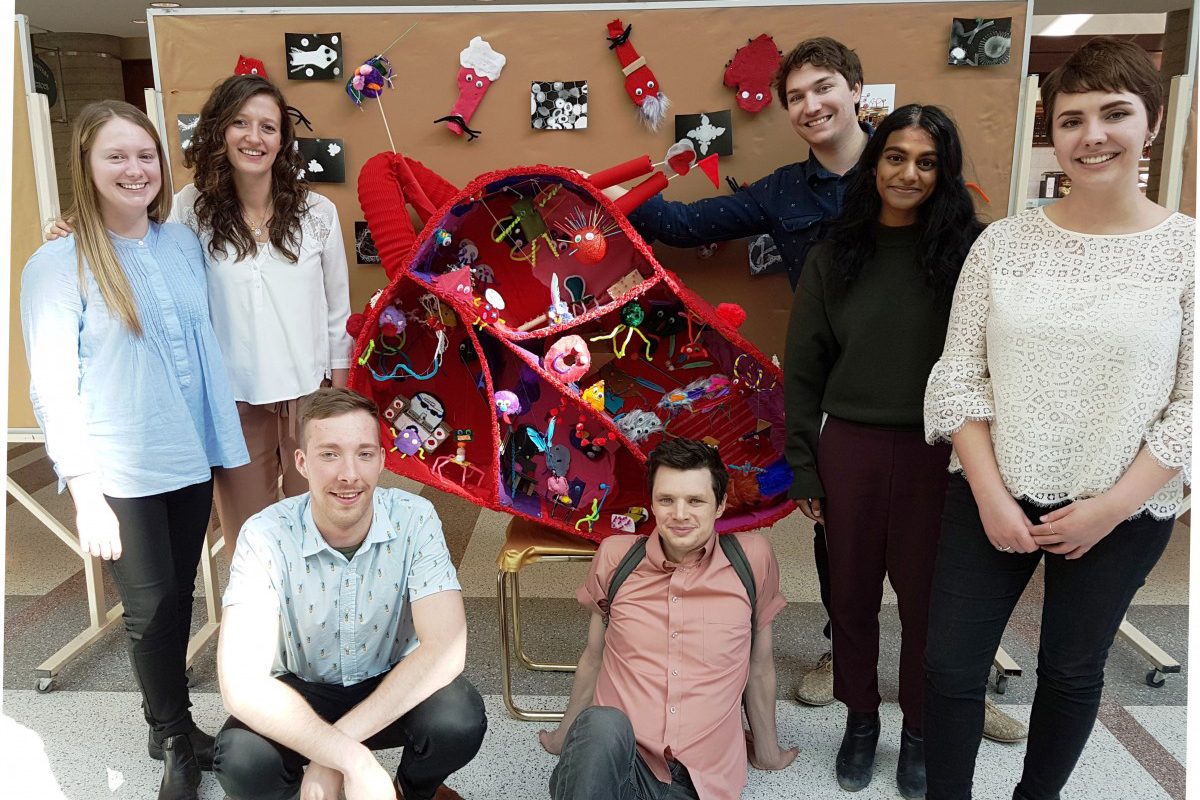 Art with heart
April 17, 2018 —
Medical students are known for having sharp minds. But they also possess plenty of heart.
That's one reason why the 2018 version of the annual Max Rady College of Medicine Art Show is titled From the Heart.
The free exhibition in the Brodie Centre Atrium had a gala opening on April 16 and is on display through April 18. It showcases about 25 works by 18 artists – most of them medical students.
"Physicians – or future physicians – are not only intelligent and studious and academic, they also have other hobbies and interests," says Kaitlyn Kaltenberger, a second-year medical student and member of the college's seven-member Art Interest Group, which organized the show.
"One of my main reasons for wanting to do this is to make medicine more human, and show that we do have an emotional side and a creative side."
Any student, staff or faculty member in the Rady Faculty of Health Sciences can submit creations to the show. The works on view include pencil drawings, acrylic and watercolour paintings, Métis-style beadwork and a crochet piece.
A few works directly address the heart theme. A watercolour called Heart, Beats by student Emma Avery depicts the organ as industrial – with elements of plumbing and brickwork – as well as organic, evoking plants, birds and fish.
"Nurturing ourselves . . . physically, emotionally and spiritually is vital," Avery writes in an artist's note.
The biggest and most vibrant piece in the show is Heart City, a mixed-media collaborative sculpture that whimsically portrays the human heart.
The project was created at Art City, a non-profit community art studio where members of the Art Interest Group volunteered for a number of evenings, mentoring children from several elementary schools.
The medical students taught the kids how the heart works and how to keep it healthy. The young participants used pipe cleaners, felt, cardboard, paint and other craft materials to create fanciful creatures such as red and white blood cells, viruses and cholesterol particles to "live" in the heart's chambers.
"I'm really proud of it," Kaltenberger says about the sculpture. "It's nice to see that a lot of different people can come together to create one cohesive piece. I liked that each child was able to express their own creativity, but still contribute to the overall piece."
Jenna Poole, another second-year student in the Art Interest Group, says she hopes many people on the Bannatyne campus find time to engage with the show.
"Art offers a channel for people to connect through," she says. "It can be enjoyed by everyone."