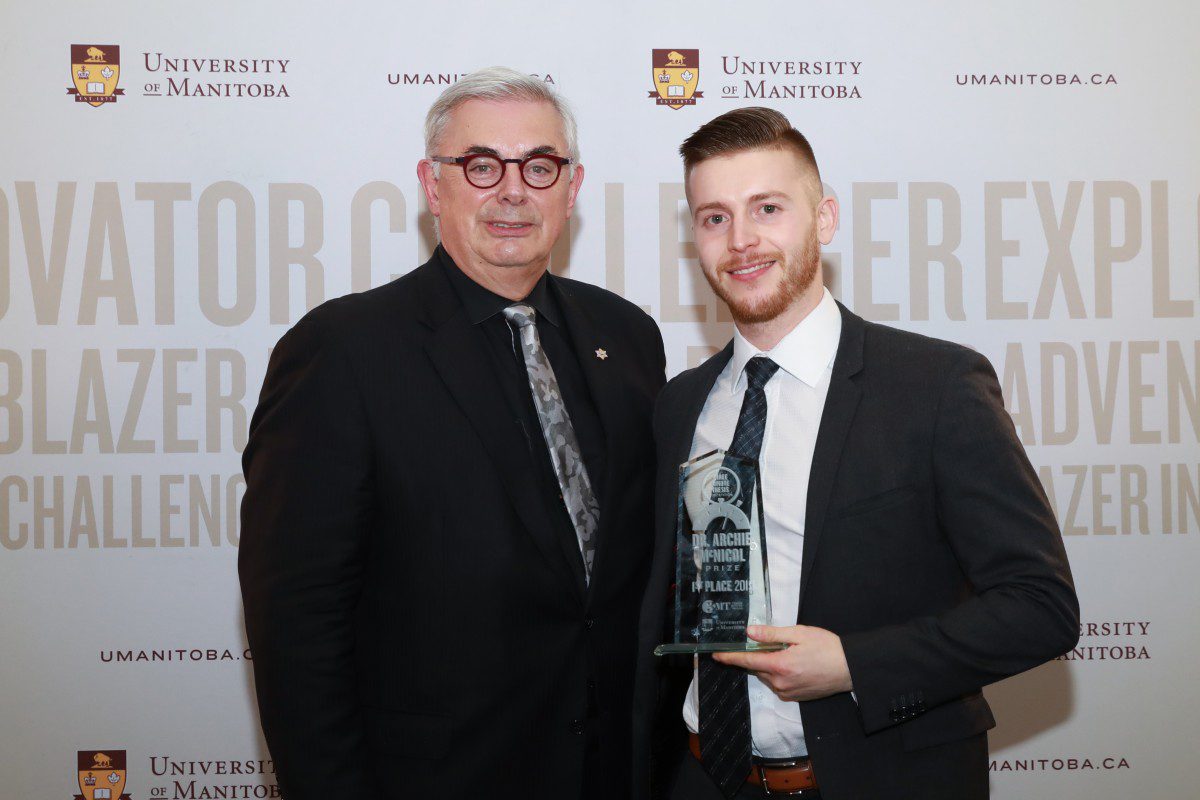 Applied Health Sciences student takes top spot at 3MT finals
March 19, 2019 —
Kevin Boreskie practiced his Three Minute Thesis (3MT) while driving in his vehicle with the radio cranked up. He thought that if he could master his presentation with that much distraction, he was set to succeed.
This creative method of preparation paid off for the doctoral student in Applied Health Sciences, a joint program between the College of Rehabilitation Sciences and the Faculty of Kinesiology and Recreation Management. Boreskie took home the Dr. Archie McNicol Prize for First Place ($2,500) at the 3MT finals held on March 18 on the Fort Garry campus.
At the event, graduate students had just three minutes to present their complex research in language aimed at non-experts. Competitors were judged on three categories: comprehension, engagement and communication style.
This wasn't the first time Boreskie presented his research to 3MT judges. It was his fourth year competing and his third time advancing to the finals.
"Fourth time's a charm, I guess," said Boreskie, whose Three Minute Thesis was called Exaggerated blood pressure response to exercise: A simple solution. "I'm very surprised and very happy and grateful. Everyone did an awesome job tonight. It's really cool to see the variety of research that happens at the university. For the most part, you only see what's happening in your specific faculty."
Boreskie beat out 13 other competitors. He will move on to the Western Regional 3MT competition at the University of Northern British Columbia in Prince George, BC on April 17.
The University of Manitoba Retirees Association Prize for Second Place ($1,250) went to master's student Justine Hudson, from the department of biological sciences, with her presentation called Snot for science: A non-invasive technique to measure stress in beluga whales. Avery Simundsson, a master's student from the department of biosystems engineering, took third place ($750) with her speech called The use of sound in autonomous agricultural vehicle control.
Kashfia Shafiq, a master's student in the department of human anatomy and cell science, Max Rady College of Medicine, won the People's Choice Award (the prize is a U of M Book Store gift card). She was grateful for the audience support.
"I'm happy I was the lucky one," said Shafiq, whose presentation was called Dying young at a very old age.
The Max Rady College of Medicine was well represented at the competition. Students from the department of physiology and pathophysiology who participated in the finals included Chantal Asselin, Samira Seif, and André Coleman. Berardino Petrelli was from the department of biochemistry and medical genetics.
Boreskie said that the 3MT experience has helped him in many ways, including aiding him in explaining his research to others in a concise way.
"It's been great practice for telling friends and family about what I'm doing in my research," he said. "Realistically, when you're sitting around the dining room table you only have three minutes or less before they zone out anyways. It's good practice."
The 3MT competition was first held in 2008 at the University of Queensland in Australia. Events now take place at universities around the world – from the United States to Hong Kong to the United Kingdom.