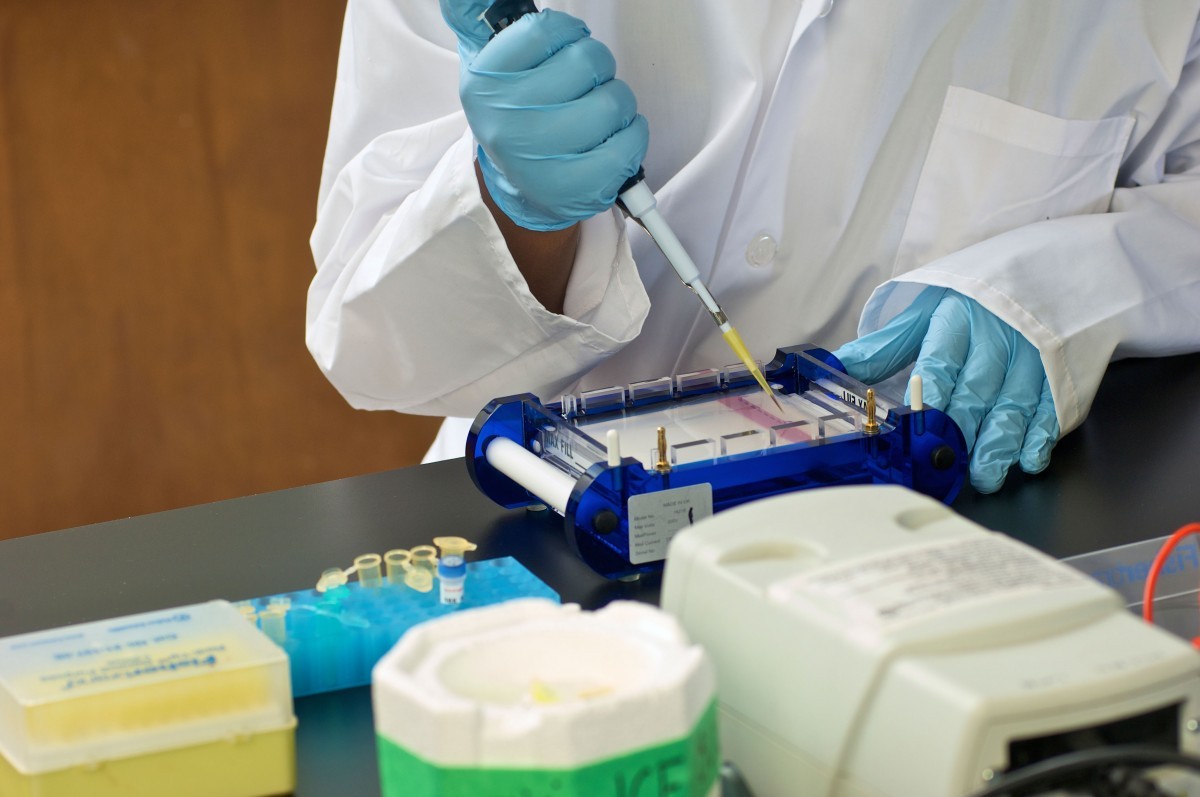 Antibody "cocktail" defeats Ebola up to five days post-infection
August 29, 2014 —
The Ebola outbreak in Africa is becoming more of a concern as the death toll and number of infected victims rises. With the news that two Americans who were given an experimental treatment for the disease have recovered, there is hope that a vaccine or treatment will soon be widely available.
This week, a new study was published in the science journal Nature regarding successful reversion of advanced Ebola virus disease in a laboratory setting. An international team of researchers from Canada, the United States and China report that ZMapp™, an antibody "cocktail" made from two previously-designed combinations of antibodies, was 100 per cent effective in reversing the course of the disease, even up to as much as five days after infection. Much of the research was conducted at the National Microbiology Laboratory for Zoonotic Diseases and Special Pathogens of the Public Health Agency of Canada (PHAC) in Winnipeg, Manitoba.
Dr. Gary Kobinger is chief of the Special Pathogens Laboratory at the Agency and is a nil-salary associate professor in the University of Manitoba department of medical microbiology. He notes: "Reversion of severe Ebola disease in nonhuman primates is a cornerstone finding in the fight against Ebola."
Dr. Gary Wong, a University of Manitoba doctoral student working with Kobinger, says: "I was part of a team which helped perform the required in vitro and in vivo experiments to formulate an optimized antibody cocktail which was able to reverse advanced Ebola infection."
He adds: "We started treatment as late as five days after Ebola infection. This has not been achieved before, as most interventions only work within one hour after exposure, so this is a big step forward for treating this incurable disease."
In animal models, although the Ebola vaccine does protect against the virus's advance, details of the exact immune mechanism is not completely understood.
The treatment for Ebola usually noted in media reports and which is described in the new paper in Nature was developed in Winnipeg, Canada. This work was done at the Agency laboratory in collaboration with the University of Manitoba, jointly by Agency researchers who are also cross-appointed to the U of M.
During the past 25 years, the University of Manitoba has gained an international reputation as a pioneer in understanding and mediating the spread of infectious diseases such as HIV, Ebola and Marburg viruses. Currently, the University of Manitoba has several graduate students and jointly-appointed faculty supervisors working on Ebola research projects at the Agency facility through research grants focused on Ebola.
Among the University of Manitoba graduate students working on the Ebola vaccine and also cited in the Nature paper is Jonathan Audet. His research is directed at understanding how the antibody treatment (ZMapp™) works. He also assists with other experiments involving ZMapp™, assessing immune responses to the treatment and doing data analysis.
The vaccine that Wong characterized is currently being considered for rapid approval and use for the treatment of Ebola. His project has defined exactly which part of the immune system was responsible for protection after the vaccine was administered and then challenged with the Ebola virus. Wong determined that the best correlate of protection was the antibodies, and that a combination of three monoclonal (laboratory produced) antibodies, called ZMab, was able to prevent disease in animals even if delivered after infection with Ebola virus.
This work established that it is possible to therapeutically treat someone infected with Ebola. Earlier this month, two Americans became infected with Ebola in Africa and were treated in the United States with this same ZMab therapeutic formulation. Thankfully, in large part due to the ZMab therapy, these patients made a full recovery.
Dr. Keith Fowke is head of medial microbiology and infectious diseases in the College of Medicine at the University of Manitoba. He notes: "It is clear to me that evidence generated from Gary's graduate work and publications, and that of other researchers as well, gave health care providers the confidence to provide the ZMab therapy to these infected people leading to their lives being saved. I think this is an excellent example of how graduate work from a University of Manitoba student has had an international impact. The work by Gary Wong to characterize the immune mechanism of protection against Ebola has contributed to a body of knowledge that led to the ZMab therapy being used to save lives in the recent Ebola outbreak."
Dr. Marc Ouellette, Scientific Director of the CIHR Institute of Infection and Immunity, says: "The Government of Canada is pleased to be part of the global endeavor to address immediate needs and build capacity in the fighting against the Ebola outbreak in Africa. I am pleased to see Canadian scientists at the forefront of research on the Ebola virus."
U of M Ebola research is conducted at the Agency lab because of its status as a Level 4 facility. The highest-level secure laboratory at the Bannatyne campus is a Level 3 facility, which is capable of handling HIV, but Ebola can only be manipulated and grown at a Level 4 Facility. Research on Ebola vaccination continues at the Agency lab with U of M affiliated researchers.
For more information, contact:
Ilana Simon, Director of Communications & Marketing, College of Medicine, Faculty of Health Sciences, University of Manitoba, 204-789-3427, ilana [dot] simon [at] med [dot] umanitoba [dot] ca
Jana Lerner, Communications Advisor / conseillère en communication, Public Health Directorate / Direction de la santé publique, Communications and Public Affairs Branch / Direction générale des affaires publiques et des communications, 1015 Arlington Street, Winnipeg MB, R3E 3P6, 204-789-5046 (tel), 204-784-7546 (fax), jana [dot] lerner [at] phac-aspc [dot] gc [dot] ca
David Coulombe, Media Relations, Canadian Institutes of Health Research, 613-941-4563, mediarelations [at] cihr-irsc [dot] gc [dot] ca