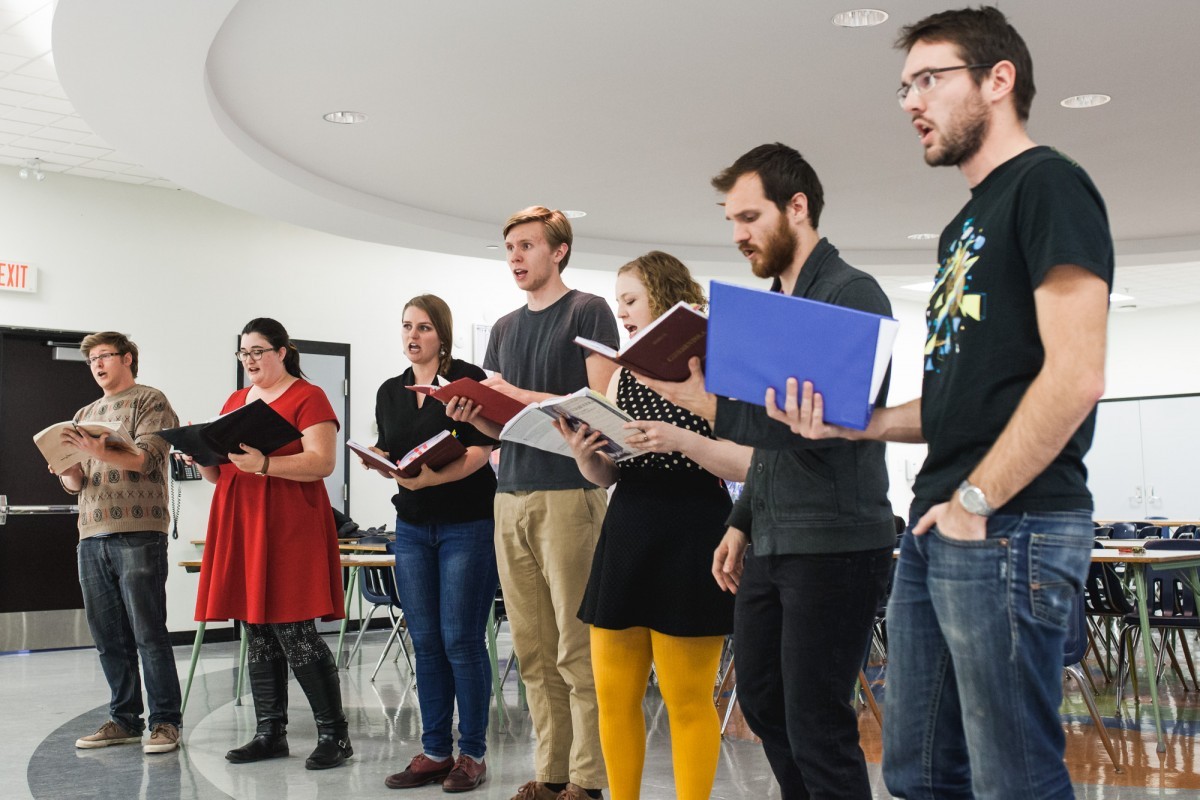 An operatic fairytale
UM Opera Theatre presents La Cenerentola December 2-3
November 25, 2015 —
The University of Manitoba Opera Theatre and UM Symphony Orchestra is presenting Rossini's La Cenerentola, an Italian version of Cinderella on December 2 and 3.
Featured performers are Jillian Bonner, Jayne Hammond, Rebecca McIntosh, Chad Abrahamson, John Anderson, Daniel Thielmann and Nicholas Urquhart.
Bonner, who plays Cenerentola, was a finalist in the recent Metropolitan Opera National Council Auditions for the Upper Midwest region. She is going on to the regional finals in January.
"We have a talented young cast of aspiring opera singers who are equally strong as actors," said Katherine Twaddle, opera coordinator at the Desautels Faculty of Music and director of the show. "They are an extremely positive and dedicated group with an infectious energy."
Twaddle says audiences can expect a mix of love, laughs, revolution and confusion, noting that the production will appeal to families and seasoned opera fans alike.
"Rossini and his librettist Jacopo Ferretti created a feisty strong-willed heroine who defies tradition and rebels against her family's obsession with material value and social status," said Twaddle. "The Prince is another rebel, defying royal tradition by seeking a wife who will love him for himself and not just for his position and wealth. But above all this opera is a comedy, a madcap caper full of mischief and disguise."
While people will be familiar with the story, Twaddle notes there are a few interesting differences between Rossini's version and the one popularized by Disney:
In La Cenerentola, there is a stepfather instead of a wicked stepmother.
Cenerentola doesn't have a fairy godmother, but rather a wise academic tutor.
Cenerentola loses a gold bracelet instead of a glass slipper. When the opera was created in 1816, it would have been scandalous to show a barefoot on stage.
La Cenerentola is being presented on December 2 and 3 at 7:30 pm at St. Andrews River Heights United Church (255 Oak Street).
Tickets are $25 each for adults or $12 each for students. They are available in advance from the Music General Office (T319 Tache Arts Centre) or at the door.
Win Tickets! – Contest now closed
The contest to win tickets for La Cenerentola is now closed. Winners will be contacted via e-mail. Thank you for all the entries!