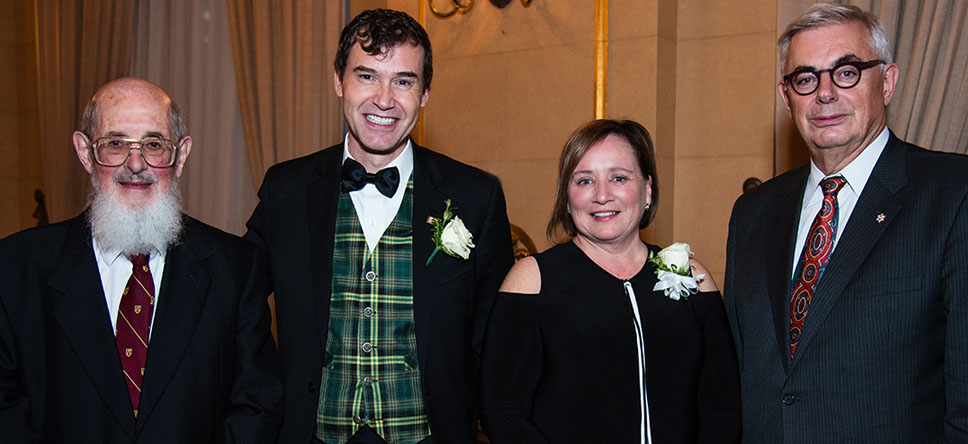 'I'm a true believer in people'
Rural dentist with strong ethics honoured at Alumni of Distinction gala
October 9, 2018 —
A rural dentist who has combined his University of Manitoba degrees in dentistry and law into a unique career was honoured by his dental peers at the annual Alumni of Distinction Awards gala on Sept. 28.
Dr. Marcel Van Woensel was praised by his award nominators for his "firm commitment to both personal and professional ethics."
Van Woensel grew up and still lives in Swan Lake, Man. He has practised in the nearby town of Somerset since earning his dental degree in 1994. He pursued his law degree part-time while practising dentistry, receiving it in 2002.
Accepting the award from the U of M Dental Alumni Association (UMDAA), he described himself as a deeply rural person. "Community, to me, is probably the most important thing," he told the gathering of about 180 dentists, dental hygienists, students, faculty, staff and friends at the Fort Garry Hotel.
With a profound sense of duty to the dental profession, Van Woensel has contributed insight and guidance to a vast number of provincial and national boards, committees, task forces, commissions, regulatory groups and advisory councils. He served for nine years (2008 to 2017) as registrar of the Manitoba Dental Association.
As a part-time instructor at the Dr. Gerald Niznick College of Dentistry in the Rady Faculty of Health Sciences, Van Woensel teaches dental jurisprudence, which deals with the relationship between dentistry, ethics and the legal system.
"I'm a true believer in people," he said. "I find that when you give people the opportunity to stand up and do the right thing, they almost always will."
The U of M School of Dental Hygiene Alumni Association presented its Alumni of Distinction Award to Dr. Gayle Halas, a member of the Class of 1987 who has built upon her foundation in dental hygiene to become an outstanding health-care researcher, educator and leader.
While practising as a hygienist and raising her family, Halas completed her master of arts through online education. In 2006, she became a research associate in the department of family medicine at the Max Rady College of Medicine.
Thriving in this role for 10 years, Halas grew increasingly passionate about primary health-care research. In 2016, she completed her PhD through the U of M's individualized interdisciplinary program and was appointed assistant professor and research director in family medicine.
In her acceptance speech, Halas said she has always been interested in patients' emotional and cognitive responses to what they're told by health-care professionals. She focused her doctoral research on patients' engagement with health information.
"Beyond procedures, beyond particular diagnoses and beyond the biomedical, we need to care for the whole patient," she said.
Dr. Colin Dawes, a British-trained professor emeritus in the Dr. Gerald Niznick College of Dentistry who has been a fixture of the dental school for 54 years, was awarded honorary membership in the UMDAA.
Dawes is an internationally recognized expert on the role of saliva in oral health. Several speakers reminisced about Dawes asking colleagues and students to expectorate samples into vials for his research. Dawes got in on the humour, describing himself as a member of the "Salivation Army."
Dr. Greg Smith spoke on behalf of the Dentistry Class of 1968. Ten members of the class were in attendance, celebrating the 50-year anniversary of their graduation. Smith noted that the class entered dental school in 1964 – the same year that Dawes joined the faculty. "I saw you tonight, and all of a sudden my salivary glands starting working overtime," Smith quipped.
Smith recalled that the all-male Class of 1968 was required to attend dental school in white shirts, ties, suit jackets and polished shoes. Despite such strict regulations, he said, "We truly appreciate the training we received."