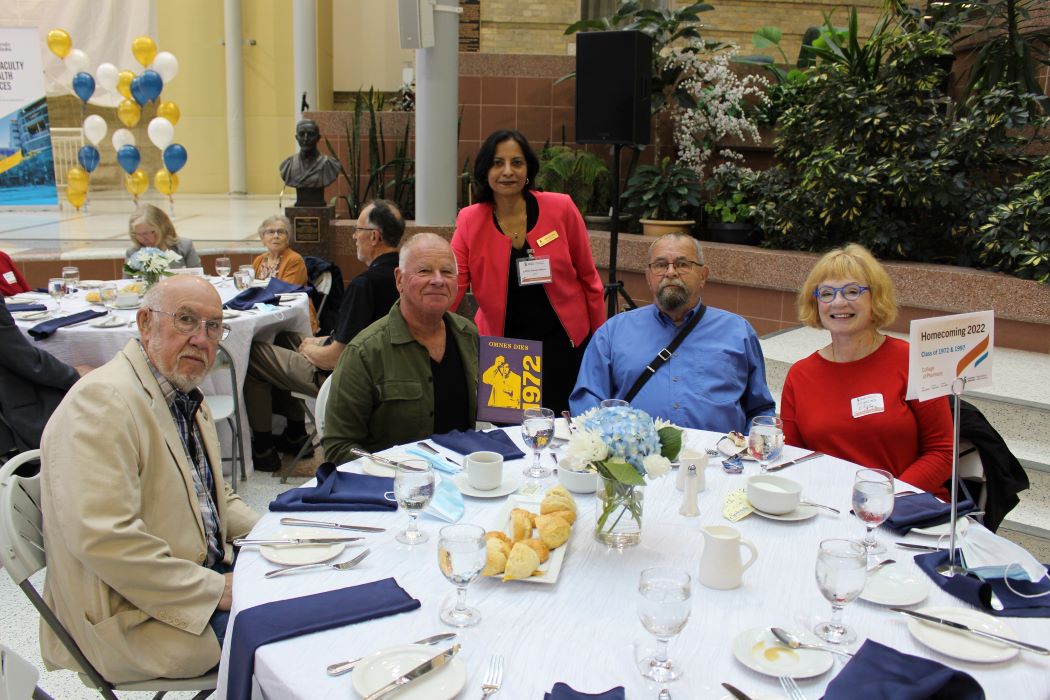 Alumni in health professions celebrate, reconnect at UM Homecoming   
October 7, 2022 —
"It's instantaneous: you're buddies again."
That's how retired dentist Dr. Gary Hyman described reuniting with four of his dentistry classmates during this year's UM Homecoming festivities.
The grad from the Class of 1970 said the bonds of friendship were as strong as ever. But he joked that having served as class president for all four years of study left him eternally stuck in that role.
"Fifty-two years later, I still have to look after these guys!" Hyman told an audience of 135 oral health professionals and friends at the Alumni of Distinction Awards Evening at the Fort Garry Hotel on Sept. 23.
The gala evening paid tribute to both the 50th-anniversary Class of 1972 and the Class of 1970, who had missed their 50-year celebration because of pandemic restrictions.
Dr. Gerald Niznick, the 1966 alumnus who is the namesake benefactor of the Dr. Gerald Niznick College of Dentistry, and his wife, Reesa, were guests at the gala.
Dr. Alexander "Sandy" Mutchmor, a 1983 alumnus who has been a longtime leader in dental organizations, received the Alumni of Distinction Award from the UM Dental Alumni Association.
The honoree has served as a board member and president of the Winnipeg Dental Society, the Manitoba Dental Association and the Canadian Dental Association. He has also chaired an extraordinary number of dentistry task forces, working groups and committees.
Mutchmor said he took on leadership roles mainly because people in the profession whom he greatly respected kept asking him to serve. "To be acknowledged by this group is an incredible honour," he said. "I'm truly grateful."
The UM School of Dental Hygiene Alumni Association recognized retired faculty member Mickey Emmons Wener with its first-ever honorary Alumni of Distinction Award.
Wener completed her dental hygiene degree in Kentucky. She came to Manitoba in 1973 as part of a program to provide care in the North, expecting to stay one year. Instead, she has had an influential five-decade career here, with a strong commitment to improving access to care.
Wener joined the UM faculty in 1978 and retired in 2012, having earned her master's in education and having taught both dental hygiene and dentistry students. Her trailblazing service to the profession included advocating for the passage of Manitoba's Dental Hygienists Act in 2005.
"I am so thankful to the University of Manitoba for a wonderful career, for lifelong friends, and for the recognition … for just doing something that I truly love," Wener said.
Dean's Homecoming Breakfast
On Sept. 24, a total of 125 alumni representing all five colleges of the Rady Faculty of Health Sciences gathered in the Brodie Centre Atrium for the Dean's Homecoming Breakfast, followed by tours of the College of Pharmacy and the Dr. Gerald Niznick College of Dentistry.
The alumni belonged to classes celebrating milestone reunions, such as the Class of 1997 (25 years) and Class of 2012 (10 years).
"It's nice to see all our partners in health care together in one room," said Dr. Jamie Boyd, who spoke on behalf of the Medicine Class of 1972.
Hannah Payumo, a Spring 2021 nursing alumna who works at St. Boniface Hospital, spoke of how her educational journey was shaped by the pandemic.
"We learned resilience, working together as a team and finding creative solutions," Payumo said, adding that she feels optimistic that health-care collaboration and innovation will continue.
Another speaker, Christine Vaccaro, is a fourth-year doctor of pharmacy (PharmD) student who is the current national president of the Canadian Association of Pharmacy Students and Interns.
She said the opportunities she has received in the PharmD program have given her passions for research, leadership and advocacy.
Dr. Peter Nickerson, dean of the Rady Faculty of Health Sciences, spoke about recent initiatives across the Rady Faculty, emphasizing interprofessional education. "We're breaking down the traditional barriers between health disciplines to prepare our students for team-based delivery of care, which we know improves patient outcomes," he said.
College of Nursing Homecoming Tour
In the afternoon on Sept. 24, the College of Nursing gave a Homecoming tour of the Helen Glass Centre for Nursing on the Fort Garry campus to alumni from 1972, 1982, 1997 and 2002.
The tour included the college's simulation labs, where visitors watched students practise their skills on lifelike manikins. Alumni also got to see the new immersive virtual reality lab, where students wear virtual reality headsets and are immersed in a 3D digital hospital setting.
Class of 1972 alumna Dr. Jeanette Gris said the virtual reality-based learning looked exciting. "I was also very impressed with the number of manikins that are here in one room," she said. "I think it's an excellent way to ensure standardized application of skills amongst the students."
The tour included a reception with remarks from Health Minister Audrey Gordon.
"To the nurses here today and those who have retired, I encourage you to take time to reflect on your role in nursing, the skills you've learned, the contributions you've made, and the impacts you've had on the health and well-being of Manitobans," Gordon said. "It's impressive and worthy of celebration."