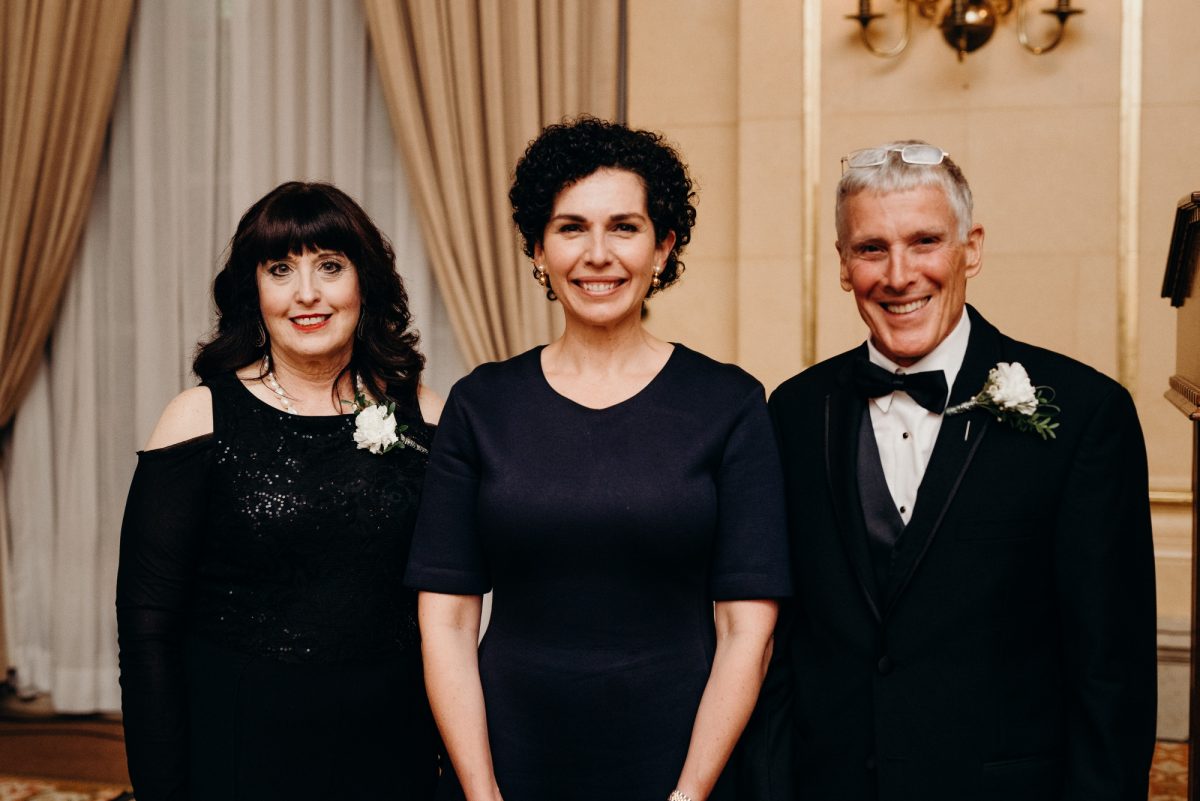 Alumni dentist, dental hygienist honoured for extraordinary service
September 27, 2019 —
A dentist who is deeply committed to humanitarian service and a dental hygienist who reinvented herself as a leader of her profession were honoured by fellow alumni on Homecoming weekend.
On Sept. 20, about 135 alumni, faculty, students and friends of the Dr. Gerald Niznick College of Dentistry and the School of Dental Hygiene gathered for the annual Alumni of Distinction Awards Evening at the Fort Garry Hotel.
Dr. Ken Stones, a 1969 dentistry alumnus who lives in White Rock, B.C., received the Alumni of Distinction Award from the U of M Dental Alumni Association (UMDAA). The award recognizes Stones' decades of volunteer work as an organizer and provider of oral care for people in need.
Sheryl Sloshower, a Winnipegger who earned her diploma in dental hygiene in 1974 and her bachelor's degree in 2012, received the Alumni of Distinction Award from the U of M School of Dental Hygiene Alumni Association. She has made outstanding contributions to the profession through teaching, scholarship and professional regulation.
Sloshower said she is grateful to the U of M "for nurturing my intellect and moral being, and for enabling me to develop strong qualities of leadership."
Stones also spoke with appreciation of his U of M foundation. "I'm very indebted… for the education that has opened so many doors for me over the last 50 years," said the dentist, who is retired, but not slowing down in his humanitarian work.
Stones founded a charity, Semiahmoo Dental Outreach, and leads volunteer teams of oral health professionals on twice-yearly trips to countries such as Vietnam, the Philippines and Tanzania.
He also helps the most vulnerable in his own community. He established a free dental clinic in White Rock that treats patients referred through a food bank and a women's shelter. "In the 10 years we've been open, we've treated about 3,000 people who would otherwise not have had access to dental care," he said.
His award nominator, classmate Dr. Allan Baker, said of Stones, "His amazing record of volunteer dentistry is an inspiration… to all alumni and current students."
In her acceptance speech, Sloshower recalled how in 2005, she suffered a herniated lumbar disc that halted her 30-year career. "My neurosurgeon emphatically conveyed… that if I continued as a clinical dental hygienist, I would end up in a wheelchair," she said.
It was a difficult setback. But after several years of recovery and introspection, Sloshower pointed herself in a new direction. She returned to the School of Dental Hygiene to earn a bachelor's degree and became an instructor there – a position she still holds.
She was hired in 2010 to develop and manage the continuing competency program of the College of Dental Hygienists of Manitoba (CDHM). She went on to become the deputy registrar of the CDHM, inspiring the membership with her passion, integrity and high standards.
She continues to serve the profession in capacities such as continuing professional development chairperson of the Manitoba Dental Hygienists Association.
"Because of an unfortunate situation in my life… I was forced to step out of my comfort zone and challenge myself," Sloshower said, expressing gratitude to mentors at U of M who set an example of lives "guided by love, compassion and selfless service."
Dr. Anastasia Kelekis-Cholakis attended the awards gala in her new role as dean of dentistry. She is the first-ever graduate of the college to be appointed dean. Bringing greetings from the college, Kelekis-Cholakis noted that more than 33 per cent of dentistry and dental hygiene alumni have contributed to the U of M's Front and Centre campaign. That's the highest donor rate of any U of M college or faculty.
Donations to the UMDAA's Emergency Oral Health Care Fund, established four years ago, have enabled dentistry students to treat 85 patients at the college's clinics who would not otherwise have been able to access care, the dean said.
"These donations are extremely important to the college, as we see an increasing number of patients… requiring oral health-care treatment, but being unable to afford it," Kelekis-Cholakis said.
The gala also paid tribute to the close-knit Dentistry Class of 1969, which includes Stones. Thirteen class members were on hand to celebrate the 50th anniversary of their graduation.
Speaking on behalf of the class, Dr. Dan Green recalled that the dental school of 1965-69 was a highly disciplined place where Beatle-style haircuts and facial hair were outlawed.
As they matured in their careers, Green said, the classmates came to appreciate the exacting professional standards and sense of responsibility to the community that had been imparted to them.
The faculty members of their era, Green said, instilled "a high code of conduct, ethics and integrity which left its imprint on everyone in this class, and has stood the test of time."